EXPLORE THE WORLD LIKE YOU'VE ALWAYS IMAGINED
THROUGH AN ADMIRAL TRAVEL INSIDER'S PERSPECTIVE
With more than twenty years delivering experiences beyond our clients' wildest dreams, Admiral Travel's reputation within the travel industry is what unlocks the WOW factor for travelers.
A
reputation earned by providing you what we call 'ATInsider Access' to the world's most exclusive spaces and places.
And our loyal travelers – known to us as ATInsiders – reap the benefits of our successful alliances within the esteemed Virtuoso network, when you enjoy exclusive opportunities designed just for you.
Image captured by ATInsider Galen Griffin, finalist in the 2020 ATI Travel Photography Contest.
We often hear from clients that his or her ATI Travel Advisor seemed to simply wave a magic travel wand because exceptional experiences appeared effortless. Your ATI Travel Advisor can balance your need for attention to detail and your desire for unforgettable moments of surprise and delight like no one else in the industry.
ATI Travel Advisors are innately familiar with enhanced services, luxury amenities,
and incentive programs for
discerning travelers like
Virtuoso or American Express.
Rest assured, we secure the absolute best value for our clients – but the intangible value of the Admiral Travel service lies in the custom-tailored recommendations for your journey, based on our first-hand knowledge and expertise.
Whether meeting travelers in person at our office or virtually – by phone, email, or video conference – Admiral Travel prides ourselves on exceeding your expectations for hospitality.
In preparation for takeoff, ATI ensures every traveler is ready for the experiences to be encountered and that all administrative and ticketing processes unfold as seamlessly as possible.
While away, ATInsiders can relax with peace of mind, knowing all movements are being carefully tracked by ATI staff and our global partners. Your only job is to enjoy the journey… and that's what it's really all about, isn't it?
VIPLane, an Admiral Travel exclusive program, is our new loyalty club designed for the most discerning ATInsider.
As part of this elite members-only club, you will unlock unique travel benefits on select journeys for even more fun and adventure.
Reserve all your travel through your ATI Advisor and prepare to be delighted by exciting enhancements and rare, coveted experiences designed specifically with you in mind.
Enjoy the view from VIPLane, your exclusive members-only travel club.
MALAKA & RYAN HILTON FOUNDED ADMIRAL TRAVEL INTERNATIONAL IN 1997.
MALAKA HILTON
Travel+Leisure A-List Super Agent
RYAN HILTON
Conde Nast Top Travel Specialist (Safari) & Accredited Virgin Galactic Space Agent
GET TO KNOW OUR TEAM OF TALENTED ATI TRAVEL ADVISORS WHO ARE HERE TO HELP YOU BRING YOUR TRAVEL DREAMS TO LIFE.
Director, Private Client Group
Global Cruise & Independent Travel Specialist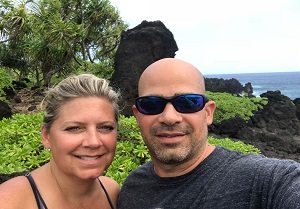 Director, Escorted Experiences
Destination Specialist for Africa
Travel Designer & Administrative Assistant
Advisor, Exclusive Product & Founders Journeys