SUMMER 2023
The Realm of the Polar Bear

/ FJORDS, GLACIERS, AND WILDLIFE OF SVALBARD
Rates being finalized, please inquire.
Call 1.888.722.3401 to secure your space on this unique journey (scroll down for journey details)
This fascinating expedition provides a taste of everything Spitsbergen has to offer, starting with its largest settlement, Longyearbyen. The largest island of the Svalbard archipelago is known as the "wildlife capital of the Arctic," and on this stirring voyage, we show you why. Geared toward optimum wildlife viewing, this 10-day expedition provides ample opportunities to witness walrus, reindeer, and that most iconic of Arctic denizens, the polar bear, in their natural habitat, while marveling at the surreal experience of continuous daylight. Explore the unique Arctic landscape, hike the vast and colorful tundra, learn about the history and geology of this remote wilderness, and join us on a gripping excursion to a faraway, unforgettable land.
Summer 2023 – Join Malaka & Ryan Hilton of Admiral Travel International as they take off toward the remote Norwegian island, renowned for
its stunning scenery and abundant, varied wildlife, providing a distinct polar experience. Ultramarine, Quark Expedition's new, game-changing polar vessel, can take you to remote destinations no other ships can reach.
Watch the video below to grasp the true experience of the Arctic!
DAY 1 | ARRIVE IN OSLO, NORWAY
Your Arctic voyage begins in Oslo, Norway's vibrant capital city. If you arrive early, there are many museums and restaurants and green spaces to keep you busy before retiring at your included airport hotel.
DAY 2 | FLY TO LONGYEARBYEN, SVALBARD & EMBARK
This morning, the group will transfer to the airport and board our private charter flight to Longyearbyen, Spitsbergen's largest settlement, where you'll have some time to explore before embarkation.
As your ship sets sail, enjoy your first view of the island's rugged, glacier-topped mountains rising majestically from icy waters.
The newest ship in Quark's fleet, Ultramarine, is designed to go beyond the familiar in polar exploration, to discover new places, and to immerse you in the best the region has to offer.
Equipped with two twin-engine helicopters, Ultramarine offers the most robust portfolio of adventure activities in the industry, the most spacious suites in its category, breathtaking public spaces, and more outdoor wildlife viewing spaces than other expedition ships its size. It also features an innovative mix of sustainability features that exceed all industry standards.
With all this and more, Ultramarine is set to deliver the ultimate polar expedition experience.
Ready Rooms for Expedition Gear
DAYS 3 – 9 | EXPLORING SPITSBERGEN
You'll cruise around this magical island on a constant search for wildlife.  Your expedition will cover western Spitsbergen as well as stunning fjords and outlying islands to the north. From polar flora to immense glaciers, the natural landscape here is just as varied as the wildlife.
Each expedition presents new opportunities and different weather and ice, so there is no fixed itinerary; however, some of the places we may visit include the 14th of July Glacier, Smeerenburg, Alkefjellet and the Hinlopen Strait. The destinations visited will be selected for optimum wildlife viewing with an appreciation of the history and geology of Spitsbergen.
The island offers multiple opportunities for wildlife photography. Since most of Svalbard's Arctic ecosystem is uninhabited and well-protected, this remote archipelago is one of the world's best places to spot polar bears against stunning natural backdrops of mountains and ice.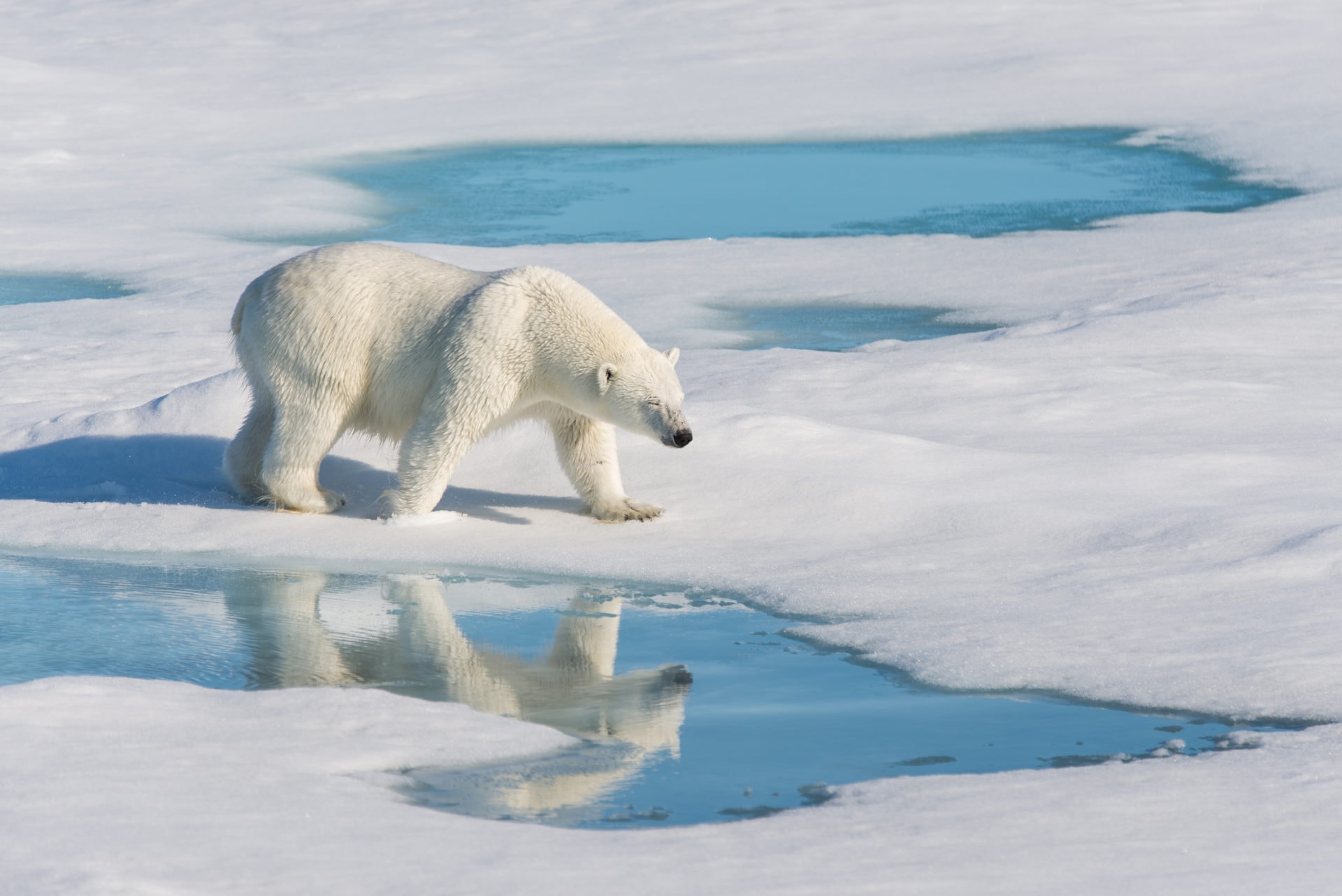 Coming across a walrus haul-out is a moment you won't soon forget. These giant pinnipeds of the Arctic create quite a noisy scene as each walrus vies for a choice spot of coastline.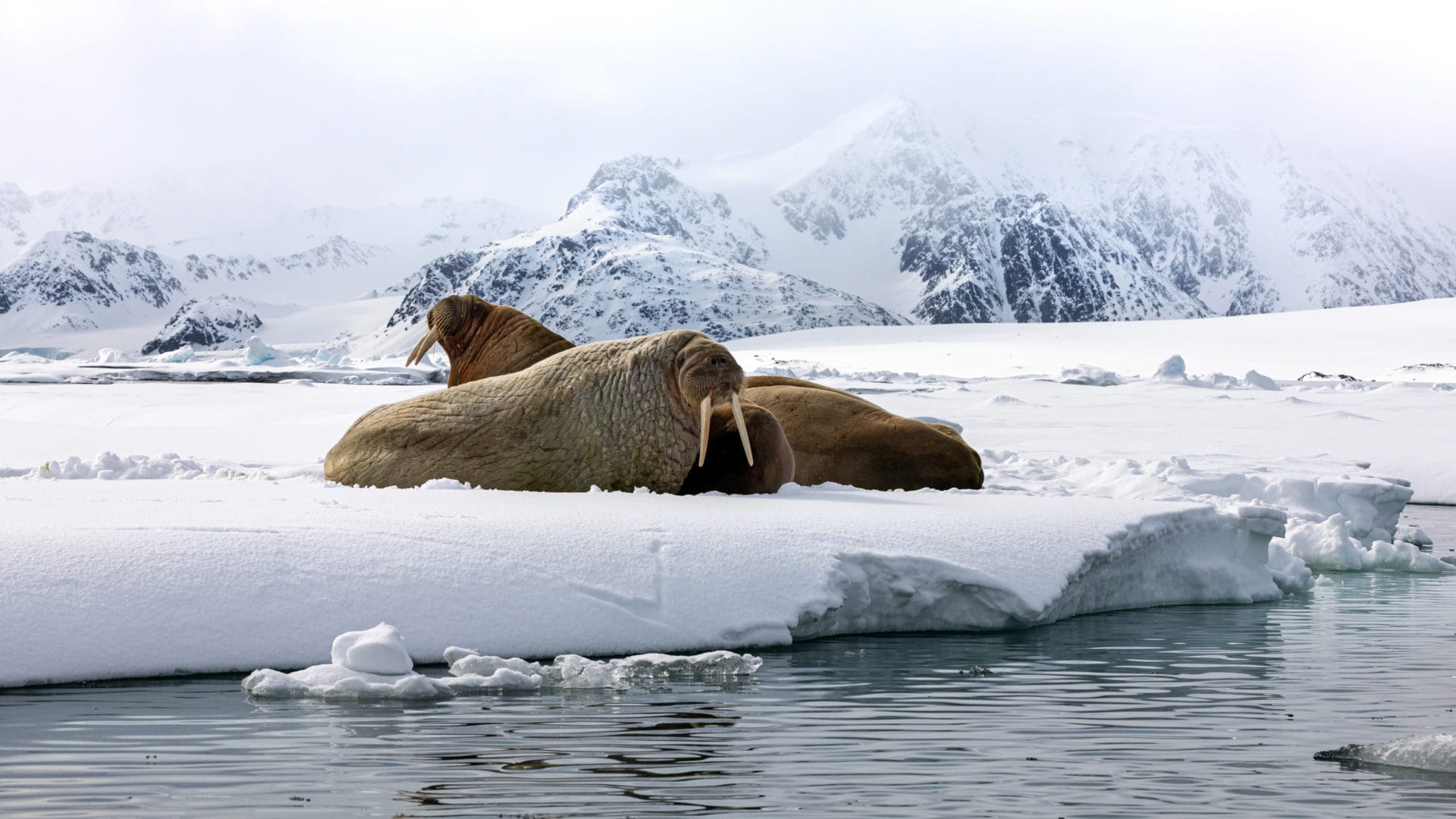 The towering cliffs of Alkefjellet provide homes to thousands of Brünnich's guillemots (thick-billed murres)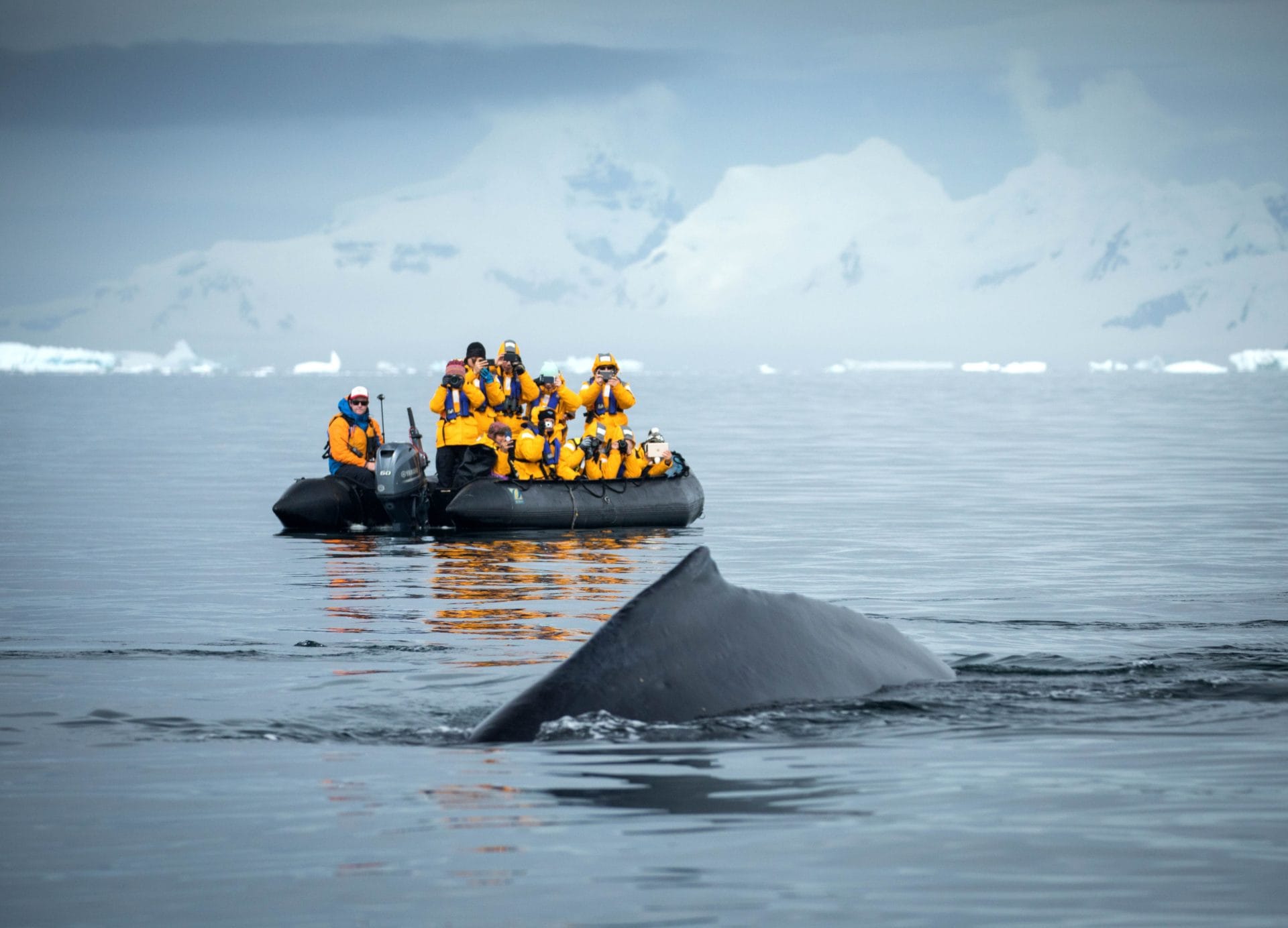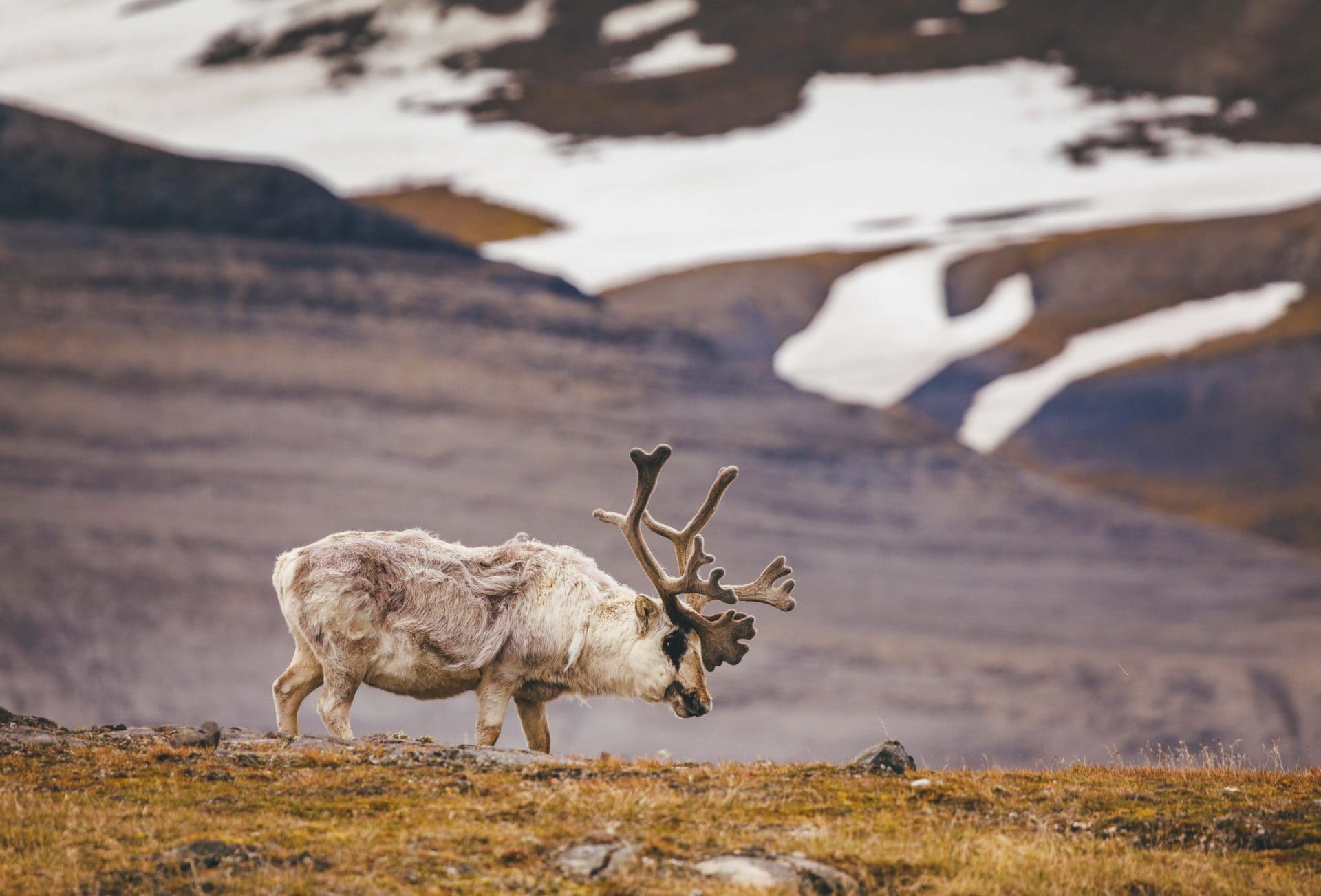 If you're itching to experience a more intimate view from the water, you can book the sea kayaking or paddling excursion adventure options.
In Spitsbergen, there is no shortage of natural beauty.  The tundra can be surprisingly colorful in summer, with wildflowers bursting for a taste of sunshine. Each day, you'll see something interesting, whether it is an ever-changing gallery of spectacular icebergs, a polar bear resting between hunts, or abandoned historical site from centuries ago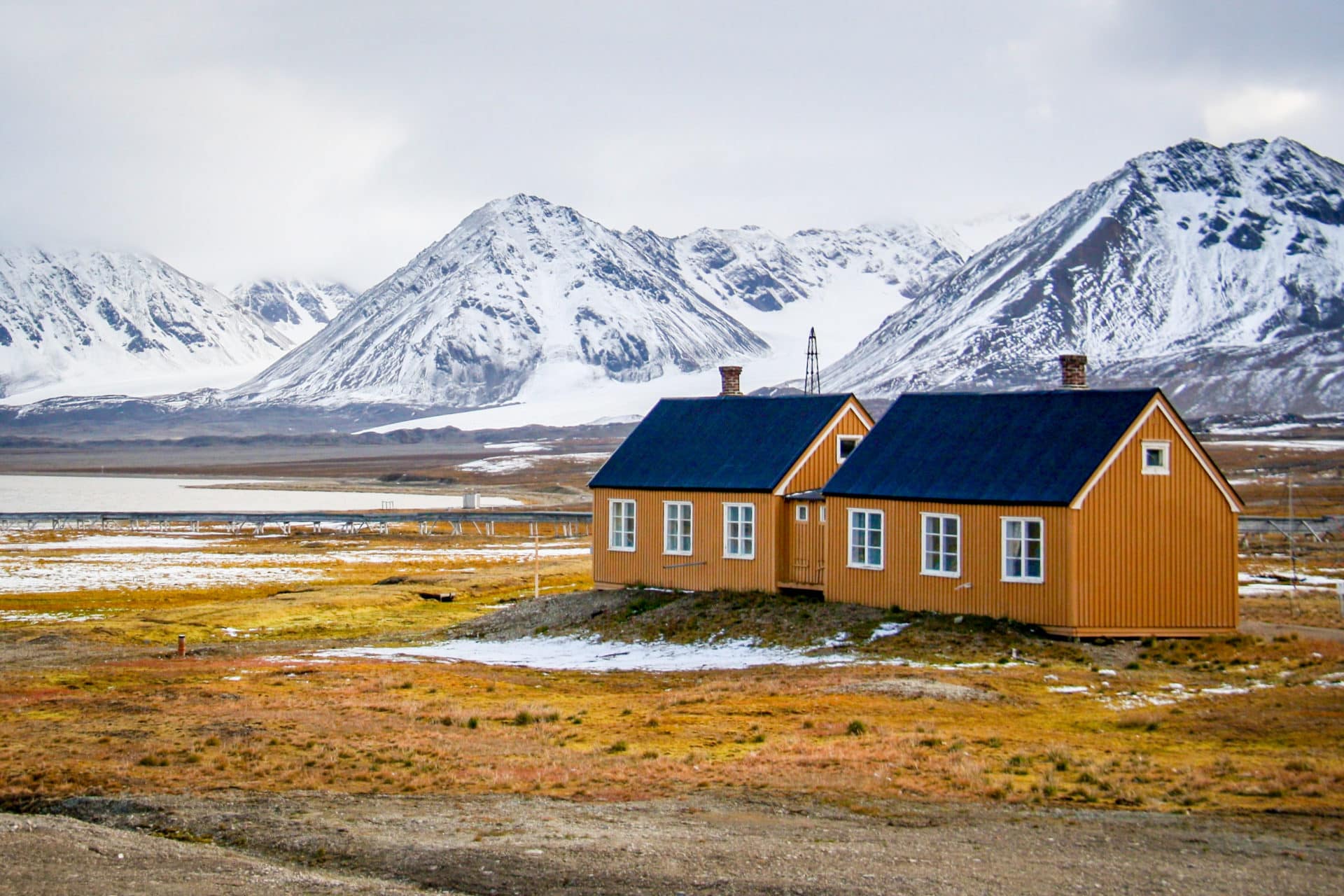 Flightseeing aboard Ultramarine
While polar landscapes are spectacular from the sea, they're even more stunning from the air, a view you can enjoy while seated in one of the two twin-engine helicopters stationed on Ultramarine. Typically in groups of 7 to 9, you will experience an unforgettable aerial tour of the Arctic during a 10- to 15-minute flightseeing excursion that's included in the cost of the voyage. Additional helicopter activities may also be available for purchase onboard. Please note: all helicopter operations are weather- and logistics-dependent.
Aerial Views of the Glaciers
DAY 10 | DISEMBARK IN LONGYEARBYEN & FLY TO OSLO
The time to say goodbye to your Expedition Team and shipmates has come. Your adventure ends as it began, in the historic frontier-style settlement of Longyearbyen. From here, we'll transfer you to the airport for your return group charter flight to Oslo, included in the transfer package.
Call Isabelle Finly at 941-951-1801 at extension 105 now to reserve your space on this unique journey today!  You may e-mail at isabelle@admiraltravel.com
Cost: Being Finalized / Please inquire
We request $250 per person as a 'good faith deposit' to secure space on this departure until pricing is available.  Once pricing is available, this will be applied to your final balance.  Should you decide to remove your space, these funds will remain on file for a future ATI travel experience.
Once bookings are finalized, a $50 per person Admiral Travel Booking Fee will apply.
PLEASE NOTE: 
Founder's Journey will always be priced at or below published rates, but never higher.
Travel with like-minded individuals on these exclusive departures.
Enjoy a welcome cocktail party to meet your fellow travelers.
A hosted dinner will be offered during one night of the trip with the Hiltons.
On many occasions, optional shore events are offered as an option that only our group is invited to join.
Special global relationships that the Hiltons have formed over the years will allow you privileged access opportunities.
Trips are offered well in advance to give ample time for your future planning.
Minimum numbers must be met in order for the Hiltons to host the journey.
The Hiltons reserve the right to adjust the duration of their participation should any schedule conflicts arise.