February 16-24, 2024
Join Admiral Travel International as they travel North of the Arctic Circle, in the vast Finnish Lapland, to a surreally beautiful place to experience the aurora borealis, which has been confounding and delighting observers for centuries.
In Finland, nature's most spectacular light show – the Aurora Borealis – can be viewed in a range of purpose-built spaces from glass igloos to luxury suites. The Northern Lights are visible on roughly 200 nights a year – or every other clear night – in Finnish Lapland.
Call 1.888.722.3401 to secure your space on this unique journey (scroll down for journey details)
February 16, 2024 – Arrive at the Kuusamo Airport (KAO), and meet your local host on arrival. Transfer to the Ruka Peak Hotel, the transfer will take 30 minutes through the snowy landscape.
Check-in to your rooms, refresh, and welcome dinner at the hotel.
Winter clothing will be picked up on the way to the hotel from the Safari House (overalls, shoes, gloves and woolen socks).
At the top of the Ruka Hill, nestled at 430 meters above sea level in breath-taking natural landscape you will find Ruka Peak.  It is a family-run boutique hotel, located in one of the most beautiful areas of Finnish Lapland, Kuusamo.  The mission is to provide our guests with all the best experiences this unique location has to offer. Travelers looking for a peaceful and chic experience, natural luxury and warm hospitality will find their new home away from home!
February 17, 2024 – Enjoy breakfast at the hotel.
Transfer from Ruka for about 15 minutes to a local reindeer farm. This farm has a long history of reindeer herders and reindeers, and the Kujala family has lived here for over a century. The young couple now running the farm are passionate about what they do and love to share their daily lifestyle with visitors, and this is a truly heartwarming experience.
At the farm you will get to join in in the morning feeding of hundreds of reindeer, followed by a short sledge ride and snacks served in a "kota", while listening the stories of the reindeer year. Transfer back to your hotel or to the village of Ruka.
Independent lunch, and time to relax or explore Ruka before dinner at the hotel.
In the evening, join a starlight sledging to search for the Northern Lights. This is an unforgettable adventure where you'll be seated in a covered sledge pulled by a snowmobile and we start driving into the forest. Our route goes through varied landscapes.
During the journey by sled we arrive to a camp. There you make a fire together with our guide and make coffee and tea and grill sausages.  If we are lucky we can see the Northern Lights dancing in the sky while we travel.
February 18, 2024 – Breakfast at the hotel and morning free to relax or explore Ruka and the surrounding nature.
In the afternoon, join a river floating arctic experience in a gently streaming river. This is a magical adventure in the freezing cold water with floating suit which keeps you warm. You will also wear life vest and helmet. After instructions for floating we will float the river twice and enjoy hot drinks after this fun experience.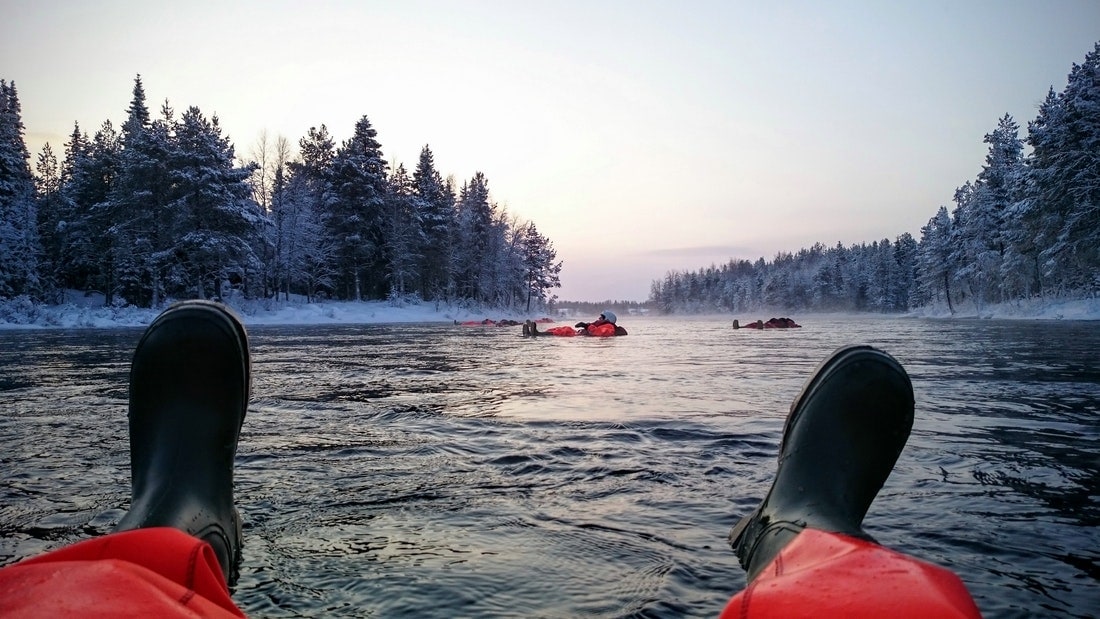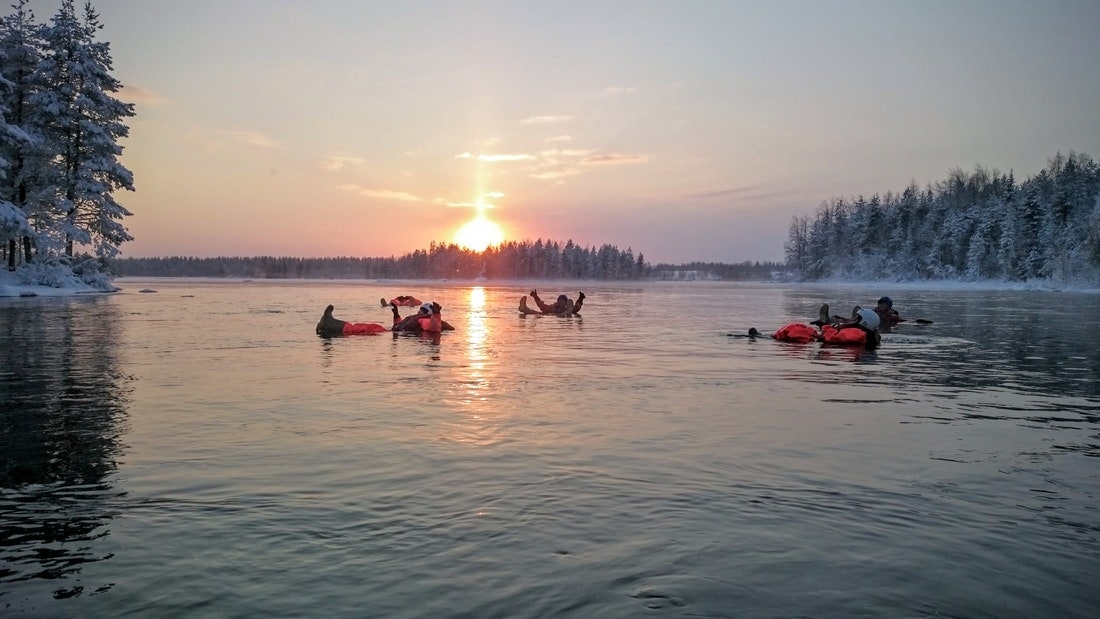 From the river floating, continue to a traditional Finnish Sauna Experience: must for all visitors in Finland. At this sauna complex, upstairs features a traditional smoke sauna with panorama window, 2 shower rooms, 2 changing rooms, dining room, bathroom and large terrace. Downstairs you will find a Juniper sauna, shower room, fireplace room and spacious lounge. Outside there is a jacuzzi, possibility to dip in the hole in the ice and a very special feature, Ice sauna!
After the sauna experience, return back to Ruka Peak Hotel for dinner.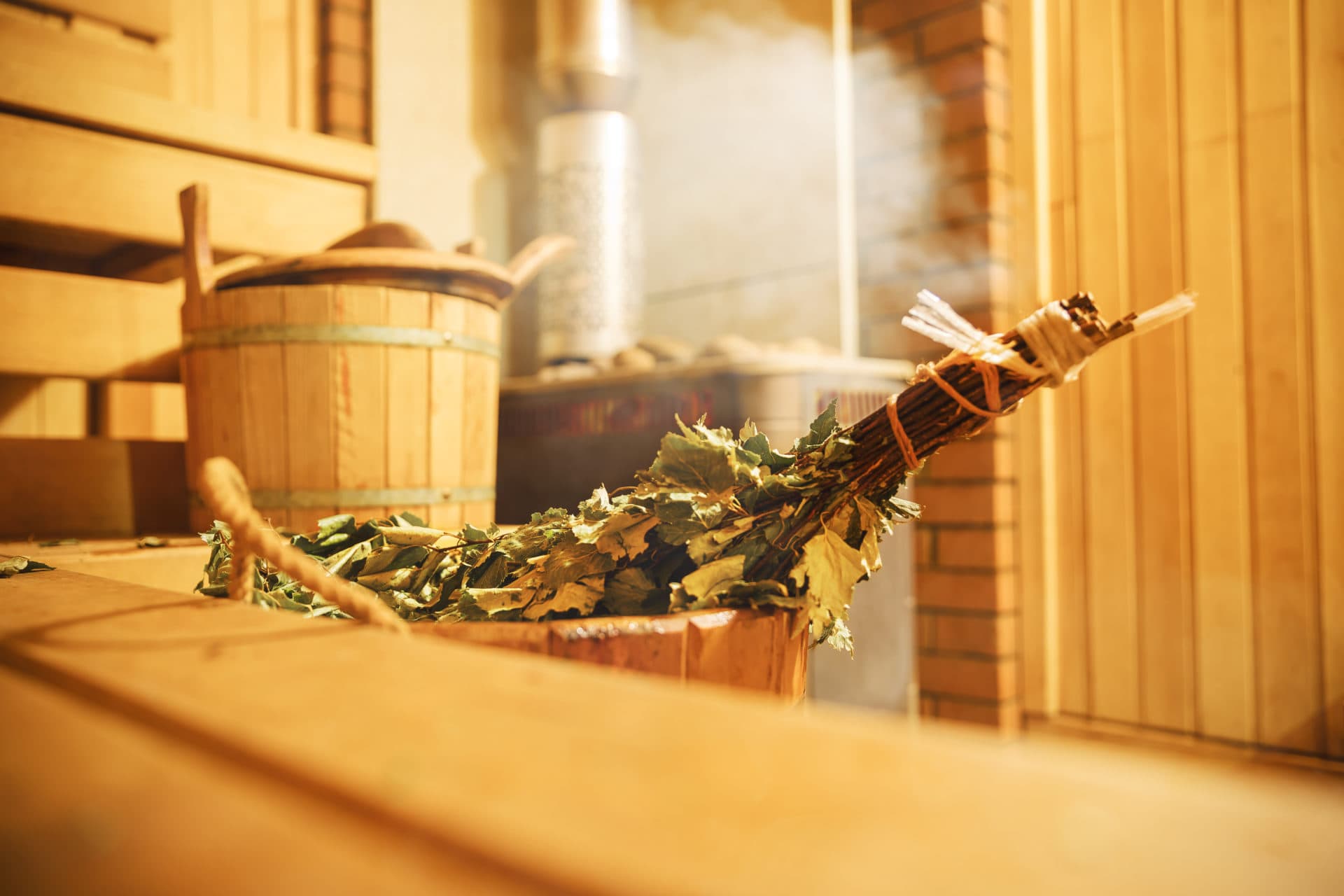 February 19, 2024 – Enjoy breakfast at the hotel, prior to packing your belongings. We will transfer to Rovaniemi, which will take around 2 hours and 30 minutes, depending on the road conditions.
Arrive to Rovaniemi for a guided tour of the Arktikum, a science center and museum that lets you experience northern nature, culture, and history up close. Our guide will join in all the activities while you are in Rovaniemi, and assist with any questions you may have.
In the evening, enjoy dinner at the Rakas restaurant at the Arctic Treehouse Hotel.
Arktikum Museum in Rovaniemi, Finland
Dinner at the Arctic Tree House Hotel
February 20, 2024 – Today, enjoy a private wilderness snowshoe adventure. Snowshoeing is one of the best ways to move in deep snow. Dating back at least 3500 years, this ancient form of winter hiking is ideal for exploring Lappish nature offering great opportunities for photography.
Snowshoes grant us access to remote areas allowing us to connect with untouched nature and take in the glorious atmosphere of Arctic forests. From Rovaniemi we will travel by minivan to our location hidden in the woods. We provide you with high quality snowshoes, especially made for deep-snow hiking and take a few kilometers hike in the wilderness.
During the day, we will have a break in authentic Lappish Kota shelter where we will build a campfire and enjoy some snacks while photographing the Arctic nature. The tour is guided by a professional photographer who will also teach you some tricks and techniques for your own landscape and nature photography. If we are in luck, we may encounter some wildlife during our adventure.
In the evening, get ready for an unforgettable Northern Lights Safari with electronic snowmobiles.
Aurora eMotion is the first electric snowmobile safari operator in the World, using electronic eSleds developed in Rovaniemi. Silent eSleds offer an environmentally sustainable way to enjoy clean and fresh Arctic nature the safaris.
We ride our eSleds to the top of a hill, far from the city lights – an ideal place for watching the Northern Lights. We stop to observe and admire the night sky and stars, and, if we are lucky, see the Northern Lights as well. The guide is happy to help the guests with camera settings, if you wish to take pictures. During the stop we warm ourselves by the fire in a private hunting cabin and enjoy a Finnish supper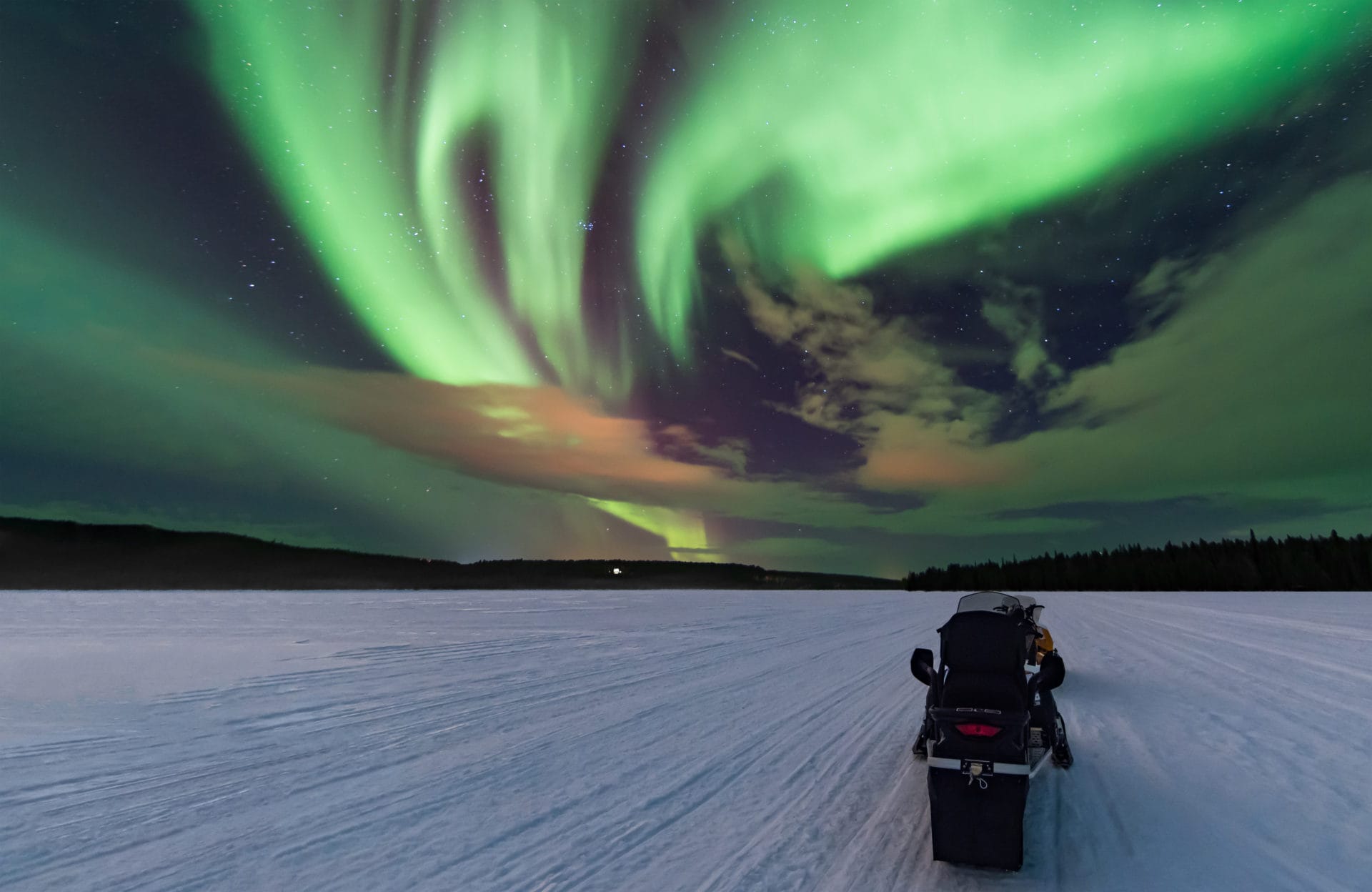 February 21, 2024 – Today we welcome you to visit a local handicraft workshop and Lappish home. Explore with us the versatile use of reindeer antlers as a material used in handicrafts and the fascinating history of working antlers. We will demonstrate for you how antler is worked while telling you stories about reindeer and living in the vast expanses of Lapland. As we reveal to you some of our professional skills, you will have the opportunity to make your own souvenir of your visit.
We will also tell you about other materials collected from Lapland's nature for use in handicrafts.
You will be taken to explore our genuine, Lappish home and way of life. The local cuisine will naturally become familiar as we drink a cup of tea or coffee while sitting around the table in this private home.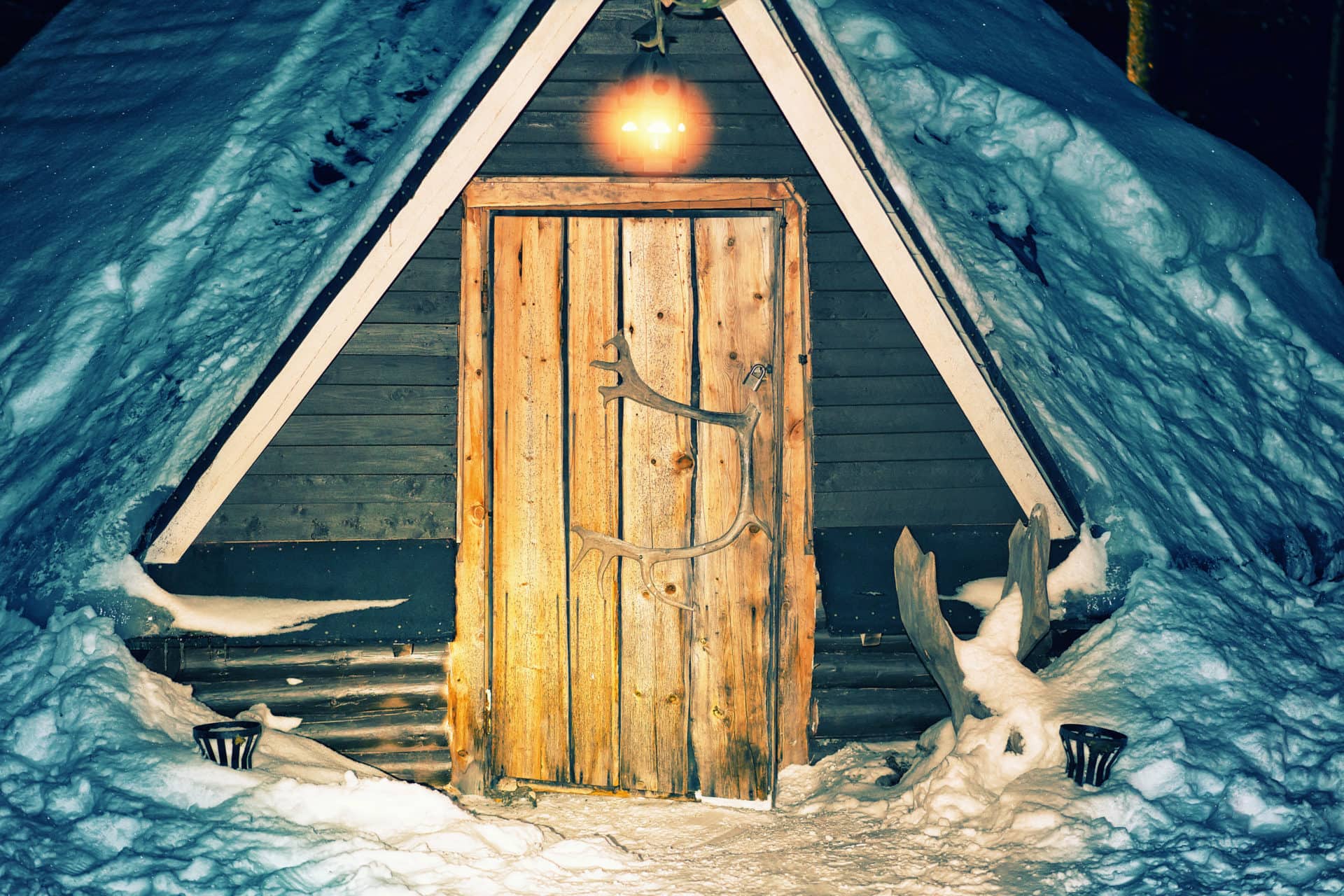 February 22, 2024 –  The transfer will take 5 hours, depending on the road conditions. Please note that you will get a new set of winter clothing on arrival to the ICEHOTEL.
Arrive to the ICEHOTEL close to Kiruna in Sweden early afternoon and enjoy lunch upon arrival. 
Your ICEHOTEL travel coordinator will assist with swift check-in. Enjoy a guided tour of the ICEHOTEL with an Icy Drink, before having some time to refresh and relax before the evening Wilderness Dinner. Stay the first night in the warm accommodation.
Icehotel opened in 1989 and is beside a hotel also an art exhibition with ever-changing art out of ice and snow. Icehotel is created in a new guise every winter, completely made out of natural ice from Torne River, one of Sweden's national rivers and last untouched waters. When the winter season's Icehotel has melted back into the river in the spring, a part of the hotel remains; a place where visitors can experience the ice and snow year-round, Icehotel 365 with 20 suites of ice and snow. Enjoy the ephemeral art once more and meet our designers, artists and dear friends throughout the years.
Kaamos Superior Room (warm)
February 23, 2024 – Take an intense course in ice sculpting, a must when you're at ICEHOTEL. The class starts with the instructor talking about the crystal clear ice, which is harvested from Torne River. After that, you get an introduction on how to use the tools, your own ice block and can let the creativity flow and ice take shape.
Warm-up during hearty lunch, and after, experience the beautiful winter wonderland from the dog sled. On this tour you ride either as a passenger in the sled or mush the team of dogs yourself, and experience the dogs tremendous desire to run and pull.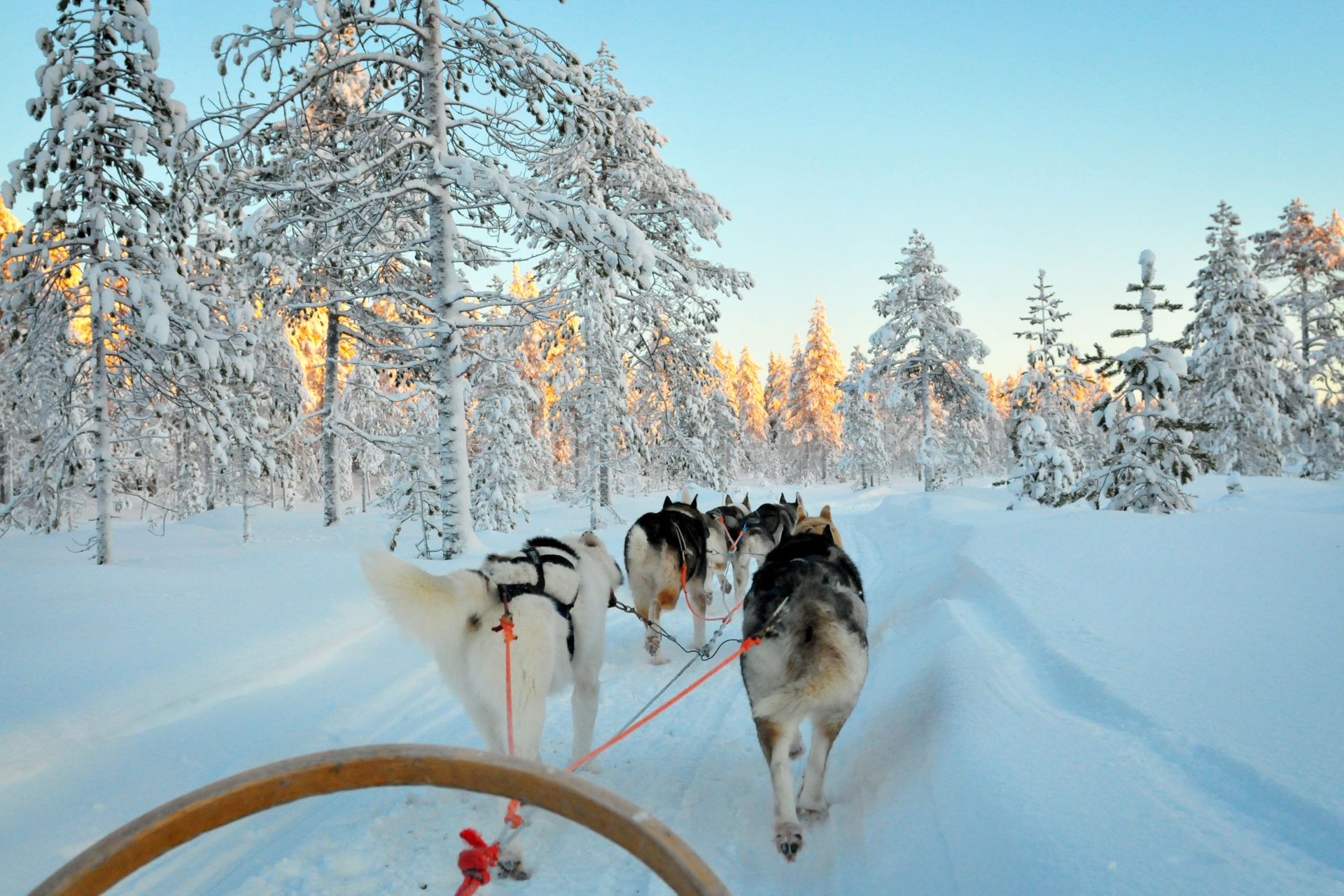 Farewell dinner tonight at the Veranda. With this food experience, we welcome the ICEHOTELS guests "home" to Icehotel and also home to Sweden. You are invited to sit down at the huge wooden lark table. Two chefs cook and serve a twelve-course menu with accompanying beverages in front of you. While you enjoy the food, the chefs talk about the produce.
Day 9 – After breakfast, check-out of the hotel and transfer to the Kiruna Airport for your departure.
Call Jolene DiRocco at 941-951-1801 at extension 106 now to reserve your space on this unique journey today! You may e-mail at jolene@admiraltravel.com.
Cost starting from $16,950 per person based on double occupancy.
25% deposit required to secure space. All payments are non-refundable.
A $250 per person Admiral Travel booking fee will apply. (VIPLane members complimentary)
Pricing is based on a minimum of 12 guests participating. Pricing subject to change if minimum number of guests is not met.
Travel insurance is highly recommended.  Please ask your advisor for details.
Inclusions:
Accommodation in specified hotels or similar
Meals as per itinerary:
Daily breakfast (not on arrival day)
3 lunches on days 4, 7 and 8
7 dinners on days 1, 2, 3, 4, 5, 7 and 8
Program and entrances as per itinerary
Transfers as per itinerary
24-hour emergency service
Taxes and service fee
Exclusions:
International or domestic flights unless otherwise mentioned
Airport transfers
Beverages, snack, lunches, dinners unless otherwise noted
Room outside of normal check-in/check-out times
Porterage at airport and hotels unless otherwise noted
Optional excursions, activities, museums or pre and post trips not mentioned
Any service not specifically listed under "included" – such as the optional excursions
Insurance
Unforeseen admission to nature sites is not included in the price
Other items of personal nature
Other items not mentioned under Inclusions
PLEASE NOTE:
Admiral Travel (ATI) reserves the right to decline to accept anyone on a Founders Journey (FJ) departure. ATI reserves the right to remove from the trip, at his or her sole expense, anyone whose condition is such that he or she could create a hazard to himself or others, or otherwise impact the enjoyment of other passengers on the trip. ATI reserves the right to cancel the reservation/booking at any time during the pre-trip planning process should the potential traveler become combative or disruptive/rude to any member of the ATI team or other travelers. ATI does not need to refund in any scenario outlined but will do its very best to find a replacement to minimize costs. ATI has a strict policy to ensure the cordial and congenial relationship of all travelers to ensure a seamless and memorable experience.
While the Aurora Borealis is visible 200+ nights per year & the time of year we are traveling offers the best viewing opportunities, we cannot guarantee our groups experiencing this phenomenon
All payments made to or on behalf of Admiral Travel are non-refundable unless stated otherwise
If minimum numbers are not met for a hosted departure, prices are subject to change / increase to confirm same program on a private basis
Founder's Journey will always be priced at or below published rates, but never higher.
Travel with like-minded individuals on these exclusive departures.
Enjoy a welcome cocktail party to meet your fellow travelers.
On many occasions, optional shore events are offered as an option that only our group is invited to join.
Special global relationships that the Hiltons have formed over the years will allow you privileged access opportunities.
Trips are offered well in advance to give ample time for your future planning.
Minimum number of guests needed for Admiral Travel to escort.