September 14 – 22, 2023
This 8-night landscape spectacular trip is something very different from what you would expect to see in Africa.  Namibia is one of the most peaceful countries to visit.  It feeds your soul in a way few other places in the world do.  It is not all about how many animals you can tick off your list.  It is a kind of intense trip in that the animals you do see are desert adapted and learning about those adaptations is really the secret sauce to this itinerary.  The landscape changes so vastly that it will be difficult to explain to someone how varied your trip is going "just to the desert"
Namibia is a technicolor dreamscape, a land of swirling apricot dunes and shimmering white flats, mirages and dust devils, black-faced impala and crimson-breasted shrike. It offers an exceptional range and abundance of wildlife and a landscape that could not provide a more striking backdrop for it. The coastal region is one of the world's most captivating desert regions. This trip is just a small taste of the highlights of the secrets this land has kept for millennia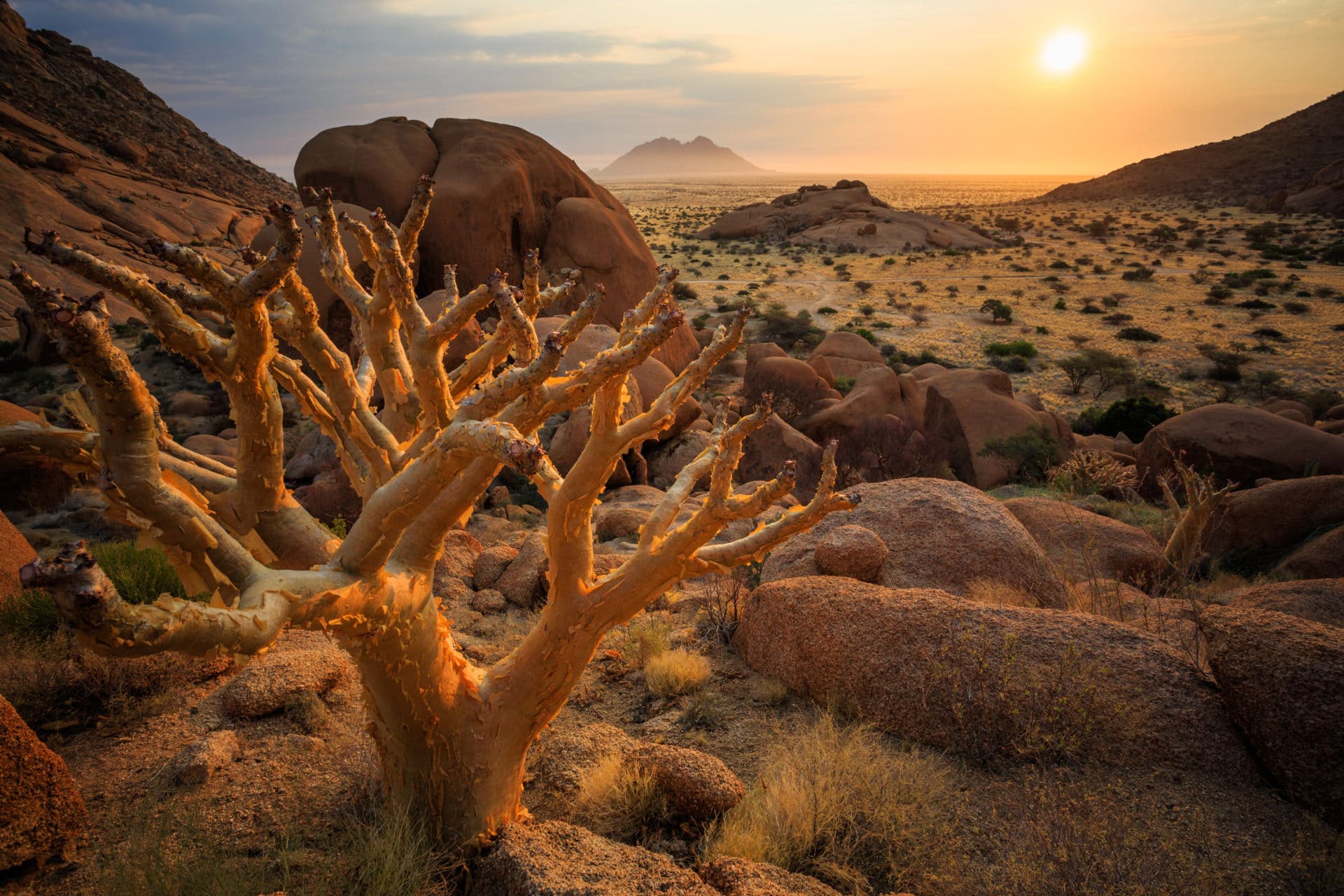 A maximum of 12 guests may participate in this unique journey. This is a limited access itinerary to ensure that your stay is as personalized and private as possible.
September 14, 2023.  On arrival at the Windhoek International Airport, you will be met and welcomed by our representative who will transfer you to Omaanda. Spend the afternoon on a conservation drive.
September 14, 2023 – This morning, you will be met by our representative for your transfer to the Windhoek International Airport. On arrival at the airport, our representative will assist you with your luggage and introduce you to your private charter flight pilots. After a quick briefing, you will head to your aircraft and board your private charter flight to Sossusvlei Desert Lodge.
Your flight takes you over the edge of the escarpment and down into the Namib Desert.
Upon arrival at the airstrip, you will be met by an &Beyond Sossusvlei Desert lodge representative who will transfer you to the lodge with time to settle in. Sossusvlei Desert Lodge is a fantastic base from which to explore the spectacular Namib Desert and dunes of Sossusvlei. This afternoon you have the option to enjoy a guided excursion on the Reserve as run by the lodge – some activities include guided nature walks; dune ecology activity; E-biking & quad bike excursions.
&Beyond Sossusvlei Desert Lodge
The Namib Desert is a landscape of seemingly endless spaces, profound tranquillity, and extraordinary light. One of the most spectacular areas on earth, this pristine desert wilderness is one of Africa's most compelling natural regions. Defined by infinite horizons, striking landscapes and craggy mountain heights, &Beyond Sossusvlei Private Desert Reserve is a 12,715 hectare (31,420 acre) private concession of iconic dunes and arid desert in this vast place of nothingness.
Substainability and uncompromised luxury go hand in hand at Sossusvlei. Ten beautifully appointed stone and glass suites, spread out along the curve of the escarpment, open onto ever-changing outlooks. Each spacious air conditioned suite offers a secluded, shaded veranda complete with private plunge pool, a living room with a fireplace, a large retractable skylight above the bed, and an ensuite bathroom with a glass-encased rain shower offering 180º desert views. The two-bedroomed Star Dune Suite is an ideal option for families or groups of friends.
SUITES
Designed to capture the splendor and solitude of the desert, beautifully appointed rooms spread out along the curve of the escarpment,
allowing absolute privacy. Each air conditioned glass-fronted suite is designed to complement the expansive views of the different habitats,
perfectly framed from the spacious internal areas. Featuring a private veranda, bedroom with retractable skylights for in-bed star-gazing, a living
room with a fireplace, an ensuite bathroom with a glass-encased rain shower offering 180º views, and a perfectly-positioned private plunge
pool for some sublime respite after a long day in the desert heat.
All suites include star-viewing skylights, discrete music systems and customized personal bars. One of the most innovative features of the
accommodation design is the way in which the extremes of the natural environment are harnessed to create energy and recycle waste water.
Each suite is like its own solar power plant, producing enough energy to not only power the air conditioning, and all the super-comforts of a
luxury lodge, but also the water treatment and recycling systems.
Suites blend into backdrop of the mountain but have spectacular view toward the dunes
Sunrise Hot Air Balloon ride
September 17, 2023 – This morning you will rise early for a magical excursion with your local lodge guide into the Namib Naukluft National Park, entering the Park gates at sunrise to capture the dunes whilst the light is soft and shadows accentuate their towering shapes and curves. This area boasts some of the highest free-standing sand dunes in the world. Your guides will give you an insight on the formation of the Namib Desert and its myriad of fascinating creatures and plants that have adapted to survive these harsh environs.
It's an early start this morning as you embark on a memorable balloon flight over the Namib Desert (weather permitting & this will be reconfirmed the day prior).  After an hour soaring over the desert, a delicious continental brunch awaits, complete with sparkling wine, before you head back to your lodge.
On arrival at the lodge, you will have some time to freshen up before heading down to the airfield and board your private light aircraft for a scenic flight to Shipwreck Lodge via Swakopmund. The flight today will afford you an amazing bird's eye view of Sossusvlei and the great dune sea that stretches all the way to the coast. Fly north along the coastline (fog permitting) over old, abandoned mining camps, shipwrecks such as the Eduard Bohlen, Sandwich Harbor, the salt pans and the Walvis Bay lagoon before landing at Swakopmund Airport for a short refuelling stop before continuing further along the coastline to Möwe Bay.
Upon landing at Möwe Bay, you are met by the Shipwreck Lodge guide who will accompany you on your drive of about 1 ½ hour through stunning scenery to Shipwreck Lodge. On your way to the lodge from Möwe Bay, you will see what is left of the victims of this treacherous coastline: Decaying boats, the remains of a Ventura Bomber which was part of a failed rescue attempt in 1942 and the abandoned equipment from prospecting attempts bear witness to the unforgiving nature of this arid landscape. You will pass a small seal colony, drive past misty beaches littered with whale bones and drive over shifting sand dunes.
Shipwreck Lodge
Uniquely designed around the enigmatic shipwrecks that line Namibia's Skeleton Coast, there's nowhere on the continent quite like Shipwreck Lodge. In fact, there's nowhere on the continent quite like the Skeleton Coast. It's a raw, rugged and impossibly remote slice of African wilderness, where towering dunes and wind-swept plains roll as far as the eye can see, buffeted by the icy Atlantic seas.
Each of the 10 rooms have been constructed to resemble the shipwrecks that line the beach. There are eight twin or double rooms, and two cabins can take extra beds if you're bringing the kids, all ensuite and solar-powered. Well, apart from the wood burning stove but on the chilly evenings and mornings, it's most definitely a welcome addition! In the centre of camp, you'll find an equally as innovatively-designed lounge and restaurant with a wide, wraparound deck and uninterrupted views across the sand all the way to the Atlantic Ocean.
Extremely unique suites in the look of a shipwreck
September 19, 2023 – You continue your safari, heading into the wonderful and diverse region of Damaraland. Damaraland is typified by displays of colour, magnificent table topped mountains, rock formations and bizarre-looking vegetation. The present-day landscape has been formed by the erosion of wind, water and geological forces which have formed rolling hills, dunes, gravel plains and ancient river terraces. It is the variety and loneliness of the area as well as the scenic splendour which will reward and astound you, giving one an authentic understanding of the word 'wilderness'.
On arrival at the airfield, you will be met by your local guide who will transfer you to the Damaraland Camp. You will arrive in time for lunch and have some time free to relax before departing on an exciting afternoon activity with your lodge guide.
Over the next two full days, you will be treated to exciting 4×4 excursions along the ephemeral Aba Huab and Huab River valleys to explore this remarkable region and to search for game, including the elusive desert adapted elephants if they are in the area. Damaraland is home to a variety of desert adapted wildlife and hidden desert treasures. As the elephants are mostly active in the mornings you will normally have the best chance to see them then before returning to camp for lunch.
Your lodge-based guide will arrange to fit in a visit to Twyfelfontein and other nearby attractions at a suitable time if you haven't already done so the previous day.
On return to camp there should be time to take a walk into the local area with your lodge-based guide, or simply relax and enjoy some well-deserved leisure time.
Damaraland Camp
Damaraland Camp is situated in the Huab River Valley in one of the best wilderness areas in Namibia, offering endless vistas across stark plains, ancient valleys and a stunning ochre-purple mountain backdrop.
Ten large adobe-style thatched units (including a family unit) are raised off the ground, each with a walk-in dressing area and a large deck on which to sit and contemplate the desert. The spacious public living area comprises a dining area and swimming pool. An open campfire and outdoor boma are enjoyed during calm evenings and stargazing is superb, thanks to the crystal-clear night skies.
Dining in the open expanse
Cost: From $16,985 per person for Namibia Safari
Call Sharleen Smith at 1-786-390-1235 to secure your space on this departure today! You may e-mail at sharleen@dnawild.com
Includes:
1 night accommodation at Omaanda Lodge on an all-inclusive basis
2 nights accommodation at Sossusvlei Desert Lodge on an all-inclusive basis
2 nights accommodation at Shipwreck Lodge on an all-inclusive basis
3 nights accommodation at Damaraland Camp on an all-inclusive basis
All light aircraft transfers between camps
Seats on the aircraft, camps, and room preferences will be allocated on a first-come, first-served basis.
Minimum number of 14 participants required for this departure to travel.
PLEASE NOTE: 
All payments made to or on behalf of Admiral Travel are non-refundable unless stated otherwise
Founder's Journey will always be priced at or below published rates, but never higher.
Travel with like-minded individuals on these exclusive departures.
Enjoy a welcome cocktail party to meet your fellow travelers.
A hosted dinner will be offered during one night of the trip with the Hiltons.
On many occasions, optional shore events are offered as an option that only our group is invited to join.
Special global relationships that the Hiltons have formed over the years will allow you privileged access opportunities.
Trips are offered well in advance to give ample time for your future planning.
Minimum numbers must be met in order for the Hiltons to host the journey.
The Hiltons reserve the right to adjust the duration of their participation should any schedule conflicts arise.