April 1 – April 13, 2024
In this expansive exploration of resplendent Japan, absorb countless indelible experiences including Shimizu's unparalleled views of Mount Fuji, the WWII history of Hiroshima and Nagasaki and the stately temples of imperial Kyoto, City of Flowers.
Call 1.888.722.3401 for most accurate pricing & availability (scroll down for journey details)
Embarkation: Tokyo (Yokohama), Japan
Day 1: Monday, April 1, 2024 | Tokyo (Yokohama), Japan
Embark 1:00pm – Depart 7:00pm
*Shore excursions on the first and last day of a cruise are only available for guests who are combining back-to-back voyages to create a longer cruise. Those guests may organize custom tours through the Destination Services Desk on board.*
Onboard Riviera
Stunning Riviera was designed to be distinctive and special in so many ways. Featuring the magnificent Lalique Grand Staircase, stunning Owner's Suites furnished in Ralph Lauren Home, and designer touches throughout the entire ship, Riviera showcases rich residential design and furnishings. Riviera's refined ambiance truly embodies the unparalleled Oceania Cruises experience.
Contemporary Luxury
The spacious dimensions of our suites and staterooms offer the ultimate in luxury. Interiors are decorated with rich woods, lustrous fabrics, custom-crafted furnishings and original artworks.
Culinary Masterpieces
Memorable dining begins with open-seating, as it allows you to dine when you are ready and with whomever you choose. Regardless of which of our restaurants you select, there are no dining surcharges.Enjoy Toscana's authentic Italian dishes, Polo Grill's steakhouse fare, Continental cuisine in the Grand Dining Room, Jacques exquisite French bistro, Red Ginger's contemporary Asian cuisine, and made-to-order American favorites in the Terrace Café.
You may also indulge in delicate pastries and freshly made sandwiches along with illy® specialty coffees at Baristas. To explore epicurean delights in a more private setting, try La Reserve by Wine Spectator. For the ultimate in exclusivity, Privée may be reserved for the evening for parties of up to 10 guests.
​​Learn, Indulge & Relax
From reading comfortably in the library to sipping fine vintages at a wine tasting, a wonderful spectrum of enriching activities awaits you on board. Attend an engaging guest lecture in anticipation of your next destination or enjoy the upper deck as you improve your golf game on the putting green. Learn to prepare a variety of exquisite dishes on virtually every voyage at your own fully equipped workstation in the only hands-on cooking school at sea in The Culinary Center. Embrace your inner artist at the Artist Loft, where talented artists-in-residence offer step-by-step instruction. Spend the afternoon with friends at a lively trivia contest or bridge tournament. Or simply lose yourself in deep relaxation with one of Aquamar Spa + Vitality Centera signature treatments.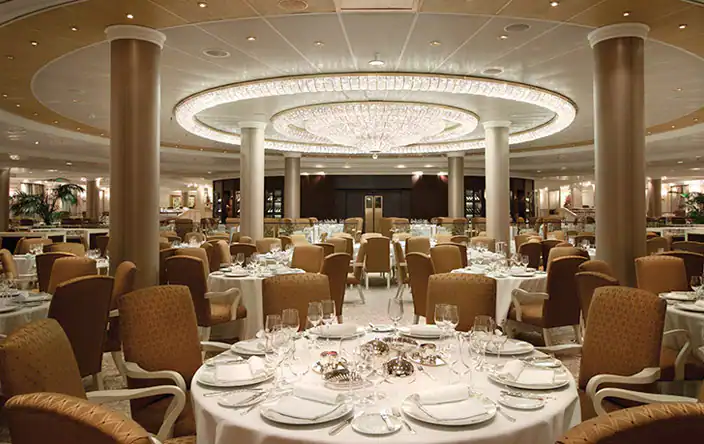 Day 2: Tuesday, April 2, 2024 | Shimizu, Japan
Arrive 7:00am – Depart 5:00pm
In the shadow of Mount Fuji, Shimizu is one of the most beautiful ports in Japan. Walk through the pine groves of Miho, home to a 650-year-old Japanese black pine, or enjoy spectacular views of Mount Fuji from the lush, forested hill of Nihondaira.
Take in the seascapes on a bay cruise, or learn of undersea delights at Japan's first sushi museum. For a historic angle, get a glimpse at feudal life in Japan in 200 BC at the archaeological site of Toro.
Day 3 & 4: Wednesday, April 3, 2024 – Thursday, April 4, 2024
Kyoto (Kobe) Japan
Arrive 12:00pm – Depart 7:00pm
*Excursions Available*
Visit the breathtaking temples and shrines of Japan's old imperial capital, Kyoto, or explore ancient Nara, the cradle of Japanese arts, literature and crafts, with its magnificent shrines and temples that predate Kyoto's.
Stroll through Nara Park, famed for its deer and impressive Kasuga Grand Shrine. Then travel on to Osaka and its famed castle. In Kobe, visit historic Himeji Castle, a huge edifice built entirely of wood and tile.
Day 5: Friday, April 5, 2024
Cruising the Pacific Ocean
Day 6: Saturday, April 6, 2024 | Beppu, Japan
Arrive 7:00am – Depart 5:00pm
*Excursions Available*
Backed by steep hills and mountains on the eastern coast of Kyushu Island, Beppu is known as Japan's top hot spring resort city. Home to more than 2,000 hot springs, this picturesque city gives you a chance to experience its hot springs, mud baths, steam baths and even traditional Japanese black sand baths.
To top it off, eight unique hot springs, collectively named Onsen Hells, offer entertainingly distinctive attractions. On chilly days, visitors are treated to the otherworldly view of steam rising throughout the city. Since Beppu is famously popular within Japan as a resort getaway, it's an ideal place to rub elbows with Japanese travelers.
Day 6 (Evening) & 7 (Morning): Saturday April 6, 2024 – Sunday, April 7, 2024
Cruising the Kanmon Strait
Day 7: Sunday, April 7, 2024 | Busan, South Korea

Arrive 8:00am – Depart 6:00pm
*Excursions Available*
From trendy cafes and famous fish markets to sacred temples and traditional tea ceremonies, Busan, the second largest city in South Korea is bursting with flavors and culture. Take a walk in the relaxing Yongdusan Park while admiring the various species of trees and a view of the Busan Tower. At the Hongbeopsa farming temple, explore the renowned large Buddha statues at the Main Buddha Hall while walking along a water lily path, or experience a traditional Korean tea ceremony conducted by one of their monks.


Day 8: Monday, April 8, 2024 | Nagasaki, Japan
Arrive 7:00am – Depart 7:00pm
*Excursions Available*
Discover remnants of old Nagasaki beside the modern city. Visit the Peace Park and Atomic Bomb Museum. Or travel to Arita, home of magnificent Japanese ceramics, and tour famous Kakiemon Kiln, which continues a 400-year-old tradition.
Experience feudal Japan and the natural wonders of Shimabara Peninsula with its volcanoes and hot springs.
Day 9: Tuesday, April 9, 2024 | Kagoshima, Japan

Arrive 7:00am – Depart 3:00pm
*Excursions Available*
Visit the exquisite Iso-Teien Garden and its villa, built in 1660, and enjoy its gorgeous views before a short ferry ride to smoking Sakurajima for a close-up view of the volcano and its lava fields. Or journey into the countryside to Chiran and its well-preserved streets lined with samurai homes.
Enjoy the beautiful landscape of Lake Ikeda and the stunning vistas of the Satsuma Peninsula.
Day 10: Wednesday, April 10, 2024 | Hiroshima, Japan
Arrive 10:00am – Depart 7:00pm
*Excursions Available*
Visit the skeletal A-Bomb Dome, the Peace Memorial Park and Museum and the statue dedicated to the children who died after the atomic bomb was dropped on this city in 1945. Stroll through beautifully landscaped Hiroshima Gardens, visit the rebuilt Hiroshima Castle or journey to the exquisite sacred island of Miyajima and see the extraordinary Itsukushima Shrine.
Day 11: Thursday, April 11, 2024 | Kochi, Japan
Arrive 10:00am – Depart 6:00pm
*Excursions Available*
Not the typical Japanese city, small and compact Kochi has gained a well-deserved reputation for its exuberant, easy-going spirit and vibrant food scene. The city is the birthplace of the legendary samurai Sakamoto Ryoma, who created an alliance that eventually brought down the Tokugawa shogunate and is now commemorated in a memorial museum. In the city center, don't miss the well-preserved hilltop Kochi Castle to explore the grounds where the city was established in 1601. You might continue your downtown explorations at one of the many pedestrian shopping arcades or at a restaurant to try Kochi's most famous dish – katsuo-no-tataki, a savory dish of grilled, ponzu-marinated skipjack tuna or bonito fish.
Day 12: Friday, April 12, 2024 | Nagoya, Japan
Arrive 9:00am – Depart 5:00pm
*Excursions Available*
A center of modern commerce, yet steeped in ancient history; visit the castle in the center of town, its golden orca statues are a symbol of the city. Explore Toyota's Museum of Technology and tour the Noritake factory, where bargains on the fine china can be found.
Day 13: Saturday, April 13, 2024 | Tokyo (Yokohama), Japan
Disembark 8:00am
Dazzling cityscapes await your exploration; visit Asakusa for the bright lights, street fairs and Senso-ji Temple; the Tsukiji Market, the largest open-air fish market in the world with on-the-spot sushi; and the Imperial Palace's East Garden for some calm. Spend the evening in the bright, active Ginza District, where the night comes alive.
Call Lori Ann Marinaccio at 941-951-1801 at extension 104 now to reserve your space on this unique journey today! You may e-mail at loriann@admiraltravel.com.
For most accurate rates & cabin availability, please call our office.
A $250 per person Admiral Travel booking fee will apply. (VIPLane members complimentary)
Inclusions
FineButler service in every suite
Unlimited Free Wifi

Onboard gratuities

Complimentary transportation into town in most ports

Onboard entertainment

24-hour dining service

Beverages in-suite and throughout the ship, including champagne, select wines, and spirits

Multiple restaurants, diverse cuisine, open-seating dining

Personalized service – nearly one crew member for every guest
PLEASE NOTE:
All payments made to or on behalf of Admiral Travel are non-refundable unless stated otherwise
If minimum numbers are not met for a hosted departure, prices are subject to change / increase to confirm same program on a private basis
Founder's Journey will always be priced at or below published rates, but never higher.
Travel with like-minded individuals on these exclusive departures.
Enjoy a welcome cocktail party to meet your fellow travelers.
A hosted dinner will be offered during one night of the trip.
On many occasions, optional shore events are offered as an option that only our group is invited to join.
Special global relationships that the Hiltons have formed over the years will allow you privileged access opportunities.
Trips are offered well in advance to give ample time for your future planning.
Minimum number of guests needed for Admiral Travel to escort.