August 30 – September 4, 2022
Explore the lunar like landscape of Cappadocia which is an area like nothing else in the world before traveling to Istanbul, a special gem of a city that is full of History, Culture, Arts, and Cuisine.
Call 1.888.722.3401 to inquire.
August 30, 2022 – Depart the ship for your private transfer to the Istanbul Airport for your flight to Kayseri
Arrive in Kayseri, meet your professional guide holding a name sign outside of the luggage claim area at the airport and drive to the Museum Hotel. Visit some of the valleys en route to the hotel.
Visit Devrent Valley. One magical corner in the countless panoramic valleys of Cappadocia, here is an unbelievable landscape with its rock formations and savage feeling; one of the best introductions to understanding the formation of fairy chimneys.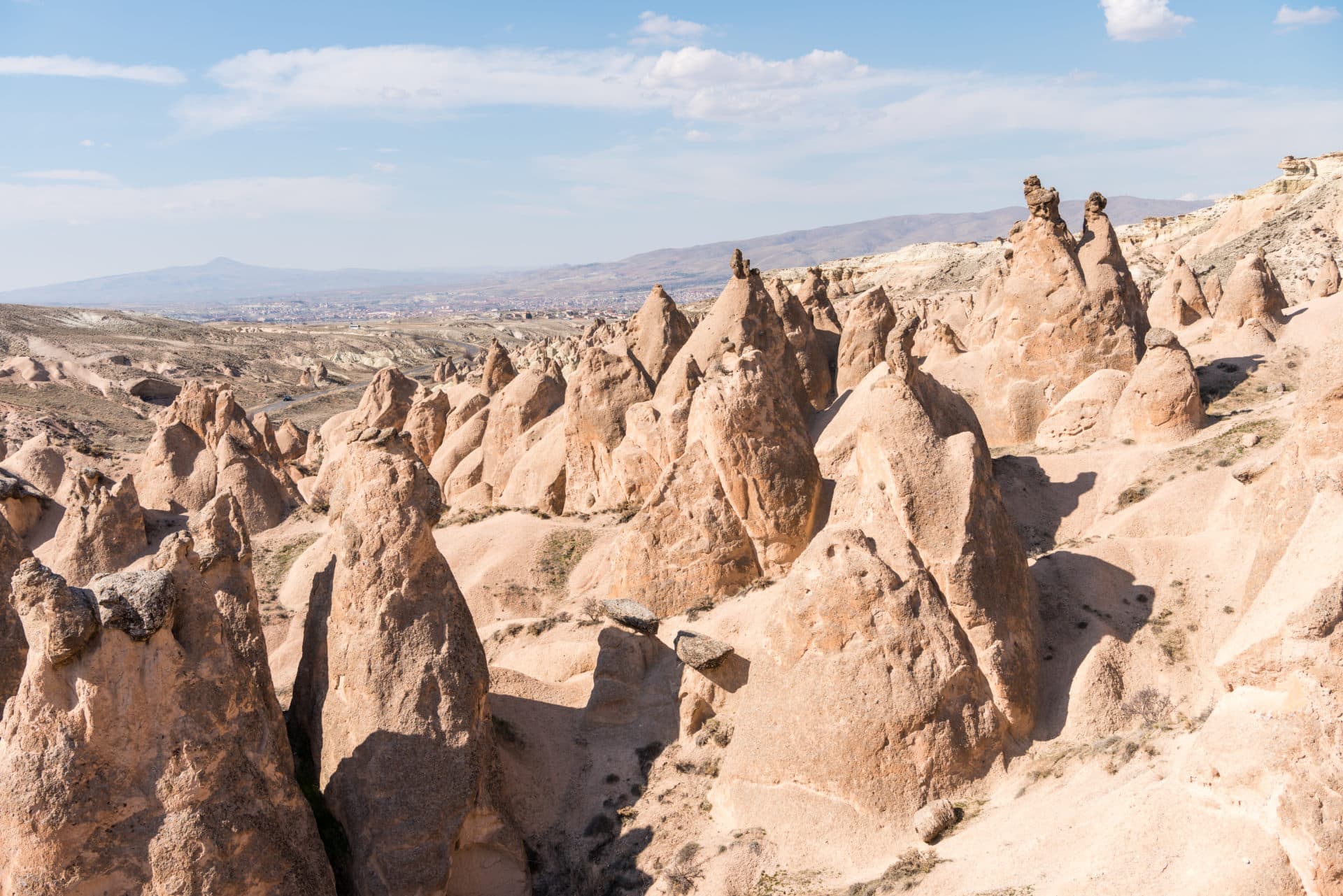 Lunch reservation at Prokopi Restaurant in Urgup. You can taste Turkish Cuisine with a beautiful view.
Next, you will stop in the Pasabag Valley where the formation of "fairy chimneys" can be best observed. Pasabag, the Pasha's Vineyard, is surrounded by incredible natural rock formations; a spectacular scene.
You will visit Zelve Open Air Museum, where three valuable valleys meet. This glorious natural beauty consists of numerous pointed and large fairy chimneys, incredible cave town, honeycombed structures, religious and secular chambers.
At the end of your visits, you will continue to your hotel.
Tonight, enjoy dinner at Lil'a Restaurant located inside Museum Hotel, offering the most distinct interpretations of Anatolian cuisine and Cappadocia food culture with the wonderful view of the valley
Museum Hotel
'Unique…' There is no other word that better describes Museum Hotel. Situated in a very special geographic region in Cappadocia, Museum Hotel has been designed and created from a distinctive combination of the land and historical features and ruins, some intact and some beautifully restored to their original glory. The hotel features 30 rooms & suites—each of them exceptional in their own inimitable way. No room can be alike, with each bringing its own special ambiance, contributing to Museum Hotel's evident character and charm.
August 31, 2022– *Optional with additional cost* Early in the morning (exact pick-up time will be advised the night before), you will wake-up to get ready for your ballooning experience. You will float over Cappadocia and see the fantastic landscape, going down into the valleys. It is an unforgettable experience!
After your tour, you will return to your hotel for breakfast.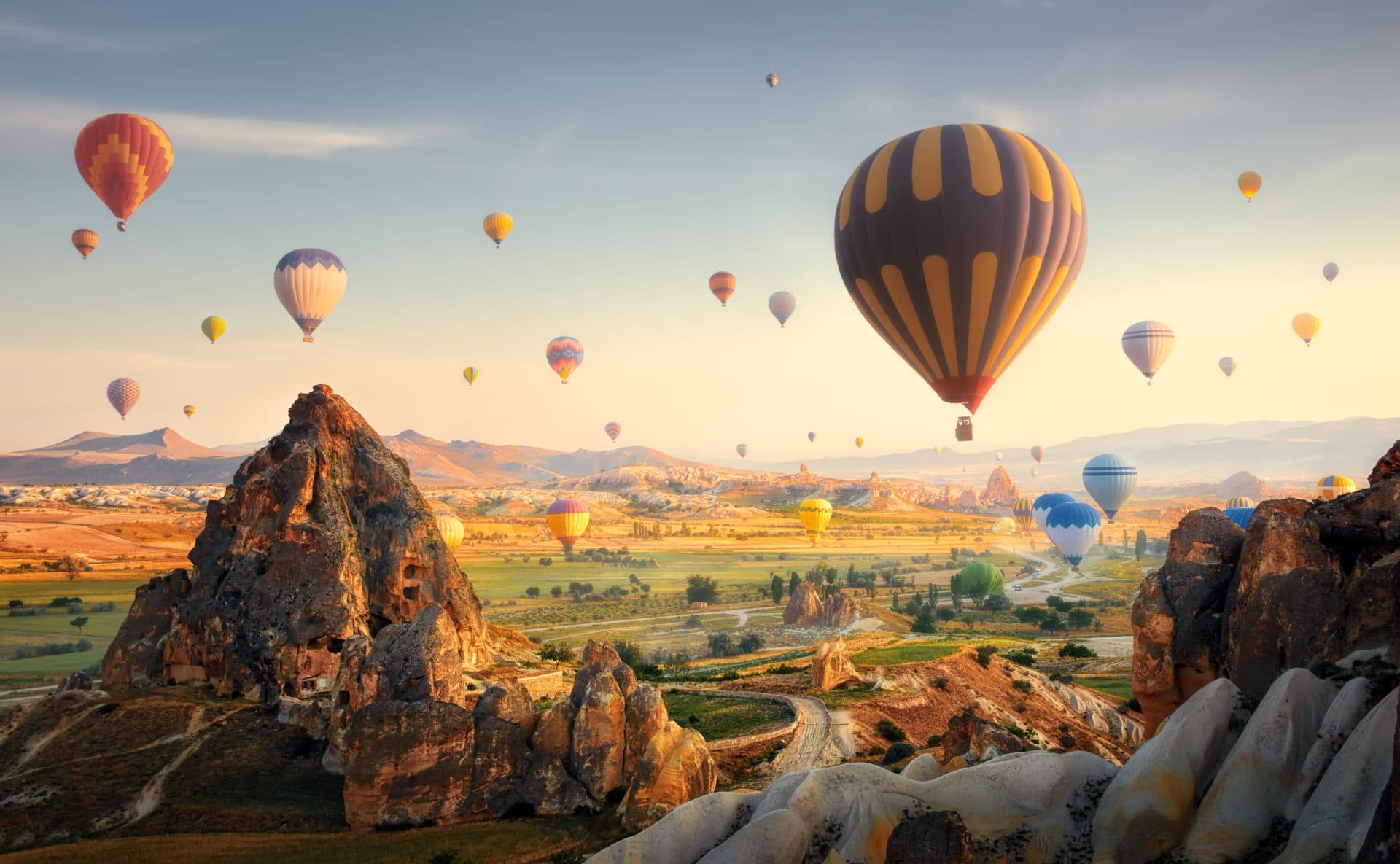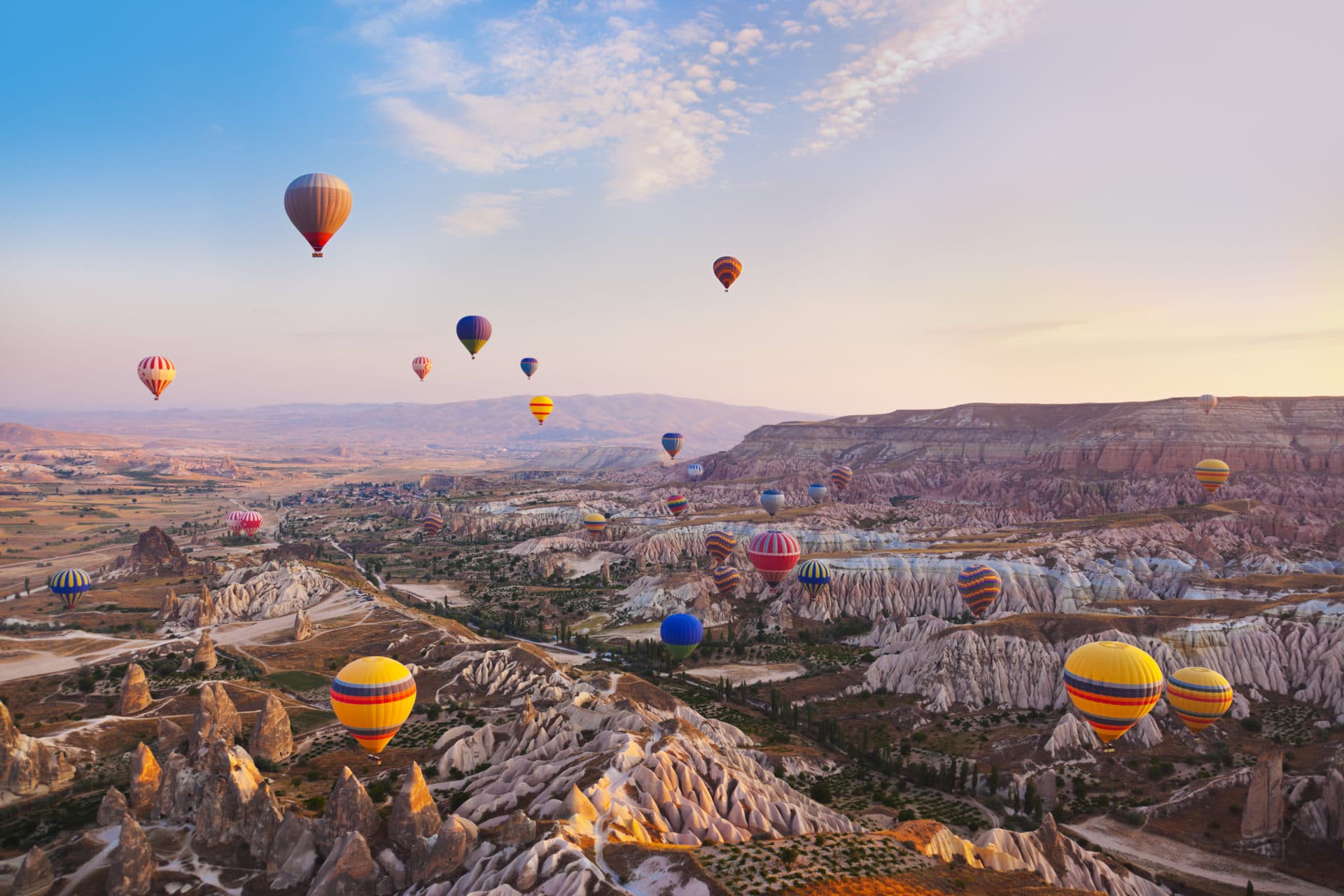 After your cooking experience, enjoy a full day of sightseeing:
You will start with a visit to the Göreme Open-Air Museum which is the miraculous and amazing small cave city that located at Cappadocia's famous Goreme Valley. The rich museum has been a member of UNESCO World Heritage Museum List since 1984. The oldest churches in the area date back to the 6th century. Among these churches, the most important ones are Dark Church, Snake Church, Apple Church, and Buckle Church.
You will visit Kaymakli Underground City, where eight levels extend below ground and include; living quarters, kitchens, wine presses, storage rooms, stables and ventilation shafts. Early Christians carved out these subterranean complexes to avoid invaders who swept across the plains of Anatolia from the 6th to the 9th Century.
Visit pretty town of Avanos, which has long been a center for pottery artisans as it lies on the banks of the Red River where clay supplies are abundant. Enjoy a visit to a pottery workshop to meet the artisans and see their collections displayed in an underground cave complex.
At the end of your tour, you will return to your hotel.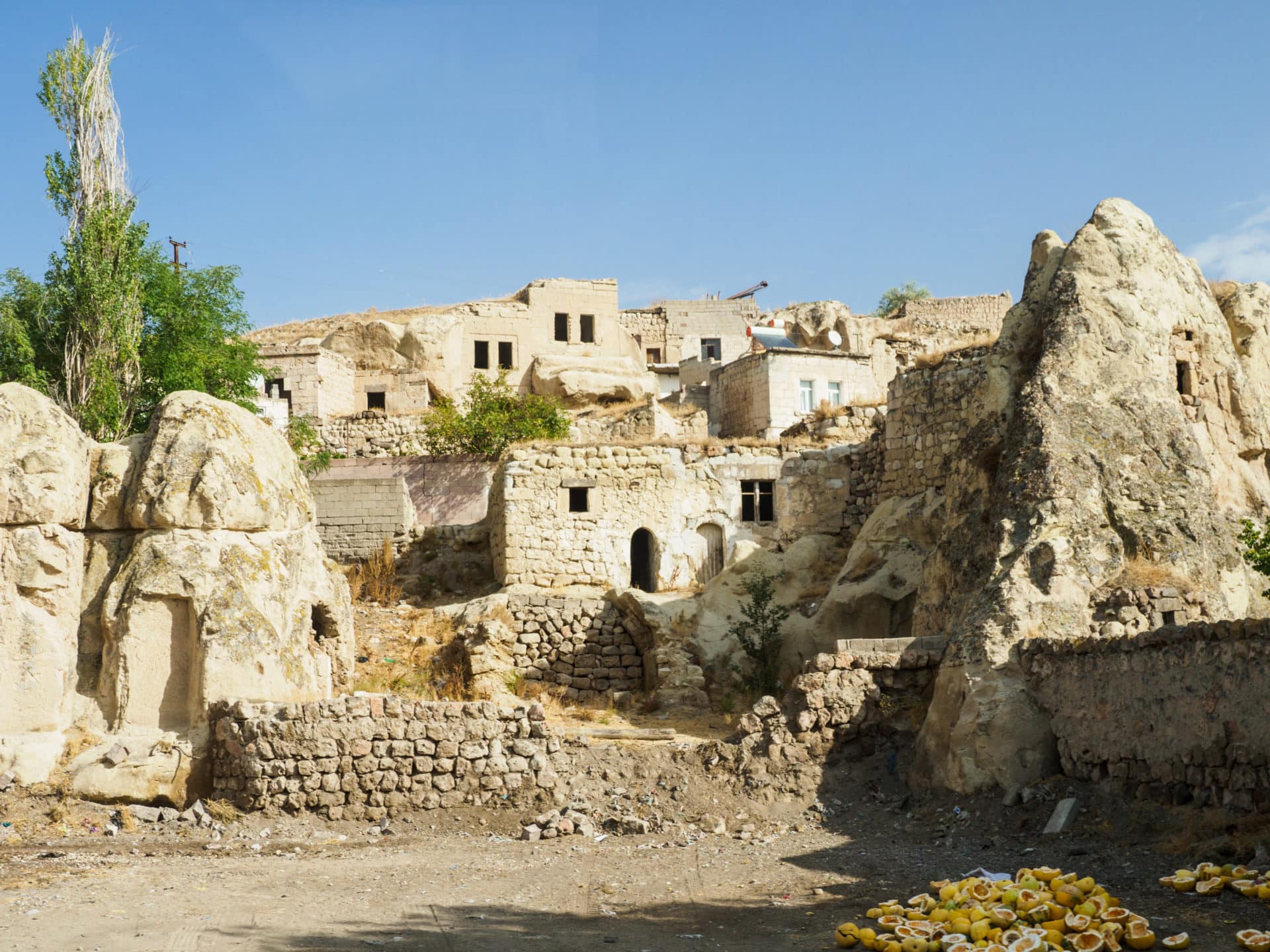 Wine Tasting at Seki Restaurant in Argos Hotel
Wines have played an important role in Turkey since times immemorial and Cappadocia was one of the first wine-producing areas. You will learn about the processes behind the production of wines. To complete the experience you will taste a selection of the wines at Seki Restaurant by enjoying the beautiful view of valleys. Cappadocia has a unique landscape and the best wines.
Following wine tasting – enjoy dinner in this local eatery.
September 1, 2022 – Depart to Istanbul 
This morning, you will have a private transfer to Kayseri airport to board your flight to Istanbul
Upon arrival – meet your representative holding your name sign outside of the terminal building and transfer to The Four Seasons Istanbul for check-in
Four Seasons Istanbul at the Bosphorus
Proudly standing on the shores of the scenic Bosphorus – the storied strait that links Europe and Asia – the lovingly restored, 19th-century Ottoman palace brings together Istanbul's ancient architecture, warm Turkish hospitality and contemporary accommodations. Relax in one of the traditional hammams, spend an afternoon lounging around the outdoor pool, and savour Anatolian delicacies as you admire the soaring minarets and towers of the city's inimitable waterfront skyline.
"The Club" at the Four Seasons Istanbul
September 2, 2022 – You will meet your professional guide holding a name sign for your private full-day of sightseeing
Explore a bit of Culinary Art
You will visit the street stalls of the Karakoy area and sample their delicacies as we explore the neighborhood. Information about the seller and the food is explained throughout the tour with a little bit of history.
You will visit Namli, a gourmet shop and restaurant carrying quality varieties of olive oils, international sauces, cheeses, helva, dried fruit and nuts, meze and other delicacies, as well as deli meats such as pastrma and sucuk. You may enjoy tasting some specialities that are in high demand by locals in the shop.
Your next stop will be the Karakoy Gulluoglu Baklava shop to indulge in what most locals believe to be the best baklava in all of Turkey. Enjoy dessert at this Istanbul institution, and observe the local foot traffic as deliveries depart for homes throughout the city and to all parts of the country.
After your baklava tasting, you will visit Galata. You will see stuffed and fried mussel sellers and the historical pickle-hawkers in the Fish Market.
The historical Egyptian / Spice Bazaar is a colorful and mystical covered spice market lined with spice stalls in Eminonu coast, near the Yeni Mosque, in the Historical Peninsula of Istanbul. Spices, dried fruits, cheeses, sausages, jams, nuts and seeds, Turkish delight and other edibles fill most of the shops. You are able to find about every kind of herbs and spices at the market, and as well as ingredients for cooking, Turkish delight and Turkish coffee.
Lunch will be served at Hamdi Restaurant, located on the Golden Horn where you can taste traditional Turkish kebabs.
Following lunch, visit the Grand Bazaar. Before arrival to the Grand Bazaar you will have an opportunity to learn about the art of carpet weaving. One of the oldest and largest covered markets in the world, the Grand Bazaar dates from the 15th century. The world famous handmade carpets and kilims of Turkey, some of the most beautiful examples of Turkish silver art, souvenirs and decorations made of copper and bronze and high quality ceramics, onyx, and leather goods are for sale.
At the end of your tour, return to the hotel.
Dinner tonight will be at Baskose Restaurant, which is an elegant Turkish kebab restaurant. You can taste delicious kebabs from southeastern Turkey.
September 3, 2022 – Private full day of sightseeing
Hagia Sophia is mostly known as one of the most valuable and fascinating structures in the world of art and architecture. It deserves to enter to the collection of the rare works by challenging to the time. The walls of this beautiful piece of architecture are decorated with gorgeous mosaics. UNESCO accepts Hagia Sophia as The World Heritage because of architectural beauty.
You will visit the magnificient Topkapi Palace which was completed between 1465 and 1478. The Topkap Palace Museum is notable not only for its architecture and collections but also for the history and culture of the Ottoman Empire that it recalls. Opulent, decadent and steeped in history, it offers visitors a chance to get to know the Sultans of the Ottoman Empire rather more intimately.
Lunch is served at Konyalı Restaurant serving traditional Turkish cuisine in the Topkapi Palace.
You will visit the Hippodrome Square which was built by Septimius Severus to entertain the public at the beginning of A.D 2 century, In 196. Pretty attractive Thedosius I Obelisk is the product of Egypt. This alone should give you some idea of how impressive the Hippodrome of Constantinople's architecture was.
Blue Mosque, this breath-taking building is one of the most majestic Ottoman mosques in all of Turkey. The blue Iznik Tiles covering the walls have given the mosque its popular name, Blue Mosque. Make sure you will spend some time in silence inside the magnificent mosque to admire its prayerful atmosphere and superb blue tiles.  * It is advised to dress respectfully when visiting, although scarfs and outer garments are given at the door if necessary.
At the end of your tour, you will return to your hotel.
Tonight, dinner is reserved at Sarnic Restaurant – In the magical atmosphere of a 1,500 years old Water Cistern, Sarnic restaurant offers you the delicacies blended in their extraordinary menu crowned with mastic (especially used in early Ottoman era Anatolia), anise (used as an aphrodisiac in Palace kitchens), almond, dib roman, walnut, saffron, cinnamon, coriander and za'atar.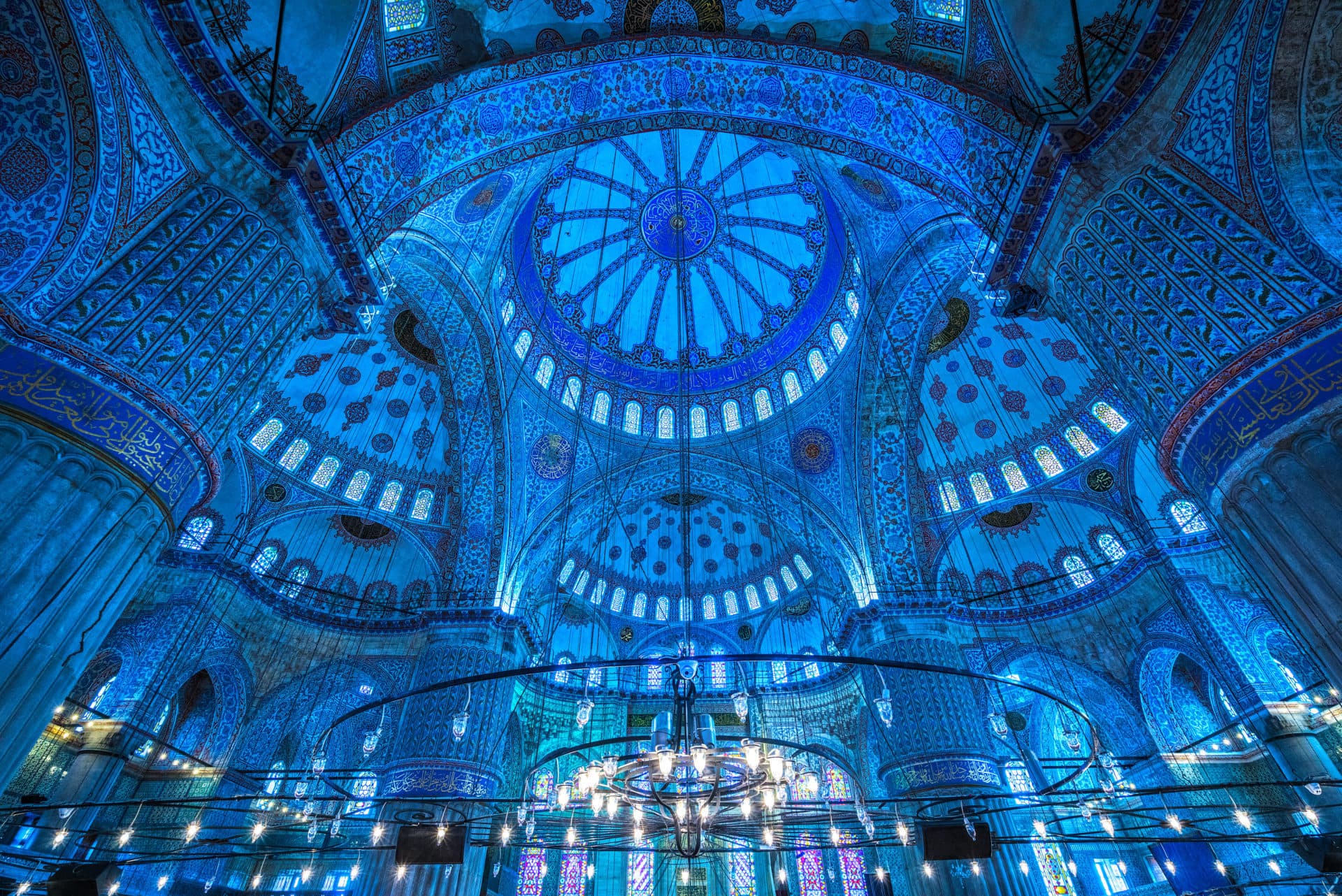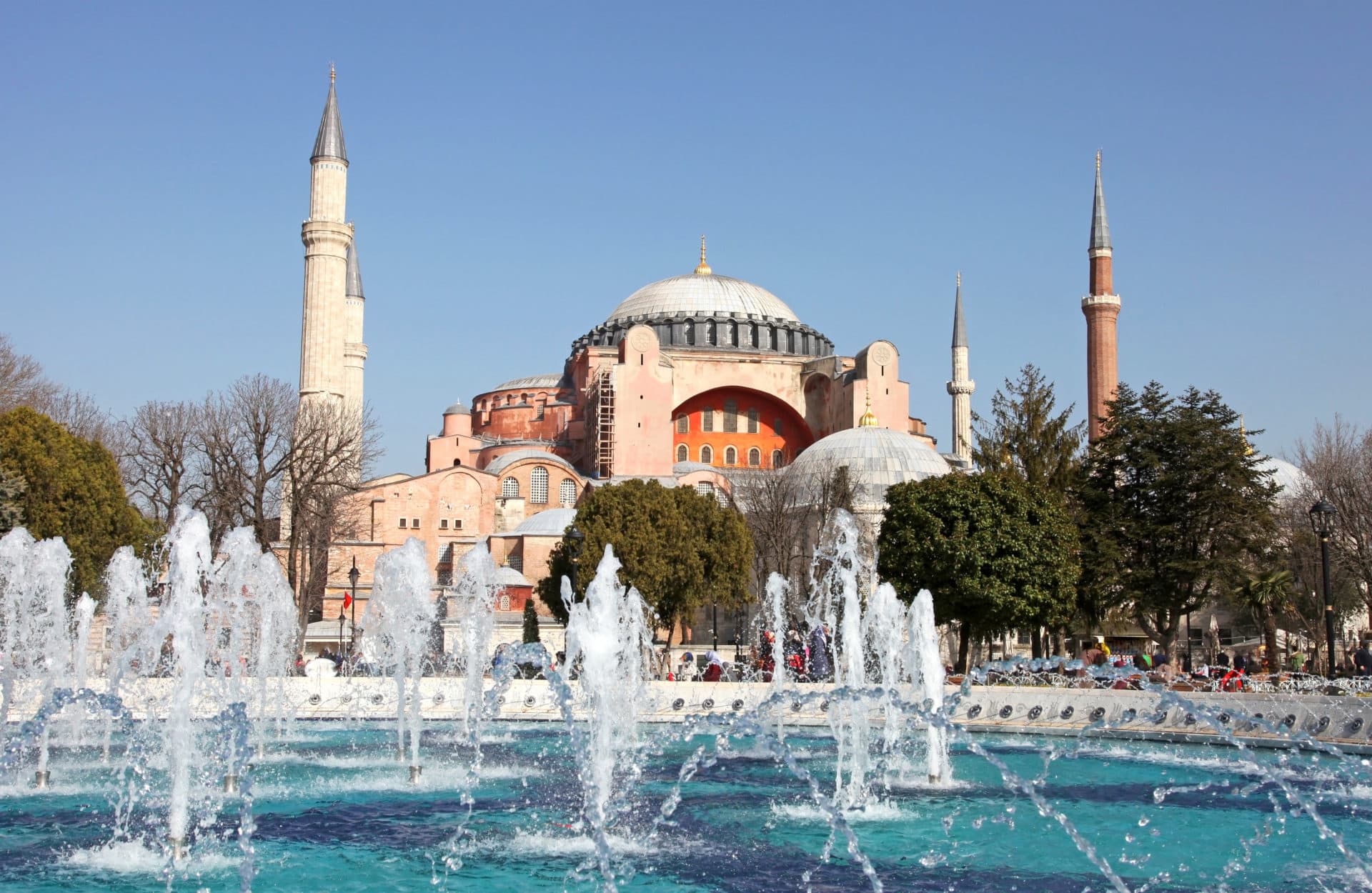 St. Sophia | Hagia Sophia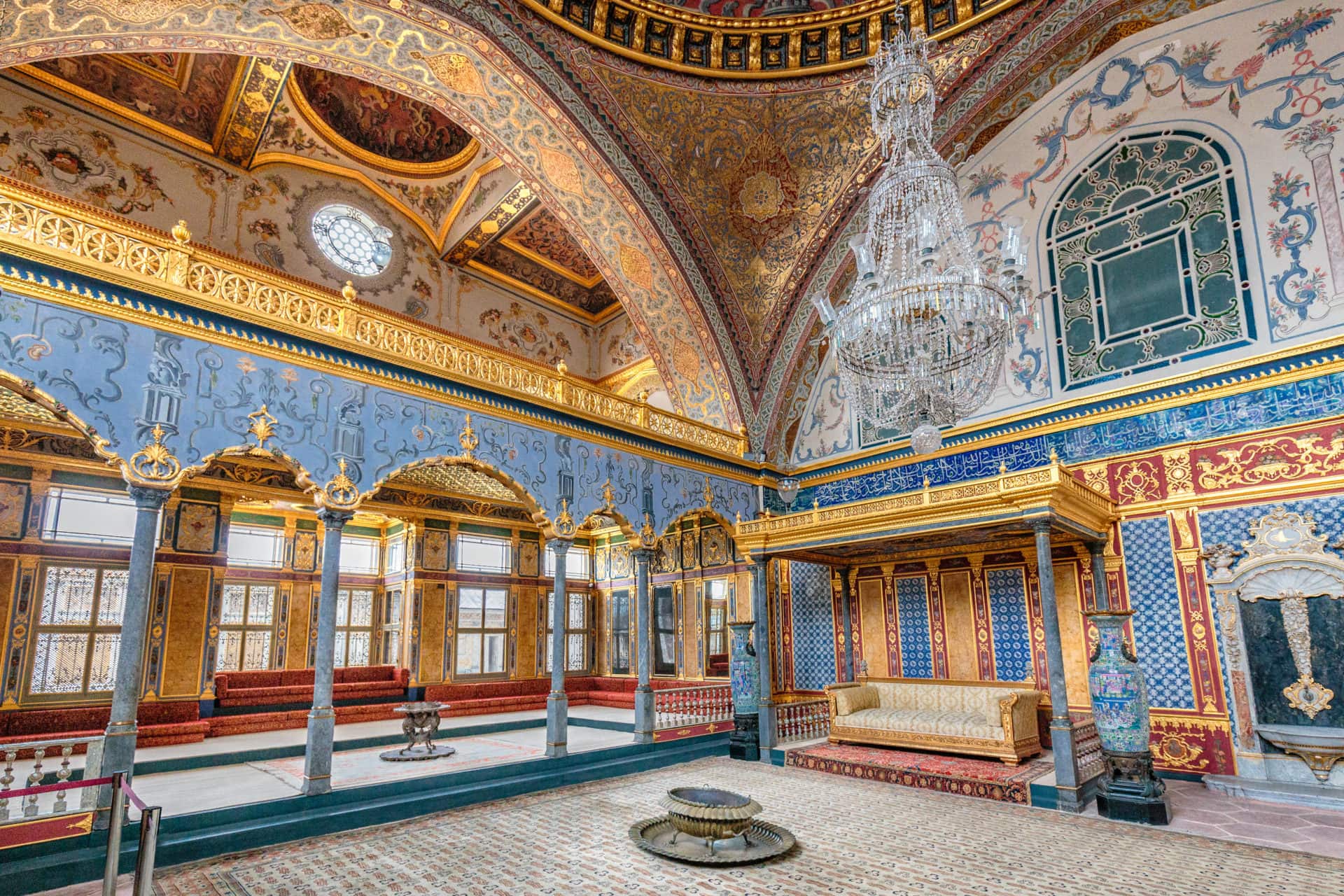 September 4, 2022
This morning, you will meet your private driver at the hotel lobby and transfer to the airport for your international flight.
Call Jolene DiRocco at 941-951-1801 at extension 106 now to reserve your space on this unique journey today! You may e-mail at jolene@admiraltravel.com.
Note: Turkish Visas are required for travel. You can get it online through the following link with just 3 easy steps:
Pricing, Payment and Cancellation
Price: $5,690 per person based on double occupancy
25% non-refundable deposit due to secure your space
Price based on minimum number of guests traveling
Final payment due Apr 22, 2022

All payments are non-refundable