September 24 – October 1, 2023
Indulge your passion for awe-inspiring architecture, timeless music, breathtaking landscapes and culinary delights on this beautifully curated itinerary specifically designed for the AmaMagna.
Call 1.888.722.3401 for most accurate pricing & availability (scroll down for journey details)
Embarkation: Vilshofen, Germany
Click the video below for an introduction to AMA Waterways
In the evening, board the ultra-luxurious AmaMagna and be treated to a festive Bavarian Oktoberfest celebration complete with music, beer and pretzels.

September 25, 2023 | Passau, Germany
Join a walking tour and marvel at Passau's Gothic and Italian Baroque architecture and St. Stephen's Cathedral. Or take a guided hike up to the Veste Oberhaus fortress. You can also ride to Wernstein on a guided bike tour.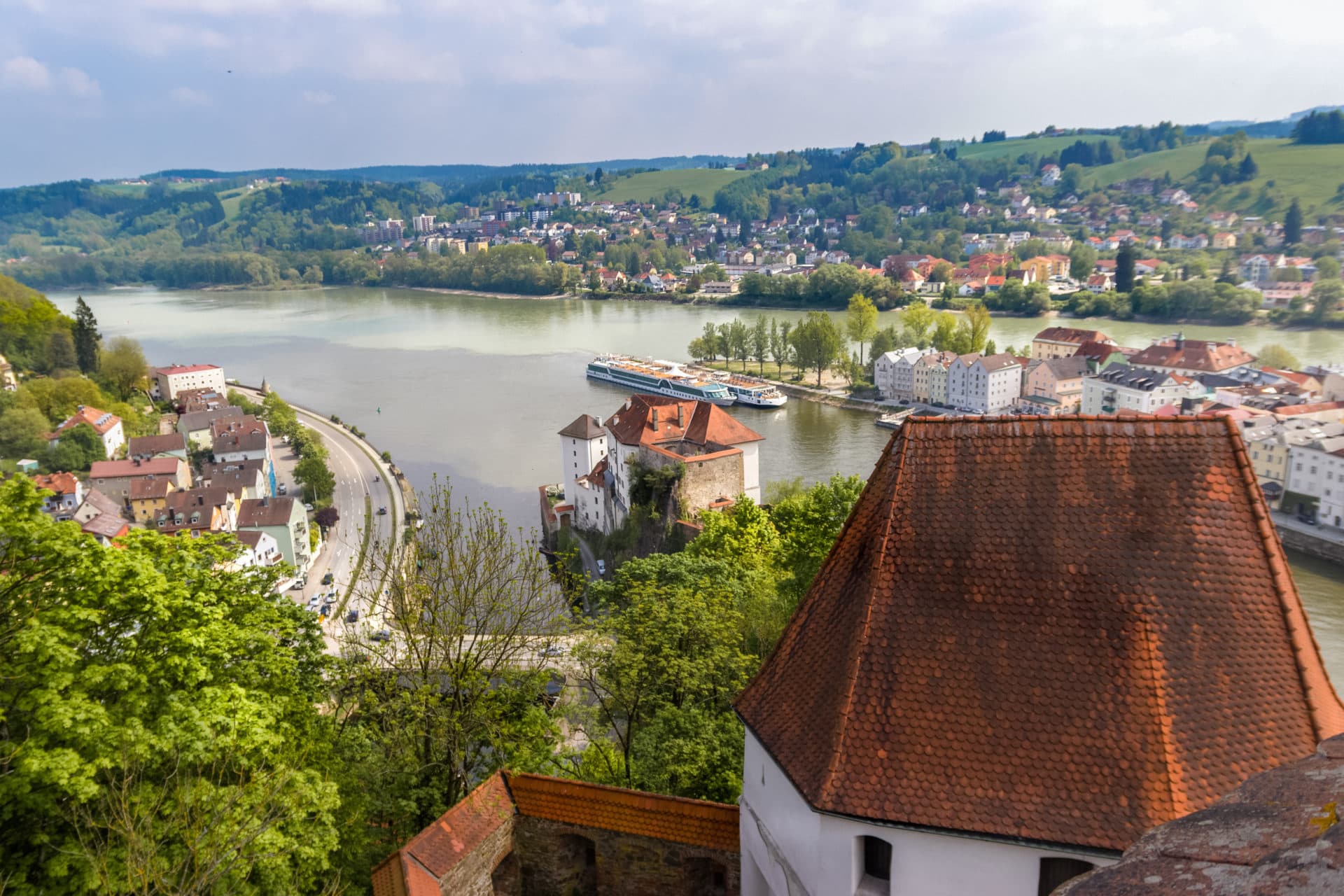 September 26, 2023 | Linz & Grein, Austria

Join a walking tour through the old city center of Linz and by the Mozart House; or bike along the city's famed "Cultural Mile" and the Danube. For those who love The Sound of Music, enjoy a full-day excursion to Salzburg and tour the historic center, Mirabell Gardens, Residenz Square and the Old Market. En route to Salzburg, stop at Mondsee, home of the Basilica St. Michael, where the famous wedding scene in the movie was filmed. In the afternoon, you can visit the charming Czech mountain town of Český Krumlov. Later in the day, visit Greinburg Castle, the oldest residential castle in Austria.
AMA Magna
Set sail in ultimate luxury on board AmaWaterways' state-of-the-art ship, AmaMagna, redefining the river cruise experience. Twice the width of traditional European river ships, the AmaMagna offers more than 50% ultra-spacious suite accommodations with full balconies as well as five onboard bars, four unique dining experiences, an expansive Zen Wellness Studio, two soothing massage rooms, a hair salon, nail salon and much more.
September 27, 2023 | Melk & Spitz, Austria
In the morning, you can visit the 900-year-old Melk Abbey situated high atop the granite cliffs of the Danube, or get active with a bike to Marbach before returning to Melk and the ship for lunch. During the afternoon, journey to Spitz and take a guided excursion to Dürnstein to stroll along the cobblestone streets to the Baroque Stiftskirche, with its famed church tower on a walking tour. Those who wish a more active adventure of the area can hike to the historic Dürnstein Fortress, cycle through Spitz to Emmersorf and back to Spitz, or hike around Spitz up to Rotes Tor.
In the evening, be treated to an exclusive wine experience where you'll enjoy some of the region's famous wines.
September 28, 2023 | Vienna, Austria
Vienna offers a wealth of gems and your city tour showcases its regal splendors, including the majestic Opera House and the former Imperial Palace of the Habsburgs. Conclude your tour in Vienna's historic city center, and then visit St. Stephen's Cathedral; or discover Vienna by bike. During the afternoon, visit the Palace of Schönbrunn, an exquisite example of Baroque architecture and opulence. Built as the summer residence of the Habsburg Emperors and spanning an astounding 1,441 rooms, this Rococo palace soon became one of their favorite homes. Your visit will include a guided tour of the Imperial apartments, the carriage museum and the equally impressive gardens.
September 29, 2023 | Vienna – Bratislava, Slovakia
Host to the crowning ceremonies of 11 Hungarian kings and queens between 1536 and 1830, Bratislava certainly has earned the title "Coronation City of Kings," as you'll discover during your walking tour. Or join a special "Tastes of Slovakia" tour. For a more active adventure, hike to its gleaming castle.
September 30, 2023 | Budapest, Hungary

Budapest offers an unmatched combination of culture and tradition. Visit the Great Market Hall before going to both the Buda (hilly) and the Pest (flat) sides of the river. You'll see Heroes' Square and Castle Hill, home to the Fisherman's Bastion and Mattias Church. As an alternative, hike up to Castle Hill for breathtaking views of the city. During the afternoon, sail out of Budapest, passing through the scenic Danube Bend where you'll see some of Hungary's oldest settlements, including Esztergom, Visegrád and Szentendre.
October 1, 2023 – Budapest, Hungary – Bid farewell to the ship.
Disembarkation: Budapest, Hungary
Call Michelle Andersen at 941-951-1801 at extension 103 now to reserve your space on this unique journey today! You may e-mail at MAndersen@admiraltravel.com
For most accurate rates & cabin availability, please call our office.
$250 per person ATI booking fee will apply (VIPLane members complimentary)
YOUR ALL-INCLUSIVE CRUISE FARE INCLUDES:
7 nights luxury accommodation in an outside stateroom (most with twin balconies)
Computer for internet access
Entertainment-On-Demand in all staterooms featuring free high-speed internet access, movies, a music library and English language TV stations
Bottled water replenished daily
All onboard dining in a variety of venues
Regionally inspired cuisine made with locally sourced ingredients
The Chef's Table specialty restaurant
Welcome Cocktail, Welcome Dinner, La Chaîne des Rôtisseurs Dinner, Captain's Cocktail and Gala Dinner
Sip & Sail Cocktail Hour with complimentary wine, beer, spirits and soft drinks
La Chaîne des Rôtisseurs exclusive dining experiences
Unlimited fine wine, beer and soft drinks with lunch and dinner
Unlimited sparkling wine and fresh juice with breakfast
Tapas, sandwiches, snacks and refreshments served daily in the Main Lounge
Immersive tours in every destination
Gentle, regular, active and late-riser tour options
Bike tours and hikes
PLEASE NOTE:
Founder's Journey will always be priced at or below published rates, but never higher.
If minimum numbers are not met for a hosted departure, prices are subject to change / increase to confirm same program on a private basis
Travel with like-minded individuals on these exclusive departures.
Enjoy a welcome cocktail party to meet your fellow travelers.

On many occasions, optional shore events are offered as an option that only our group is invited to join.

Special global relationships that the Hiltons have formed over the years will allow you privileged access opportunities.
Trips are offered well in advance to give ample time for your future planning.
Minimum number of guests needed for Admiral Travel to escort.
Pre-trip Option:

Join Admiral Travel in Munich for Oktoberfest – the world's largest Volksfest! We have arranged a stay at the beautiful Kempinski Hotel in Munich with a VIP Tent for Oktoberfest.