May 14 – 24, 2022
Join Ryan & Malaka Hilton on a fantastic journey full of culture, wine, and food to the Northern Basque region of Spain, followed by a few days in Bordeaux, France. The Basque Country is a unique part of Spain located on the country's northern coast, and like many places in Spain, it has its own culture, identity, food and even language.
Located in the southwest of France, not far from the Bay of Biscay, Bordeaux offers more vineyards—more than 100,000—than you could possibly try, but there's glory even in just scratching the surface. The crescent-shaped city of Bordeaux, found along the Garonne River, has been the region's wine capital for decades.
Cost: TBD / Please inquire
Call 1.888.722.3401 to secure your space on this unique journey (scroll down for journey details)
May 14, 2022 – Arrival into Madrid, Spain.
450 years ago, King Philip II of Spain converted Madrid, then a very small town, into the capital of his kingdom "where the sun never set". Today Madrid has become, after Paris and London, the third most populated European city. Its outstanding architecture, fabulous museums and high–end shops and restaurants have made Madrid one of the world's major cultural and commercial centres.
The good climate it enjoys and the friendliness of its people attract every year millions of visitors, ready always to enjoy the thrilling nightlife of this unforgettable city.
Street life is one of the trademarks of 21st century Madrid; a place where tradition and modernity live harmoniously together in the cobbled streets of the old city as well as in the sleek, new fashionable districts. Madrid is, definitively, the place to visit!
Palacio de los Duques, a Gran Meliá Hotel
Bienvenido a España!
Welcome Tapas Dinner
Tonight, meet your personal host in the lobby of the hotel and begin enjoying a wonderful evening in Madrid. This is a unique opportunity to get acquainted with a two centuries old Spanish tradition, "the tapas". Tapas are small portions of different dishes, served at the center of the table so that each guest is free to choose when and what to eat, together with his or her drink usually a glass of Spanish wine or beer.
"Having tapas" or eating "tapas style" is probably the most enjoyable way of having lunch or dinner in a friendly atmosphere. This "tapas experience", however, is not only a gastronomical delight but, thanks to your experienced Spanish host, might turn out to be – if you so wish – an excellent occasion to exchange views in a relaxed environment or to learn more about topics of interest such as Spanish traditions, how Spaniards see the world, aspects of their history, family life, sports, economics and so on. It will be practically impossible for you to ever forget such an outing.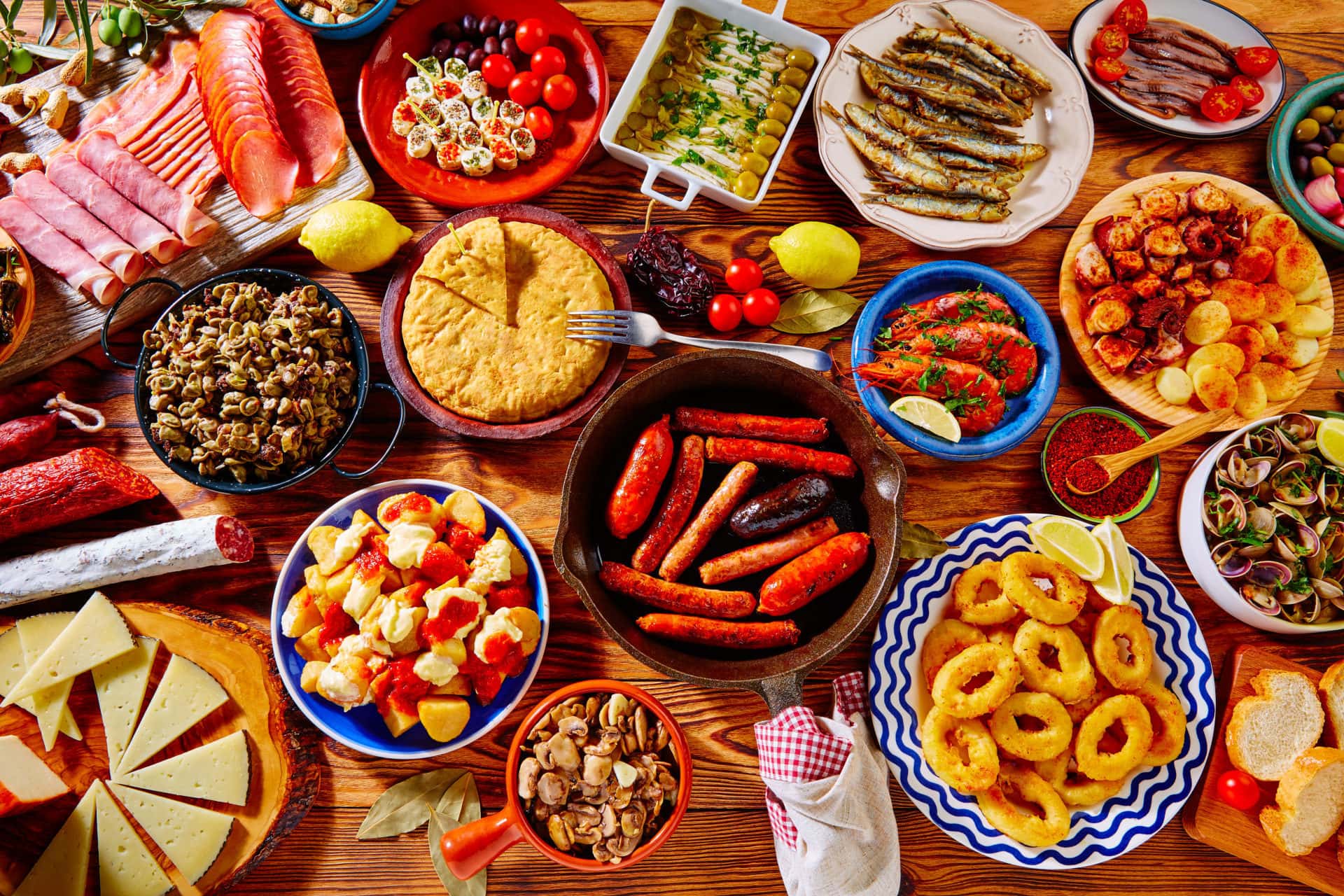 May 15, 2022 –
Option: Private Visit to the Prado Museum
Meet your art expert in the hotel lobby. The Prado Museum opens their doors for you to enjoy the museum privately. You will visit the Prado Museum with a Made for Spain expert guide who is an art historian. This imposing 18th century building, currently occupied by the Museum, was built under instructions of King Carlos III, to embellish the Prado Promenade. The Museum as such opened in 1819 and was intended to provide Madrid with an outstanding painting gallery, large enough to match those opening in Europe at the time. Very recently, the prestigious Spanish architect, Rafael Moneo, has enlarged the old building by adding a new wing with additional rooms and a fantastic gothic cloister not to be missed.
The Prado collection, with around 9,000 paintings, is one of the world most important and boasts names such as Bosch, Titian, El Greco, Rubens, Velázquez, Goya and Madrazo.
Enjoy a Tour to El Rastro Flea Market and some Chocolate with Churros with your Guide and your Driver
Transfer to the famous flea market called "El Rastro". On Sunday mornings, starting at Plaza de Cascorro, vendors line the streets, selling everything from antiques, leather wares, imported items, and textiles to clothing, souvenirs, and paintings. As Europe's largest outdoor market, El Rastro is quite an experience in shopping as well as a way to understand the city´s lifestyle.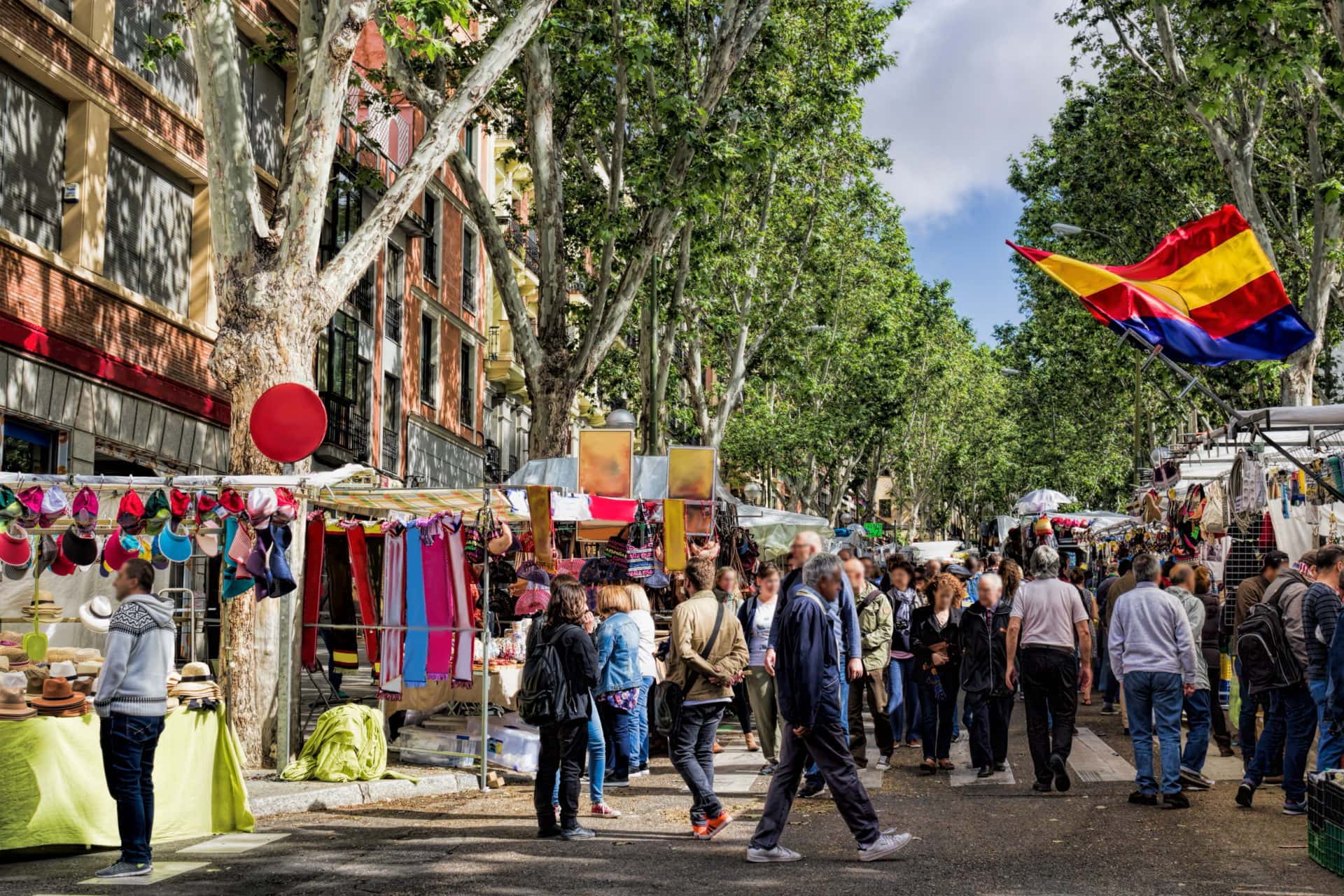 You cannot visit Madrid without trying Hot Chocolate con Churros, the traditional hot chocolate almost as thick as pudding and delicious too. Have a snack with your guide. Churros are distant relatives of the doughnuts, and the best way to have them is sitting at a table on a Gran Via sidewalk café, so you can relax and enjoy the view of the passing by madrileños. Spaniards do not joke around when it comes to chocolate. Spanish hot chocolate is made with dark chocolate and is thick, rich and delicious. Chocolate and churros is a pair that you must have together. One without the other leaves you feeling less than satisfied. Sure, you can try them at most of the bars or cafes in the old part of Madrid.
May 16, 2022 – Private Transfer to La Rioja Wine Region with stop in Ribera de Duero for Wine Lunch
Arrive to Bodega Lopez Cristobal and meet the owners
Visit the famous Lopez Cristobal Winery with Galo or his brother Francisco.  The Bodegas López Cristóbal winery is the result of a family dream to start a winery, which was realized by Santiago López and his wife Lola Cristóbal. The López family dedicated their lives to their country farm. The Bodegas López Cristóbal winery was founded in 1994 on this same farm where the winery is located today. Santiago López, this winery´s agricultural engineer, began his carrier in the 1980s making wine under the Ribera del Duero DO of Spain until he decided to make his own wine independently from other winemakers. Today, both of his children, Galo and Francisco, have taken the leading role at this winery and have dedicated their lives to constantly improving their vineyards and winemaking processes.
The Bodega López Cristóbal winery in the Ribera del Duero has 50 hectares of grapevines, of which 48 are Tempranillo (Tinta del País). The remaining two hectares are Merlot and Albillo grapes. All of these grapevines are located within the Roa del Duero at 9 different vineyards that each feature different soils compositions. The soils at all of these vineyards however are calcareous and full of silt and clays. These unique soils provide for excellent minerality in the red wines by the Bodegas López Cristóbal, providing them with unparalleled complexities.
Taste local products and have an informal meal in the winery. This will be the perfect time to enjoy the local gastronomy and sample local delicatessen and wines while discussing Ribera lifestyle.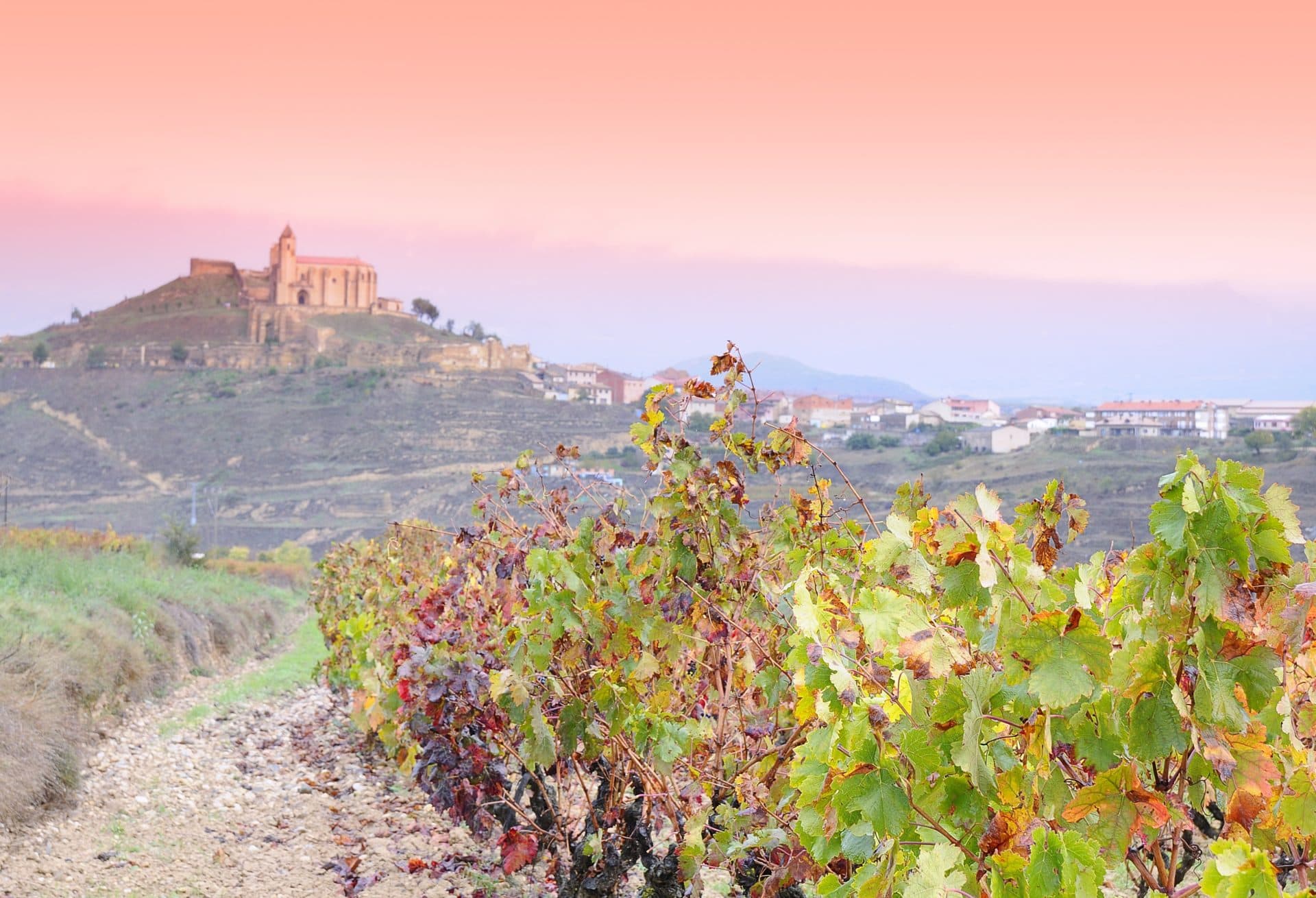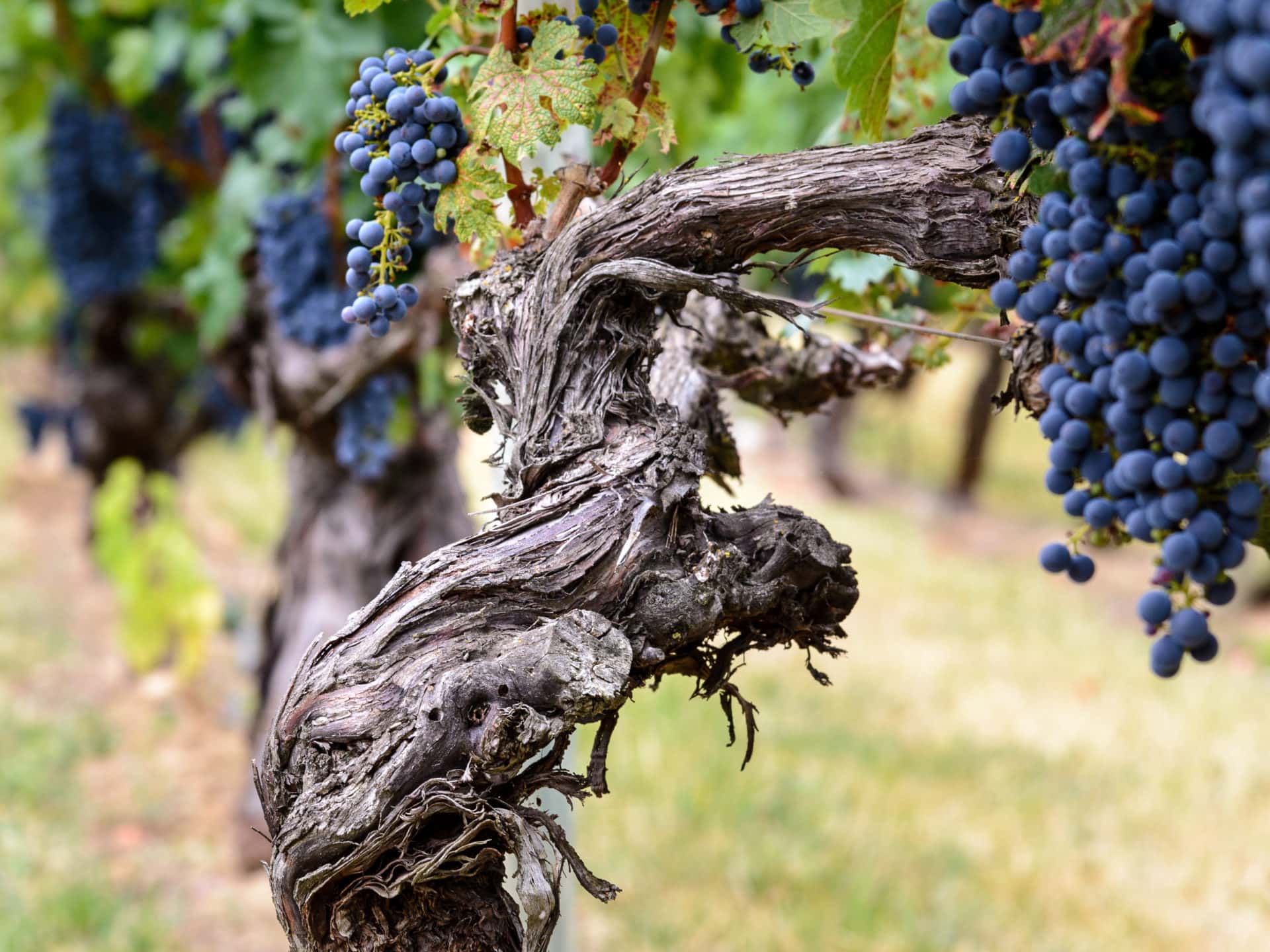 After the winery visit, continue to Elciego.
Check into Hotel Marques de Riscal, a Luxury Collection Hotel, Elciego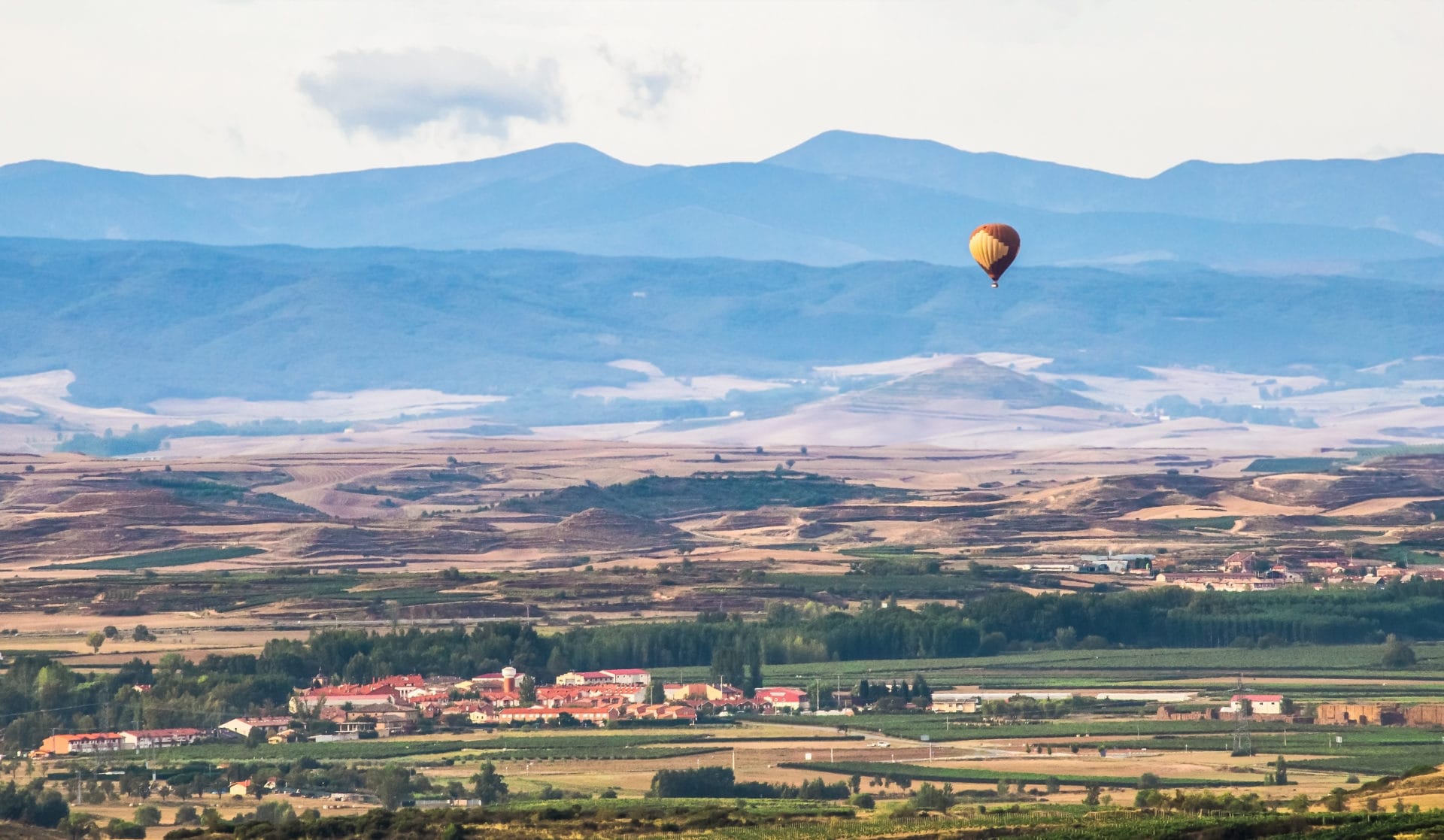 Ballooning Rioja
May 17, 2022 –
OPTIONAL: Hot Air Balloon Experience Exploring The Sonsierra Riojana
This area of La Rioja has been inhabited since prehistoric times (Dolmen). The cultivation of the vine goes back to time immemorial, so attest it the presence of cave wineries, located sometimes near medieval Necropolis. In the surroundings of San Vicente de la Sonsierra we also find hermitages, Romanic hermitages and other archaeological remains of great interest.
The village of San Vicente has an old town of great architectural interest, beginning by the medieval bridge over the Ebro River and the fortified complex of the walled enclosure formed by the Hermitage of the Vera Cruz, the Church and the ruins of the Castle. It also has unique cultural traditions such "Los Picaos". This together with the splendid landscapes and small samples of folk architecture (Chozos vineyard) make this proposal an unforgettable experience.
Enjoy the afternoon in Laguardia
Visit Casa Primicia Winery and enjoy a wine lunch
Casa Primicia is the oldest building in Laguardia. Here, in this emblematic space, the church collected the tithes and first offerings, the tax that obliged the servants to pay the tenth part of the harvest and the first fruits. Archaeologists have just discovered the secrets kept in Casa Primicia for more than five hundred years the files relate that in this emblematic XI century building the elaboration wine was started in the Laguardia village (XV century).
Enjoy wine tasting in the vineyards while the staff cooks a traditional Rioja menu.
After lunch, enjoy the rest of the afternoon at leisure to freshen up for the evening.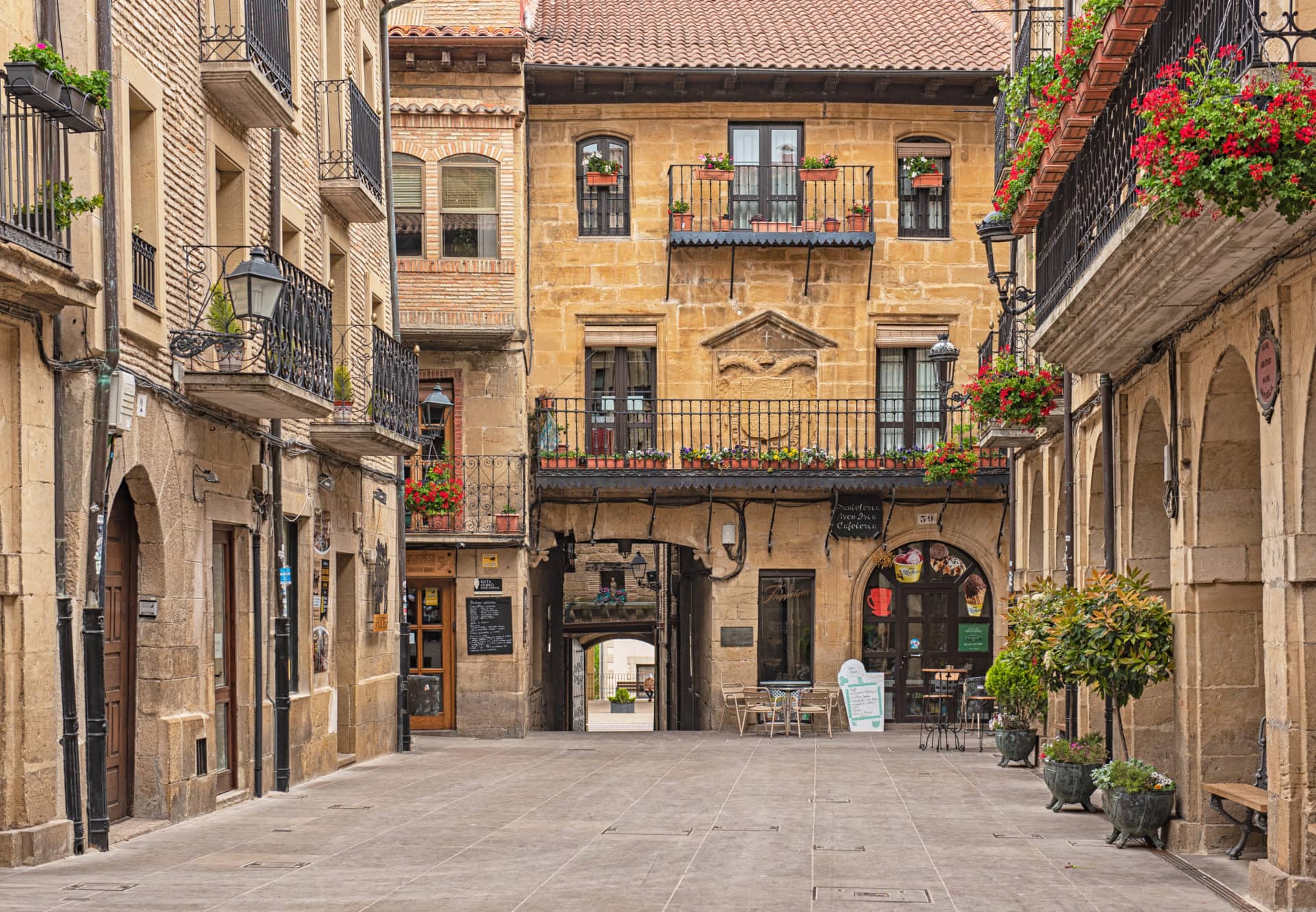 In the evening, transfer to Abalos & meet your host at Bodegas de la Real Divisa
Bodegas de la Real Divisa are located in the Village of Ábalos, at the foot of the Sonsierra, where climate and soil conditions are exceptionally suitable and favorable for the cultivation of grape vines and for the production of high quality grapes.
The Bodegas de la Real Divisa, of Ábalos (Rioja), date from at least 1367 and are some of the oldest wineries in production in Europe. Bodegas de la Real Divisa owe their name to the emblem of the pitcher with white lilies that can be found upon the entrance arch, an symbol which is not only historic, but is also closely connected with the Royal House of Navarra. Marqués de Legarda, the red wine of Bodegas de la Real Divisa, has adorned the tables of many noble, Spanish families over many years.
The Regulatory Council of the D.O.Ca. Rioja has selected the Marqués de Legarda Reserva 1964 in a wine tasting of the 50th anniversary of that excellent rated vintage. In that event 11 wines were selected including the Marqués de Legarda Reserva 1964. The wine tasting was held on November 25, 2014 at the Hotel Wellington in Madrid by 61 specialized journalists and wine experts. The next phase of the wine tasting was conducted by the food wine and style magazine 'Fuera de Serie'. This time the winners were 6 wines, among which again is the Marqués de Legarda Reserva 1964.
This reward is quite special as there are more than 550 wineries in Rioja.
Be a welcomed guest of the family of Marquis de la Real Divisa at their winery in La Rioja. The winery is one of the oldest in Europe, dating back 700 years. It has been owned by your host's family since its inception.  Your aristocratic host, who is also the deputy manager of his family's winery, will welcome you and guide you on a tour of the vineyards, cellars, and palace and invite you to taste some of their wines. In addition, you will enjoy a full meal with fantastic wines at the palace.
May 18, 2022 – Private transfer from La Rioja to San Sebastian (approximately 2h 15m)
San Sebastian or Donostia is one of the most beautiful cities of Spain. San Sebastian is a tasteful resort without the normal holiday resort trimmings and makes an ideal base from which to explore the Basque Country. This is the capital of the province of Guipuzcoa, the smallest province in Spain. The city offers quiet, natural places just minutes from the city centre and the city is divided into two by the River Urumea. It has been one of Spain´s most elegant and fashionable seaside resorts for more than a century. The city lies along two sandy bays with very white beaches. Fishermen's houses, a smart suburb and modern districts contribute to make of San Sebastian one of the most attractive cities on the Cantabrian coast.
Donostia-San Sebastian, Spain
In the afternoon, arrive into San Sebastian to check into the Hotel Maria Cristina, a Luxury Collection Hotel
This evening, enjoy a Pintxos Dinner Walking Tour with your Spanish Host
You will feel like a local during this tour… Basque people meet up with friends, family and work mates on a day-to-day basis pitxos hopping. This we do midday and also in the evenings. We simply love to get together, to chat, eat and drink but always informally.  How do we do it?? We usually go to 3 or 4 bars to enjoy the great Basque cuisine in miniature together with some txacolí, wine or beer… It is real fun!!
So… get ready for pintxos at some of the best bars in the city. The "Pintxo" is a slice of bread under a portion of food that changes according to the restaurant or bar you visit. Originally it was held together by a toothpick.  I will take you both bars… the popular ones and also to my secret places!! There are many bars… and I'm a good "connoisseur" … Let me guide you!
Whereas the bars in Barcelona and Madrid kept their tapas behind glass cases along the bar, in San Sebastian, the pintxos are beautifully laid out for all to see, covet, and drool over.
"Having tapas" or eating "tapas style" is probably the most enjoyable way of having lunch or dinner in a friendly atmosphere. This "tapas experience", however, is not only a gastronomical delight but, thanks to your experienced Spanish host, they might turn to be – if you so wish – an excellent occasion to exchange views in a relaxed environment or to learn more about topics that interest you: Spanish traditions, how Spaniards see the world, aspects of their history, family life, sports, economics and so on. It will be practically impossible for you to ever forget such an outing.
May 19, 2022 –
Enjoy Today a Highlights and Panoramic Tour of this City
Meet your guide in your hotel lobby.
Donostia-San Sebastian has four beaches, La Concha, Ondarreta, Gros and La Zurriola. La Concha was made popular by Queen Isabel and is considered to be one of the most beautiful city beaches in Europe. Ondarreta beach stands at the foot of Mount Igueldo and has a more aristocratic feel to it because of the villas and gardens that lead to the sand. La Zurriola is to be found on the right bank of the river and has undergone a massive project to increase its size by reclaiming land from the sea.
In the old quarter, you will admire the Gothic church of San Vicente and the Renaissance-Baroque church of Santa María del Coro. More impressive is the architecture of el Buen Pastor, built in neo-gothic style. The central busy streets will lead you to the portico of the Plaza de la Constitución where, among its many balconies – numbered and painted white, revealing its origin as a bullring – stands the old neoclassical city hall, converted not long ago into the municipal library. La Alameda del Boulevard leads into the so called romantic city, which emerged once the old walls were demolished. Visit also La Concha which was made popular by Queen Isabel and is considered to be one of the most beautiful city beaches in Europe
At the end of the Bay of La Concha, you will enjoy the unique view of Santa Clara Island from Monte Igueldo
Enjoy your evening at leisure.
May 20, 2022 –
Culinary Experience at a Sociedad Gastronómica
Sociedad Gastronomica; located in the heart of the old part, at the foot of Mount Urgull and surrounded by the oldest houses in the city that preserves (s. XIV). They offer the ability to not only know the cuisine of their societies, but to actively participate in the culture of the company: good food and good drink. Become a Cofrade (Society´s Member) during this experience.
The day will begin with a visit to the most traditional food market of San Sebastian. Here the stands of fresh fish look like jewelry stores and the orchard products will whet your appetite. We will then continue to the Sociedad Gastronomica where a member chef will welcome and invite you to join him cooking.
You will learn how to cook Traditional Basque Cuisine. After the class, enjoy lunch together at the Gastronomic Society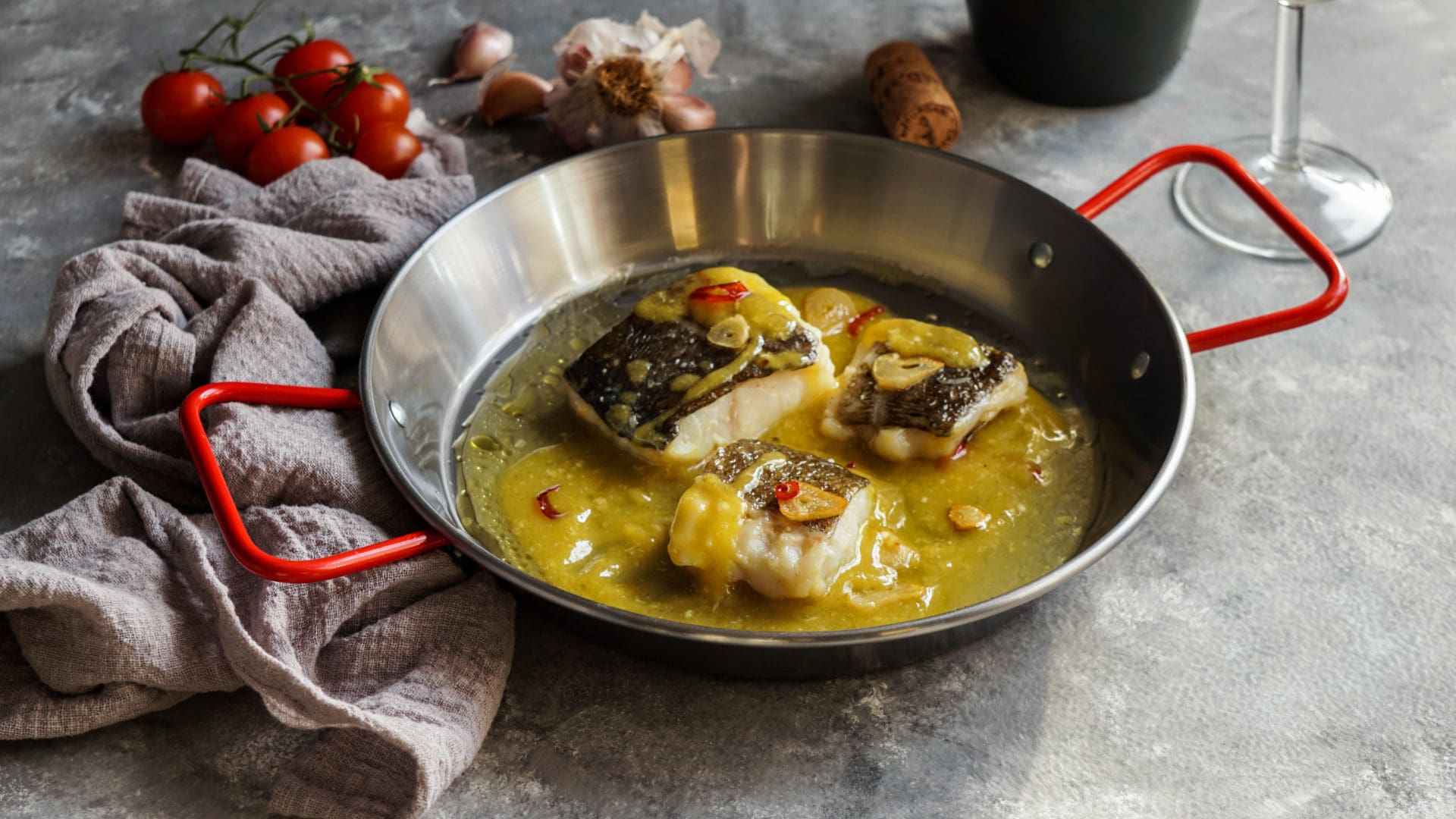 May 21, 2022 – Transfer to Biarritz, France to check-in to the Hotel du Palais
Enjoy your afternoon exploring!
Biarritz is a former whaling village that became a resort and now is a cool surfing center. It was its architecture that enchanted Victor Hugo when he visited Biarritz in 1843; then a cute little harbor village. Hugo remarked that Biarritz was bound to become fashionable soon. And it did, big time. Napoleon III famously put Biarritz on the map when, in 1855, he built his wife Eugénie a summer residence on the seafront. Constructed in the shape of an E, the lavish palace remains an iconic landmark.
Upon arrival, check-in to the Hotel du Palais in Biarritz
Hotel du Palais, Biarritz
May 22, 2022 – Travel from Biarritz to Bordeaux.
Before you arrive in the city of Bordeaux, stop for a first food & wine experience at Chateau Smith Haut Lafitte.  Upon arrival, enjoy lunch with a menu designed by the owners Mr & Mrs Cathiard.
The history of Château Smith Haut Lafitte started in the 14th century when Verrier du Bosq bought some vines. After, Georges Smith bought the estate in the mid 18th century; Florence and Daniel Cathiard bought it in 1990. The couple followed the tradition with the philosophy of making each year a wine reflecting the excellency of the terroir. For that, he combined the most modern winemaking techniques and age-old methods: organic compost, small wooden vats, ageing on the lees in barrel, etc.
After lunch, transfer & check-in to the InterContinental Bordeaux – Le Grand Hotel
Intercontinental Bordeaux
May 23, 2022 – Full day visit of the enchanting, medieval village of Saint-Emilion
The village is perched on a plateau and completely surrounded by a sea of vineyards.  The steep and narrow cobblestone streets are lined with remnants of monasteries and convents dating from the 11th to 18th centuries that tell the story of the village. After a short introduction to the village, enjoy some free time to explore the small boutiques & charming galleries.
At the end of the visit, board one of the local electric tuk tuks for a ride through the vineyards & arrive at Chateau Soutard.
Visit & lunch at Chateau Soutard, Grand Cru Classé, Saint Emilion
Enjoy a walk through the property along with a tasting of their wines before sitting down to a private lunch in the park overlooking the surrounding vineyards
Visit & tasting at Chateau Beauregard, Pomerol
The visit will start by the history of the Chateau. You will walk through the magnificent historical charter-house to reach the vineyard. You will visit the new concrete vat as well as the barrel cellars, ending with a commented tasting.
OPTIONAL PARIS EXTENSION
May 24, 2022
Travel to Paris: Rail from Bordeaux to Paris – in just under 2 hours arrive in the heart of the French Capital.  Private transfer to your hotel of choice upon arrival.
Four Seasons Hotel George V
Evening Champagne & Cocktail Cruise
This evening, experience Paris as your glide along the Seine river on an irresistible journey in the heart of Paris. Glide along the Seine river with a glass of Champagne in hand & admire the Parisian monuments as they light up.
May 25, 2022
Enjoy your day in the City of Lights!
Call Isabelle Finly at 941-951-1801 at extension 105 now to reserve your space on this unique journey today!  You may e-mail at isabelle@admiraltravel.com
Cost: Being Finalized / Please inquire
We request $250 per person as a 'good faith deposit' to secure space on this departure until pricing is available.  Once pricing is available, this will be applied to your final balance.  Should you decide to remove your space, these funds will remain on file for a future ATI travel experience.
Once bookings are finalized, a $50 per person Admiral Travel Booking Fee will apply.
Payment & Cancellation:
$1,000 per person deposit to book, refundable less a $250 per person admin fee until May 14, 2021.  At that time, all payments are non-refundable.  Admin fee can be used towards future travel with Admiral Travel.
Balance equal to a 25% deposit ($973.75) due 1 year prior (May 14, 2021)
Second 25% deposit due 7 months prior (Oct 15, 2021)
Final payment due 4 months prior (Jan 14, 2022)
All payments May 14, 2021 and after are non-refundable.
PLEASE NOTE: 
Founder's Journey will always be priced at or below published rates, but never higher.
Travel with like-minded individuals on these exclusive departures.
Enjoy a welcome cocktail party to meet your fellow travelers.
A hosted dinner will be offered during one night of the trip with the Hiltons.
On many occasions, optional shore events are offered as an option that only our group is invited to join.
Special global relationships that the Hiltons have formed over the years will allow you privileged access opportunities.
Trips are offered well in advance to give ample time for your future planning.
Minimum numbers must be met in order for the Hiltons to host the journey.
The Hiltons reserve the right to adjust the duration of their participation should any schedule conflicts arise.