July 21-28, 2022
Join Ryan & Malaka Hilton on an exceptional journey to Peru.  Thanks to a long history defined by major ancient civilizations, Peru is home to more than 5000 archaeological sites. Many of these remain wrapped in mystery, but are still capable of transporting visitors to the periods when such societies flourished. For example, a visit to Machu Picchu reveals the perfection of the Inca empire; this sacred city can be reached onboard the luxurious trains that run through imposing mountain scenery dotted with colorful Andean villages.
Cost: $5,250.00 per person, based on double occupancy
Call 1.888.722.3401 to secure your space on this unique journey (scroll down for journey details)
July 21, 2022 – Arrival at Lima International Airport.
After proceeding through immigration, please collect your bags and continue through customs. A representative of ATI will be waiting in the arrivals hall to escort you to your driver/vehicle for your transfer to your hotel. The journey time will take approximately 45 minutes, depending on local traffic conditions.
Enjoy your afternoon & evening at leisure as you settle into your stay at Belmond Miraflores Park Hotel
July 22, 2022 –  After breakfast, please meet your Guide to begin your Lima city tour. You will start visiting the Plaza Mayor, which has been declared a World Heritage Site by UNESCO. You will continue on to the Cathedral, with its splendid carved stalls, silver covered altars surrounded by fine woodwork, the Government Palace, the City Hall and the Archbishop's Palace. Continue on your tour to the San Francisco Monastery which houses the largest exhibition of Colonial religious art in America. From the historic center you will travel through modern Lima and visit the fascinating Larco Herrera Museum, located in a unique 18th century mansion, which features the finest gold and silver collection from Ancient Peru and the famous erotic archaeological collection.
Continue sightseeing through the residential districts of San Isidro and Miraflores.
In the afternoon enjoy a magnificent opportunity to stroll through the Bohemian neighborhood of Barranco visiting artisan workshops and galleries as well as commercial centers of the city, in search of high quality Peruvian products.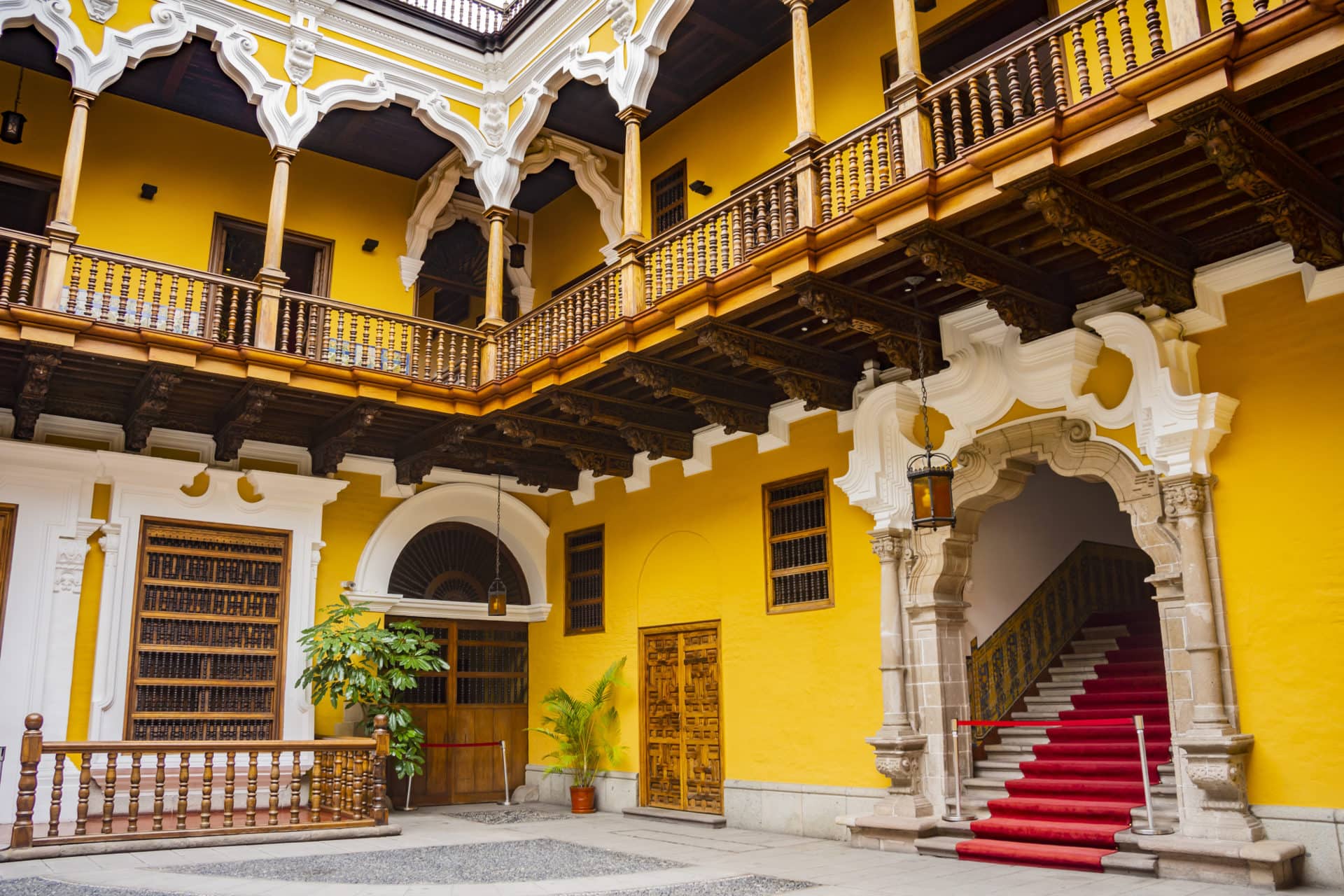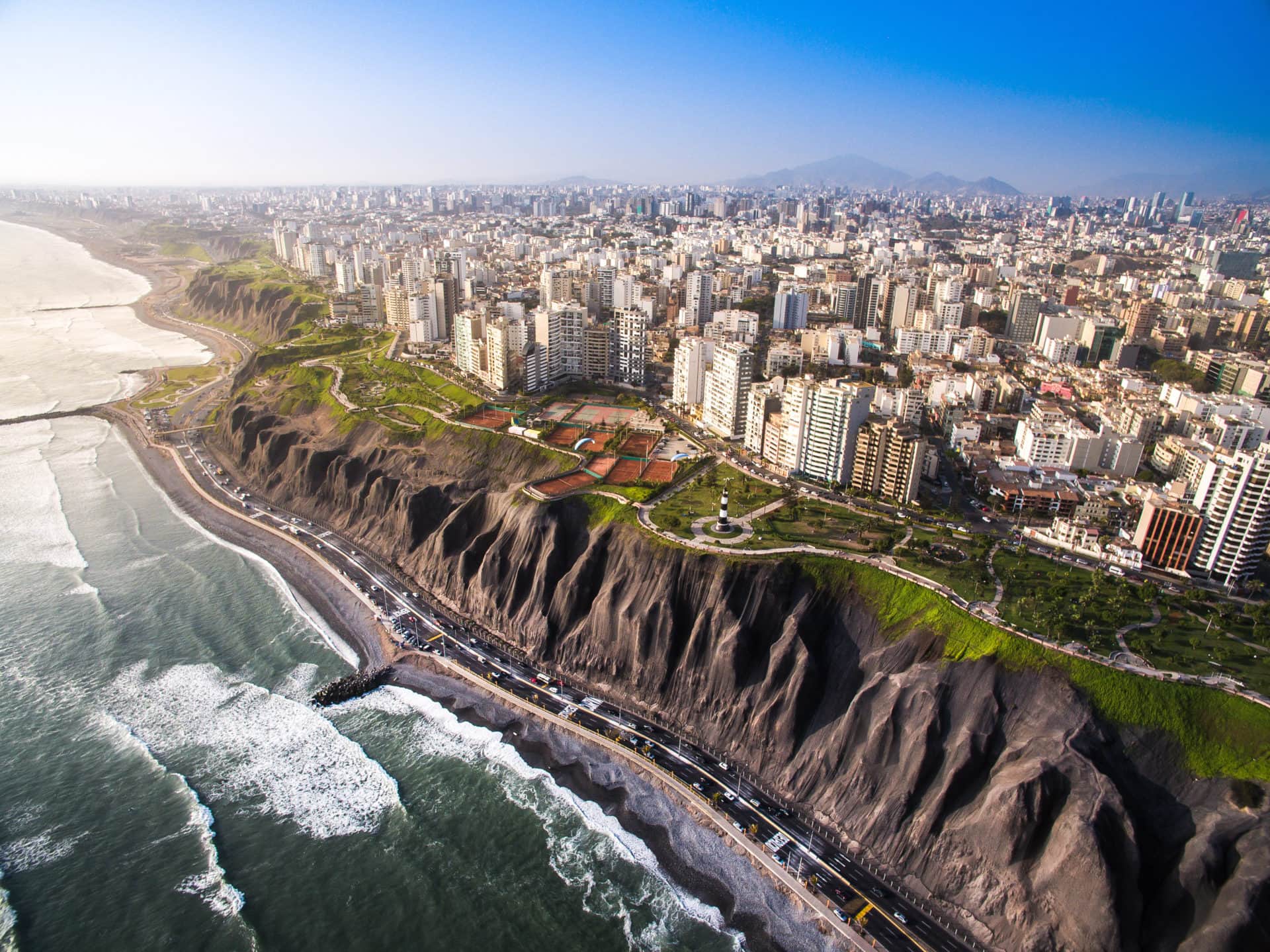 Belmond Miraflores Park Hotel
July 23, 2022 – Please meet your representative at the lobby for your private transfer to Lima Airport for your scheduled flight to Cusco.
Upon arrival in Cusco you will be met after luggage collection by an ATI representative and transferred to the hotel in the Sacred Valley.  En route you will enjoy a scenic drive through a stunning landscape to the Sacred Valley of the Incas.
Visit Awanakancha Center, where weavers of more than 12 communities of Southern Peru exhibit the spinning, dyeing and weaving of Andean traditional textiles helping to preserve the traditional costumes. Your visit includes the opportunity to observe an exhibition and explanation of the four types of South American camels. Here you will find the finest of the traditional and industrial Andean textiles in South America.
Continue to the town of Pisac, renowned for its colorful market where the local Indians meet to sell their merchandise as they have done for centuries. The handicraft market is open every day and is famous for its ceramic beads made into necklaces, earrings and other Peruvian artifacts.
Belmond Hotel Rio Sagrado
Outdoor Dining with Alpacas
Horseback Riding in the Sacred Valley
July 24, 2022 –  After breakfast, join your guide for a full day of exploring the Sacred Valley.
This morning, you will head to the town and ruins of the village of Chinchero (3,800m/12,500ft). Higher than Cusco and the Urubamba Valley, Chinchero was once home to the great conquering emperor Inca Topa Yupanqui and features his magnificent palace, with a parade ground and royal viewing pavilion alongside. The town also boasts a hillside of terraces studded with rock outcrop shrines, a charming village with a layout dating back to Inca times and a magnificent view of the snow capped mountains of the Cordillera Vilcabamba range.
In the afternoon, you will visit Maras, the site of the remarkable and unusual Salinas, located in the heart of the Sacred Valley and not far from Urubamba. This site consists of a huge number of watered terraces that collect salt by evaporation from the saline waters that gush from an underground stream. Built in a similar way to agricultural terraces seen throughout the Andes, the Salinas have been in use since pre-Columbian times. Visually, the shining, salt-encrusted terraces are extraordinary. Nearby Maras lie the most enigmatic Inca terraces at the site of Moray. This unique site, probably used for agricultural experimentation, consists of several enormous terraced circular depressions. Following your visit, transfer back to your hotel.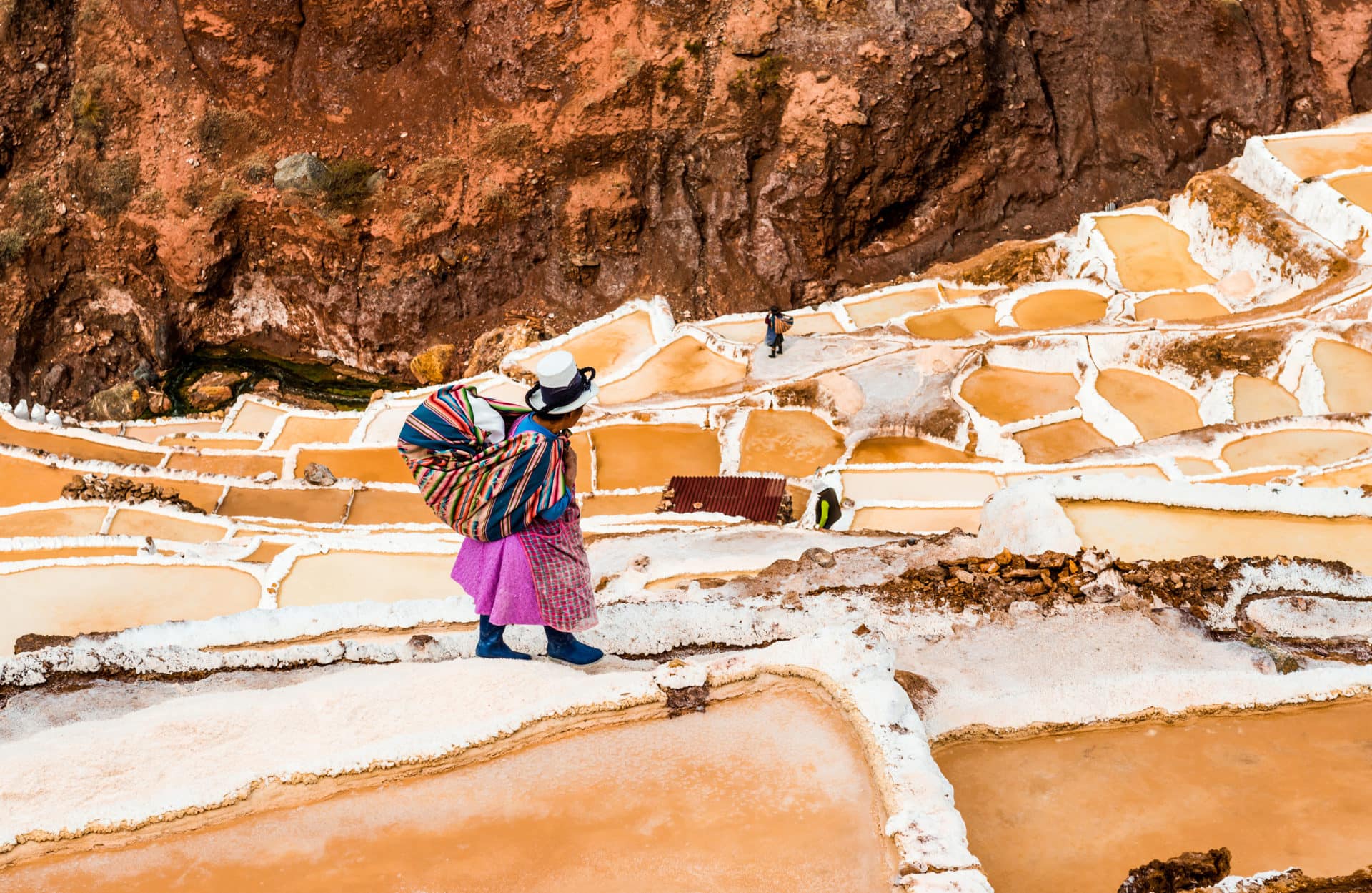 July 25, 2022 – Please meet your representative at the lobby of the hotel for your private transfer to the Rio Sagrado train station, from where you will travel to Machu Picchu on board the Vistadome train companied by your guide.
The Vistadome train has beautiful panoramic windows offering unsurpassed scenic views and photographic opportunities as you enter the Inca's territory in search for Machu Picchu Citadel.
With glass surrounding them on all sides, passengers feel as if they are part of Peru's remarkable landscape. Snacks and hot & cold beverages will be served during the journey.
Visit this unique Inca citadel and its surrounding complexes on a private tour. Machu Picchu stands 2,430 m above sea-level, in the middle of a tropical mountain forest, in an extraordinarily beautiful setting. It was probably the most amazing urban creation of the Inca Empire at its height; its giant walls, terraces and ramps seem as if they have been cut naturally in the continuous rock escarpments. The natural setting, on the eastern slopes of the Andes, encompasses the upper Amazon basin with its rich diversity of flora and fauna.
Enjoy a buffet lunch at the Belmond Sanctuary Lodge.  Enjoy your afternoon at leisure.
Belmond Sanctuary Lodge
Sitting in the shadows of the Lost City, our lodge is an oasis of calm before or after a day exploring Machu Picchu. Unwind with a yoga session, take part in a traditional shaman ceremony in the garden, or sip muña tea in Tampu Bar. Tranquility, wonder and beauty are at the heart of our unique experience.
Gardens at Sanctuary Lodge
July 26, 2022 – After an early breakfast continue visiting this unique Inca citadel and its surrounding complexes on your own.  *If you would like to hike, please request hike tickets
*Optional hike to Huayna Picchu or Machu Picchu Mountain.  Entrances for this hike are limited per day and have to be purchased in advance. Huayna Picchu opens in two shifts, 07:00hs and 10:00hs (subject to availability). This hike is strenuous and recommended only for travelers comfortable with heights and who have a good fitness level.  A fair amount of climbing is required. Get fabulous views of Machu Picchu from the top.
We inform you that your program includes entrances to Machu Picchu Citadel for the morning shift,  from 06:00hs to 12:00 noon. If you want to re-enter the citadel in the afternoon shift – 12:00 noon to 17:30hs – kindly let us know so we can include a second entrance.
At 16:50hs you will board the bus to Aguas Calientes where you will take the Hiram Bingham train to Cusco. Train departs at 17:50hs. An elegant dinner will be served on board (including soft drinks, Peruvian wine and Pisco), while being entertained by our staff.
Arrival in Cusco at 21:16hs, transfer from Poroy train station to your hotel.
Belmond Palacio Nazarenas
Step past walls of Inca stones and into a cloistered courtyard with an ancient fountain at its heart. But within these timeless walls, contemporary Cusco comes to life. Find a fabulous spa, the city's first outdoor pool and stylish restaurants serving cutting-edge local cuisine.
This intimate urban retreat has just 55 suites, each enriched with oxygen and with its own private bar where guests can create drinks accented with fresh ingredients grown at and around the hotel.
July 27, 2022 –  After breakfast, a half day tour of Cusco, which includes a visit to the Cathedral on the Plaza de Armas and the Santo Domingo Temple & Koricancha, a Dominican Church and convent built on the foundations of the Koricancha,  the Incas principal religious building dedicated to the worship of the sun. Your tour also includes a visit to the impressive fortress of Sacsayhuaman; Kenko, the amphitheater and religious center; Tambomachay, the Inca Baths and center of worship to the water god; and finally Puca-Pucara the red fortress built to protect Tambomachay.
Afternoon at leisure in Cusco.
July 28, 2022 – After breakfast, meet your representative for on-ward travel arrangements.
Call Isabelle Finly at 941-951-1801 at extension 102 or email Isabelle@admiraltravel.com now to reserve your space on this unique journey today!
Cost: $5,250.00 per person, based on double occupancy
A $50 ATI booking fee applies.  Must meet 14 guests minimum for hosted departure.
Payment Schedule:
$500.00 deposit required to confirm
July 20, 2021, remaining 25% non-refundable deposit required
Second 25% deposit due January 20, 2022
Final Payment: April 22, 2022
Cancellation Schedule
Deposit is refundable until July 20, 2021, less a $250 per person admin fee that can be used as a credit for future travel booked with Admiral Travel.
After July 20, 2021, all payments are non-refundable. We highly recommend a trip cancellation and interruption protection plan.   Please ask your advisor for information.
Your trip includes:
Meet & greet services on arrival in Lima & Cusco airports / train stations
All transfers with English speaking guide with porterage handling included (two pieces per person)
All sightseeing tours with an English speaking driver/guide with entrance fees included.
Meals as stated in the itinerary
All accommodation based on double/twin occupancy and on a bed & breakfast basis unless otherwise stated
Full board meals at Machu Picchu Sanctuary Lodge
Travel to Machu Picchu on the panoramic Vistadome train service with your private guide including snacks and hot & cold beverages, returning with the luxurious Hiram Bingham train including dinner & drinks (water, beer, soft drinks & Peruvian wine included)
Your trip does not include:
International flights
Domestic flights
Airport departure taxes, both international & domestic
Costs for obtaining passports and visa fees
Travel Insurance
Excess baggage charges
Any items of a personal nature
Gratuities to local guides & drivers
Tips at local restaurants
Ask us about a post trip to Galapagos!
PLEASE NOTE:
All payments made to or on behalf of Admiral Travel are non-refundable unless stated otherwise

If minimum numbers are not met for a hosted departure, prices are subject to change / increase to confirm same program on a private basis

Founder's Journey will always be priced at or below published rates, but never higher.
Travel with like-minded individuals on these exclusive departures.
Enjoy a welcome cocktail party to meet your fellow travelers.
A hosted dinner will be offered during one night of the trip with the Hiltons.
On many occasions, optional shore events are offered as an option that only our group is invited to join.
Special global relationships that the Hiltons have formed over the years will allow you privileged access opportunities.
Trips are offered well in advance to give ample time for your future planning.
Minimum numbers must be met in order for the Hiltons to host the journey.
The Hiltons reserve the right to adjust the duration of their participation should any schedule conflicts arise.