Travel Anytime! December 2023 – Calling all Families!
Join Ryan & Malaka Hilton of Admiral Travel International as they travel North of the Arctic Circle, in the vast Finnish Lapland, to a surreally beautiful place to experience the aurora borealis, which has been confounding and delighting observers for centuries.
In Finland, nature's most spectacular light show – the Aurora Borealis – can be viewed in a range of purpose-built spaces from glass igloos to luxury suites. The Northern Lights are visible on roughly 200 nights a year – or every other clear night – in Finnish Lapland.
The rate is still being finalized.  Inquire directly.
Call 1.888.722.3401 to secure your space on this unique journey (scroll down for journey details)
Day 1 – Arrive at the Kuusamo Airport (KAO), and meet your local host on arrival. Transfer to the Ruka Peak Hotel, the transfer will take 30 minutes through the snowy landscape.
Check-in to your rooms, refresh, and welcome dinner at the hotel.
Winter clothing will be picked up on the way to the hotel from the Safari House (overalls, shoes, gloves and woolen socks).
At the top of the Ruka Hill, nestled at 430 meters above sea level in breath-taking natural landscape you will find Ruka Peak.  It is a family-run boutique hotel, located in one of the most beautiful areas of Finnish Lapland, Kuusamo.  The mission is to provide our guests with all the best experiences this unique location has to offer. Travelers looking for a peaceful and chic experience, natural luxury and warm hospitality will find their new home away from home!
Day 2 – Enjoy breakfast at the hotel.
Transfer from Ruka for about 15 minutes to a local reindeer farm. This farm has a long history of reindeer herders and reindeers, and the Kujala family has lived here for over a century. The young couple now running the farm are passionate about what they do and love to share their daily lifestyle with visitors, and this is a truly heartwarming experience.
At the farm you will get to join in in the morning feeding of hundreds of reindeer, followed by a short sledge ride and snacks served in a "kota", while listening the stories of the reindeer year. Transfer back to your hotel or to the village of Ruka.
Independent lunch, and time to relax or explore Ruka before dinner at the hotel.
In the evening, join a starlight sledging to search for the Northern Lights. This is an unforgettable adventure where you'll be seated in a covered sledge pulled by a snowmobile and we start driving into the forest. Our route goes through varied landscapes.
During the journey by sled we arrive to a camp. There you make a fire together with our guide and make coffee and tea and grill sausages.  If we are lucky we can see the Northern Lights dancing in the sky while we travel.
Day 3 – Breakfast at the hotel and morning free to relax or explore Ruka and the surrounding nature.
In the afternoon, join a river floating arctic experience in a gently streaming river. This is a magical adventure in the freezing cold water with floating suit which keeps you warm. You will also wear life vest and helmet. After instructions for floating we will float the river twice and enjoy hot drinks after this fun experience.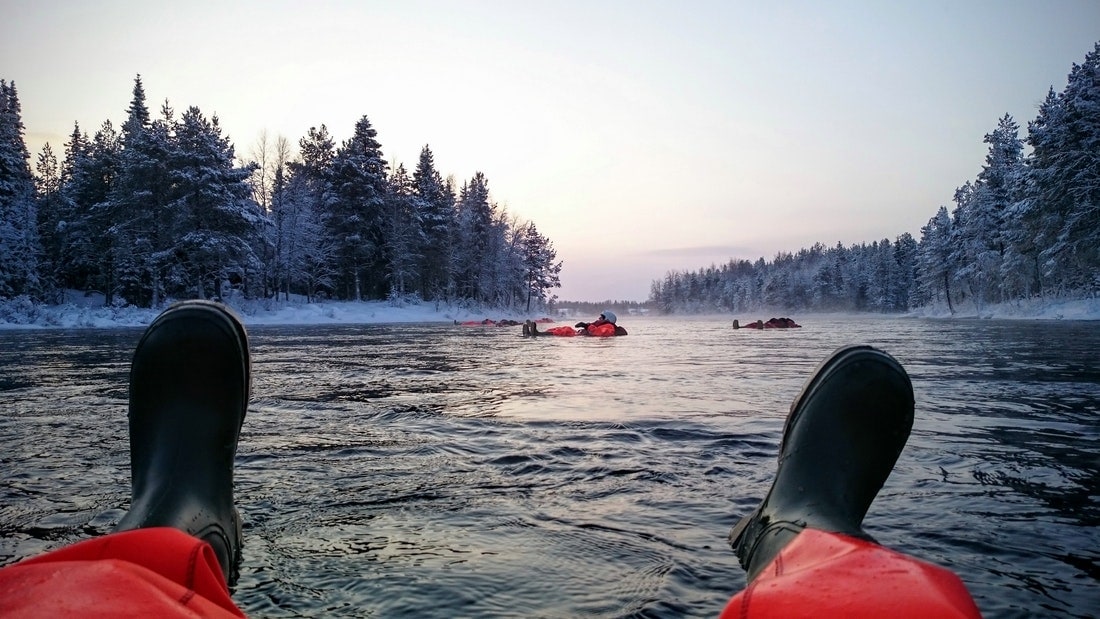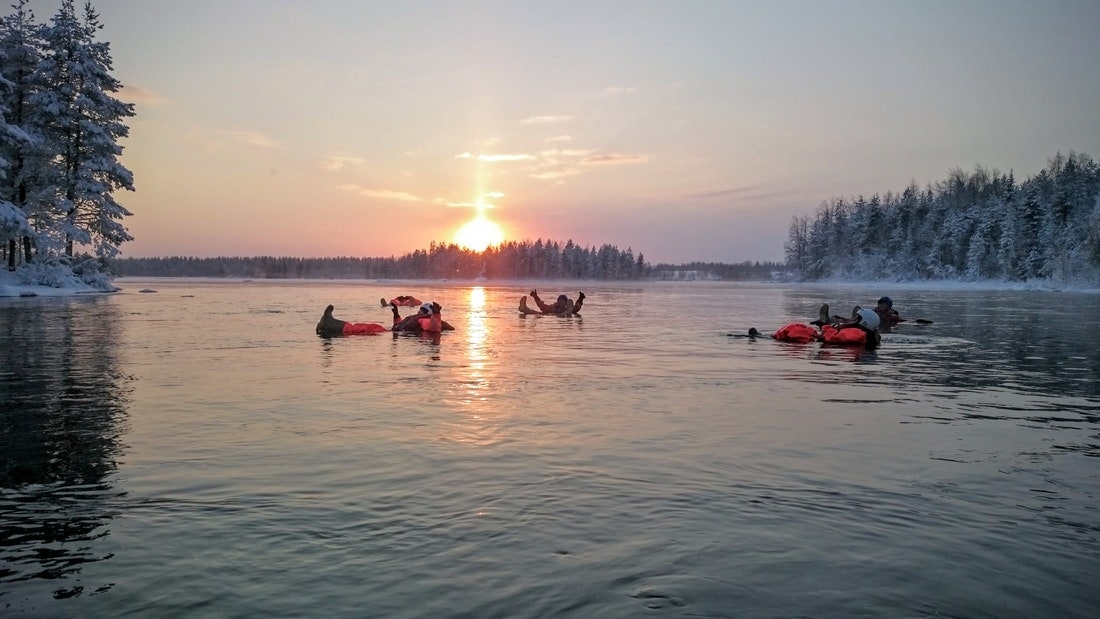 From the river floating, continue to a traditional Finnish Sauna Experience: must for all visitors in Finland. At this sauna complex, upstairs features a traditional smoke sauna with panorama window, 2 shower rooms, 2 changing rooms, dining room, bathroom and large terrace. Downstairs you will find a Juniper sauna, shower room, fireplace room and spacious lounge. Outside there is a jacuzzi, possibility to dip in the hole in the ice and a very special feature, Ice sauna!
After the sauna experience, there will be enough time to get ready for Lappish Wild Food Dinner at a local restaurant before returning to the Ruka Peak Hotel.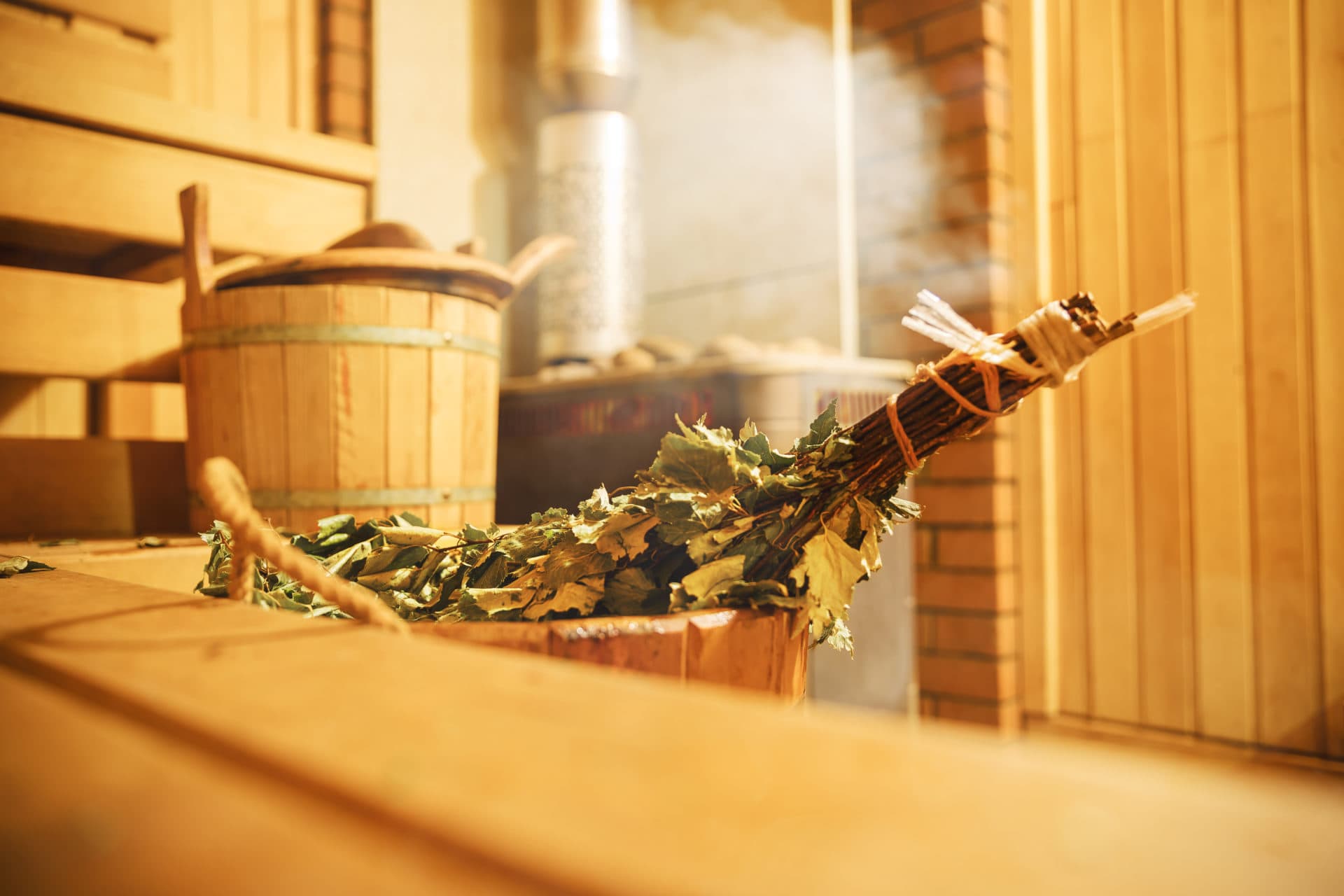 Day 4 – Enjoy breakfast at the hotel, prior to packing your belongings. We will transfer to Rovaniemi to our new hotel, which will take around 2 hours and 30 minutes, depending on the road conditions.
Arrive to Rovaniemi at lunch time, and enjoy lunch at the Rakas restaurant at your hotel. If rooms are not ready yet for check-in, leave your luggage at the reception.
Winter clothing will be waiting for you on arrival (overalls, shoes, gloves and woollen socks).
After lunch, enjoy a Private Gingerbread Masterclass with Santa Claus!
Enter an enchanting Christmas fairytale you read about in stories when you were a child!   The oldest elves know the location of a forest hut, where the air itself smells like gingerbread cookies and the hut is bursting with Elf secrets to be told. Enjoy the company of elves as you do a masterclass of decorating the smallest gingerbread house you have ever seen!
No masterclass would be complete without warm cocoa by the fire as you hear footsteps of the jolly man himself. Spend unforgettable moments with Santa Claus and remember: the most precious secret wishes should be whispered directly into his ear!
In the evening, dinner at the Rakas restaurant at the Arctic Treehouse Hotel.
Winter clothing will be waiting for you on arrival (overalls, shoes, gloves and woollen socks).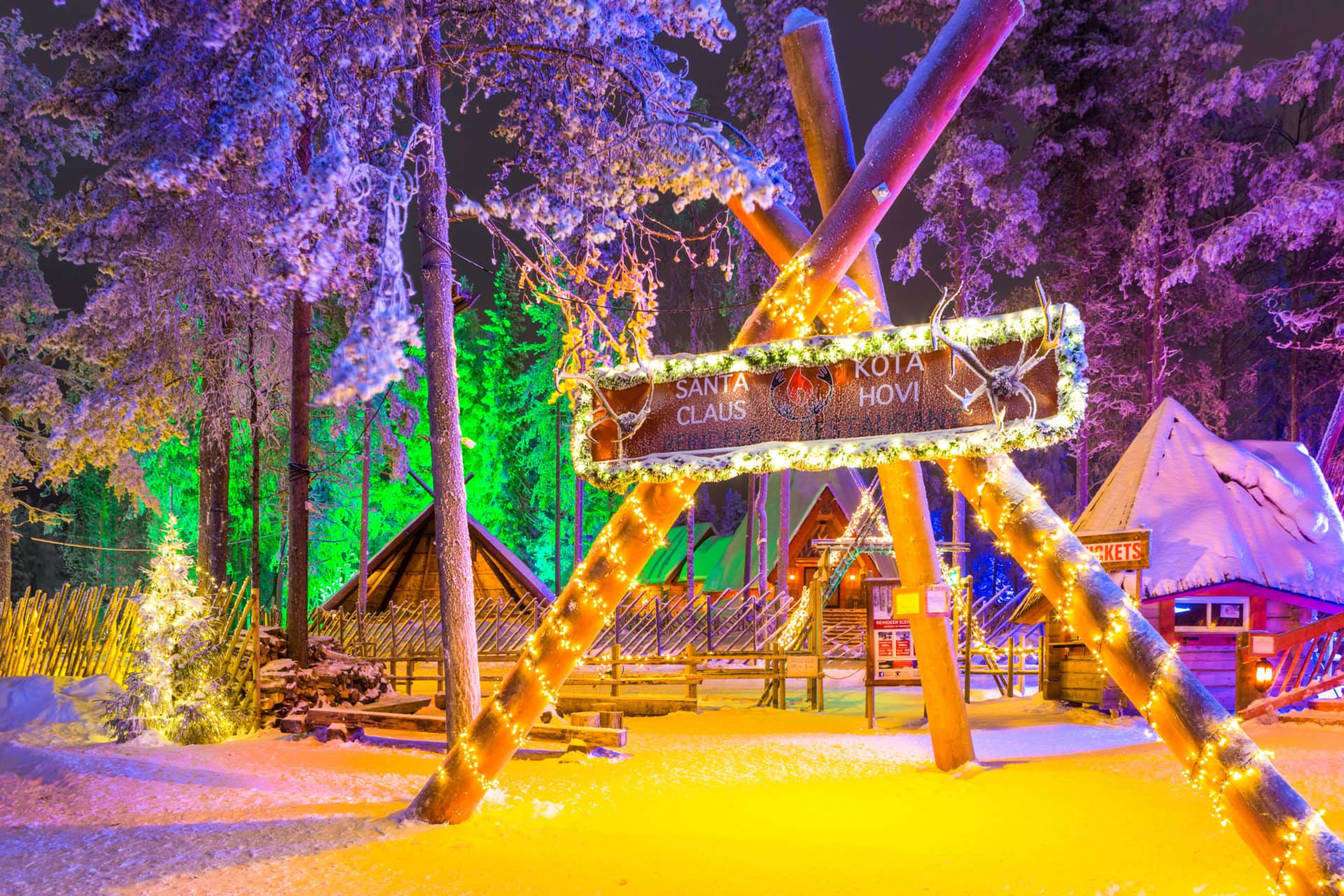 Santa's Village | Rovaniemi, Finland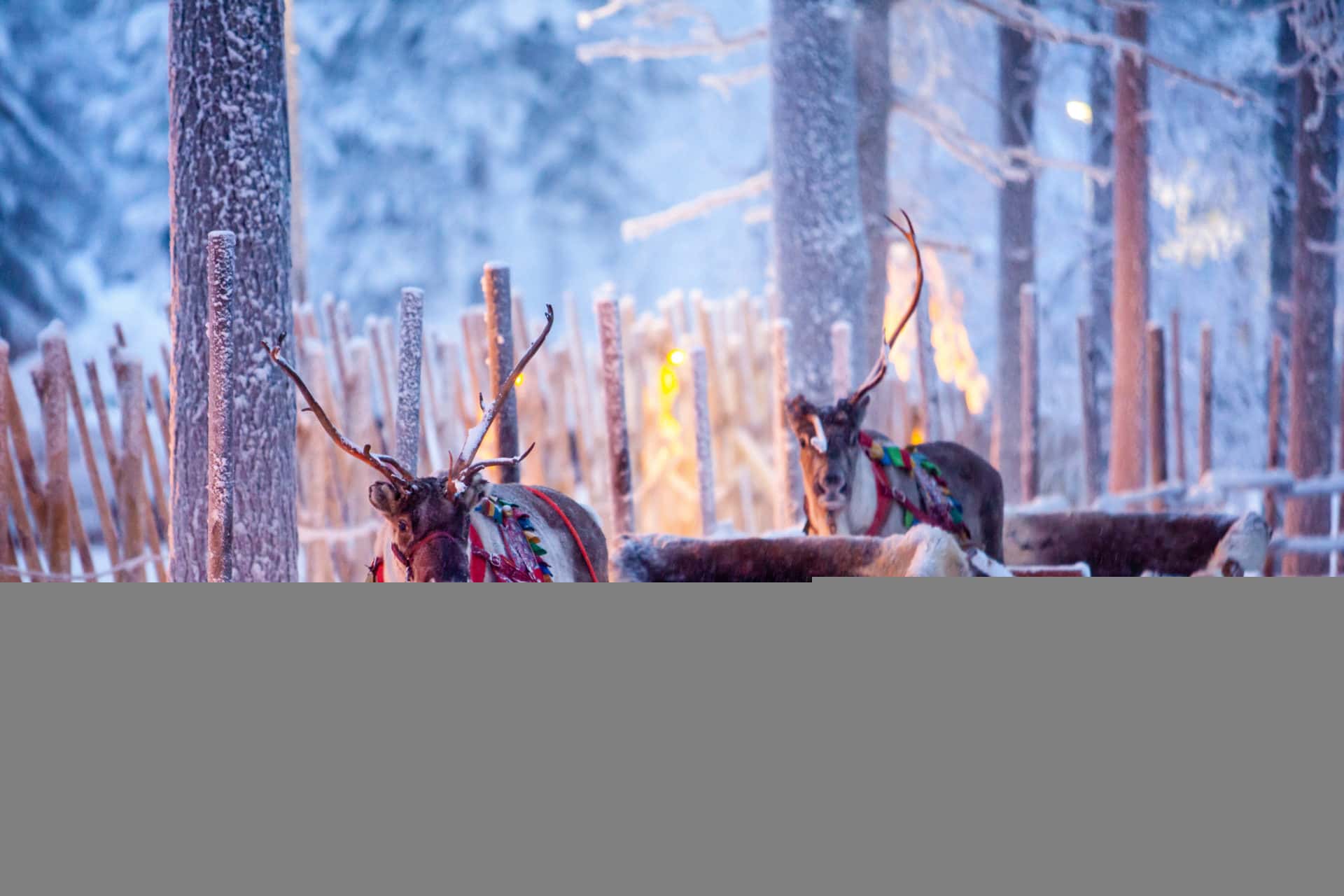 In the evening, get ready for an unforgettable Northern Lights Safari with electronic snowmobiles.
Aurora eMotion is the first electric snowmobile safari operator in the World, using electronic eSleds developed in Rovaniemi. Silent eSleds offer an environmentally sustainable way to enjoy clean and fresh Arctic nature the safaris.
We ride our eSleds to the top of a hill, far from the city lights – an ideal place for watching the Northern Lights. We stop to observe and admire the night sky and stars, and, if we are lucky, see the Northern Lights as well. The guide is happy to help the guests with camera settings, if you wish to take pictures. During the stop we warm ourselves by the fire in a private hunting cabin and enjoy a Finnish supper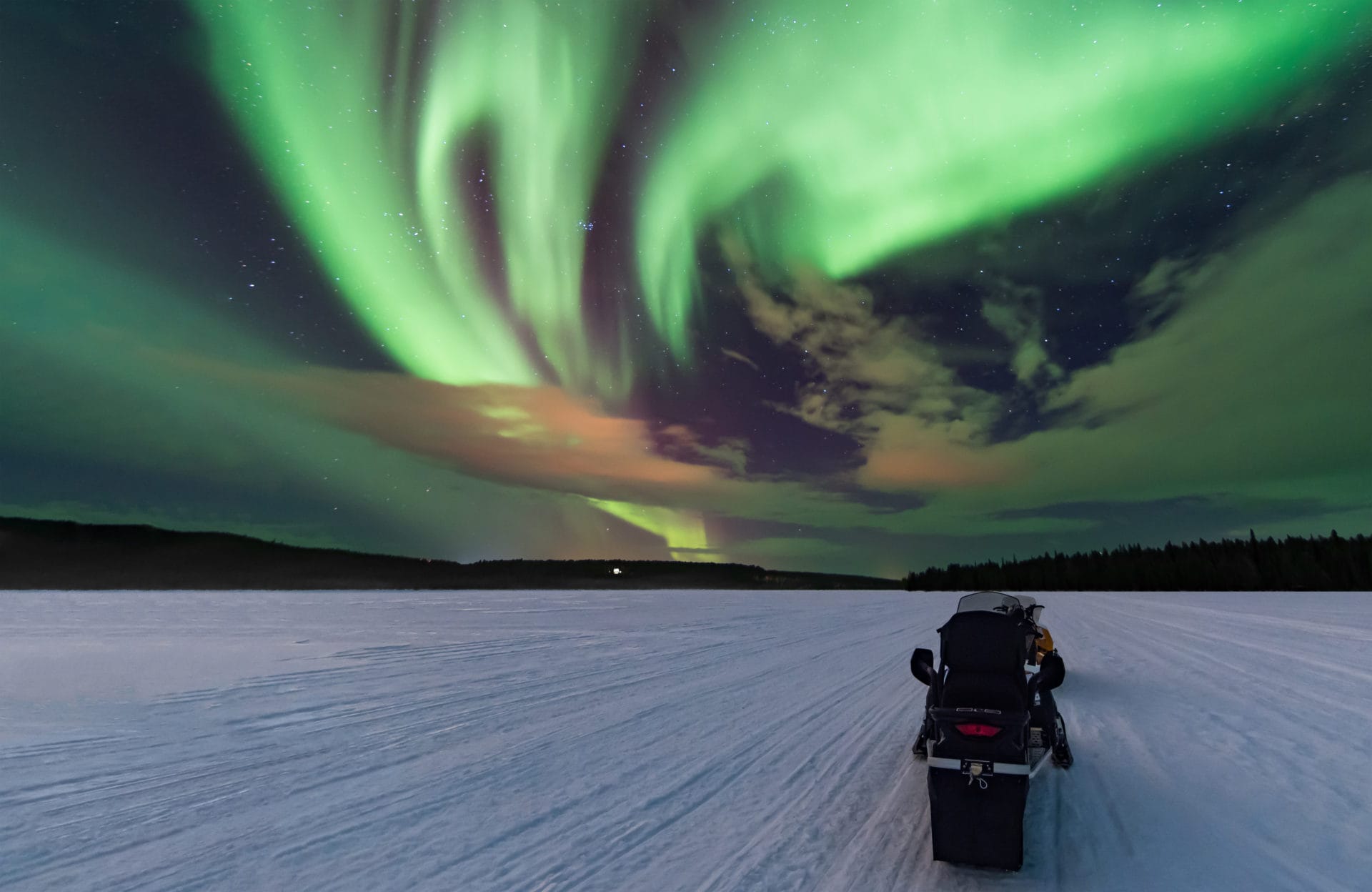 Day 6 – Private visit to the husky farm!
Meet dogs, learn how to drive your sled and then head of for a thrilling dash through the magical snowy forest. This safari is most suitable for families with small children or for people, who would not like to stay outdoors too long. We serve hot berry juice after the husky safari to warm you up.
Afterwards, a fun Family Safari! We start with a snowmobile safari with adults on the snowmobile and children traveling safely in sledges. After the traditional snowmobile safari, it is time for children's snowmobile driving. The smaller family members get to drive children snowmobiles on a safe track under supervision. These vehicles also have a dedicated track and are just what young girls and boys dream of – a replica of an adult snowmobile, but lighter. Children of all ages love to play in the snow. Tobogganing slope, snow-sculpting or building snowmen, depending on weather and snow conditions. There is time to relax by a camp fire also, have a cup of berry juice and fry a sausage as a snack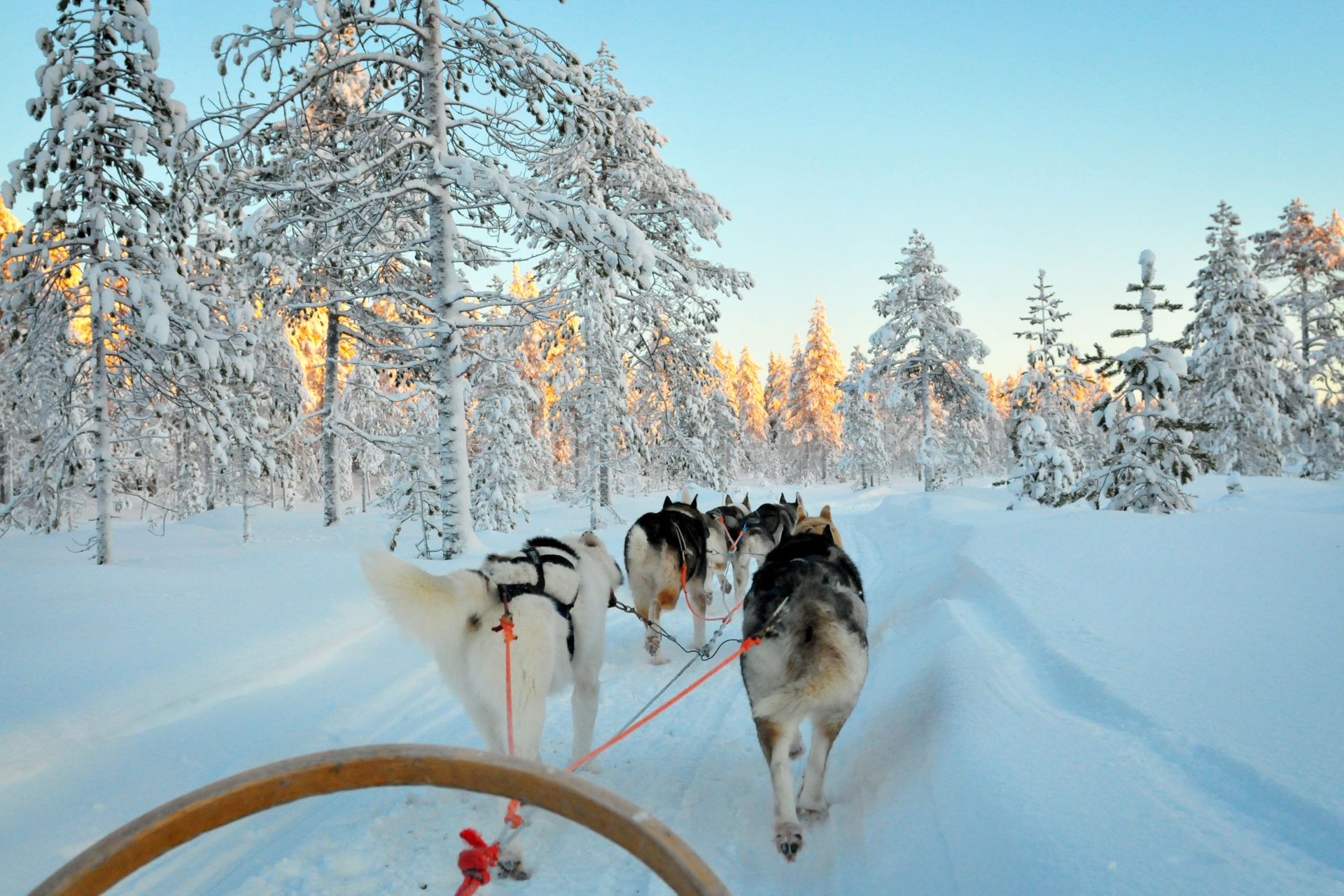 Day 7 – After breakfast, check-out of the hotel and transfer to the Rovaniemi Airport for your departure.
Optional 2-night extension to the ICE HOTEL in Kiruna, Sweden!
Icehotel opened in 1989 and is beside a hotel also an art exhibition with ever-changing art out of ice and snow. Icehotel is created in a new guise every winter, completely made out of natural ice from Torne River, one of Sweden's national rivers and last untouched waters. When the winter season's Icehotel has melted back into the river in the spring, a part of the hotel remains; a place where visitors can experience the ice and snow year-round, Icehotel 365 with 20 suites of ice and snow. Enjoy the ephemeral art once more and meet our designers, artists and dear friends throughout the years.
Kaamos Superior Room (warm)
Ice Sculpting at the ICE Hotel!
Call Jolene DiRocco at 941-951-1801 at extension 106 now to reserve your space on this unique journey today!
Rate is still being finalized

.
A $50 per person Admiral Travel booking fee will apply.
PLEASE NOTE: 
While the Aurora Borealis is visible 200+ nights per year & the time of year we are traveling offers the best viewing opportunities, we cannot guarantee our groups experiencing this phenomenon
All payments made to or on behalf of Admiral Travel are non-refundable unless stated otherwise
Founder's Journey will always be priced at or below published rates, but never higher.
Travel with like-minded individuals on these exclusive departures.
Enjoy a welcome cocktail party to meet your fellow travelers.
A hosted dinner will be offered during one night of the trip with the Hiltons.
On many occasions, optional shore events are offered as an option that only our group is invited to join.
Special global relationships that the Hiltons have formed over the years will allow you privileged access opportunities.
Trips are offered well in advance to give ample time for your future planning.
Minimum numbers must be met in order for the Hiltons to host the journey.
The Hiltons reserve the right to adjust the duration of their participation should any schedule conflicts arise.