October 27 – November 9, 2023
Gulf Gems & Alluring Mumbai
Luxury Ocean Cruise from Dubai to Mumbai aboard Crystal Symphony
Join Ryan & Malaka Hilton on this multiple overnight voyage through the exotic Arabian Sea – in Dubai, Doha, Abu Dhabi and Mumbai – enjoy the luxury of time to explore the many treasures of each. From grand mosques and museums to desert dune drives and UNESCO sites, discovery awaits.

Call 1.888.722.3401 for most accurate pricing & availability (scroll down for journey details)
October 27-28, 2023 Home to the world's biggest shopping mall, tallest skyscraper, and dozens of ultra-glamourous luxury hotels, Dubai is truly a modern wonder. After exploring the new sites of the city, find yourself amongst traditional winding souks and local charm.
Enjoy your days exploring!
Embarkation is at 12:00 PM on the 27th
The ship departs at 6:00 PM the evening of the 28th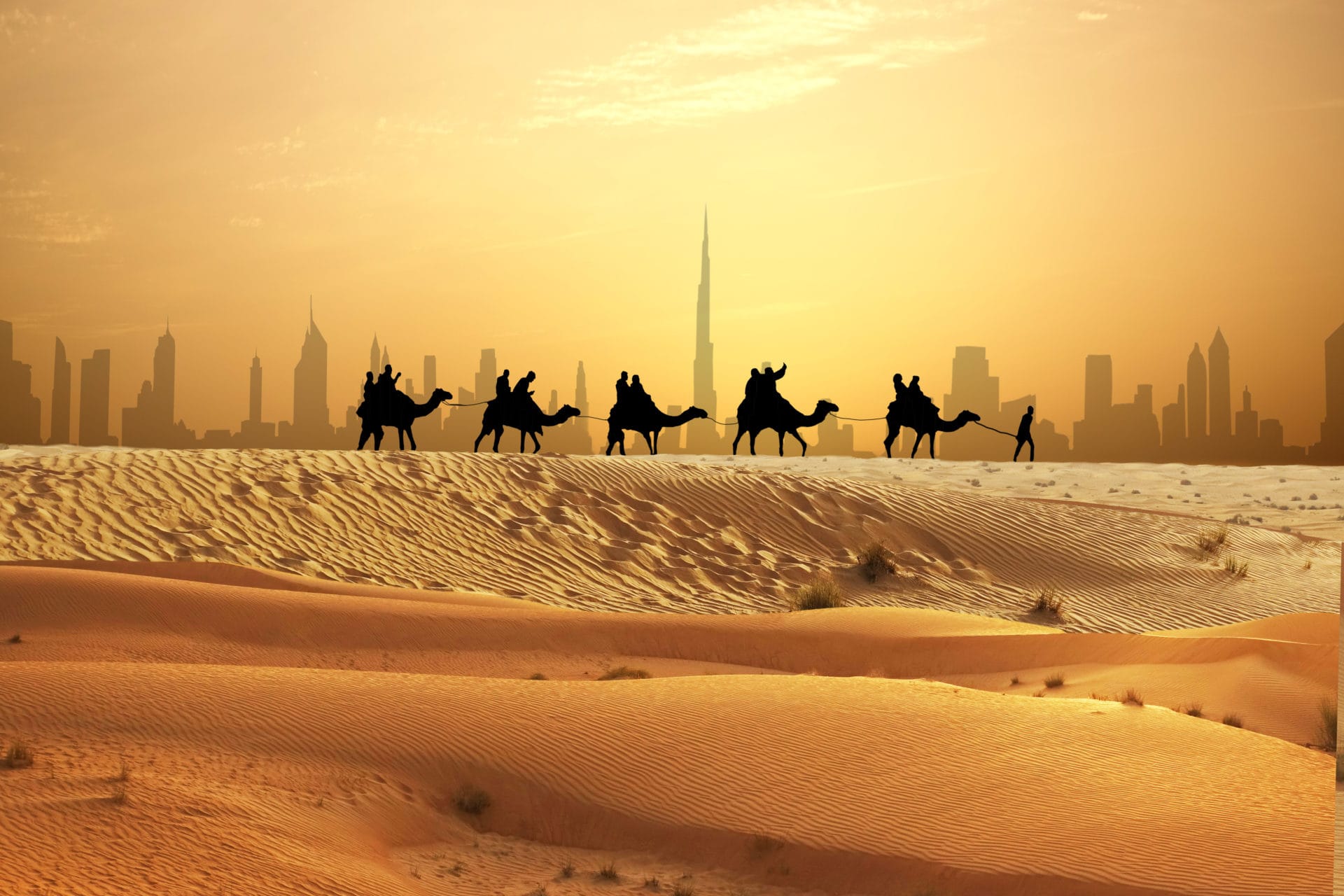 Camel Ride at Sunset in Dubai
Traditional boat to old town Dubai
October 29-30, 2023 – Doha is a major cultural and political hub of the Persian Gulf and is constantly growing. Thousands of expatriates have moved to Qatar to become a part of its development and thriving economy. One of Doha's most impressive projects is the Pearl, an artificial island that covers 985 acres.
October 31, 2023 – Manama, Bahrain –  This capital city on the Persian Gulf offers a compelling mix of local culture and world influences. With about one-third of residents hailing from other countries, a fascinating mix of chic clubs and eateries and old Arab traditions is on offer. Arab boats called dhows populate the waters, and camel rides and pearl diving excursions remain popular ways to experience traditional pursuits.
November 1, 2023 – Sir Bani Yas Island, UAE – Picture an African safari with game drives, nature walks, mountain biking, land sailing archery, horse riding, and exclusive outdoor dining experiences, only it's on the Arabian Peninsula. Bani Yas Island is home to the Arabian Wildlife Park, a reserve for thousands of free-roaming wild animals.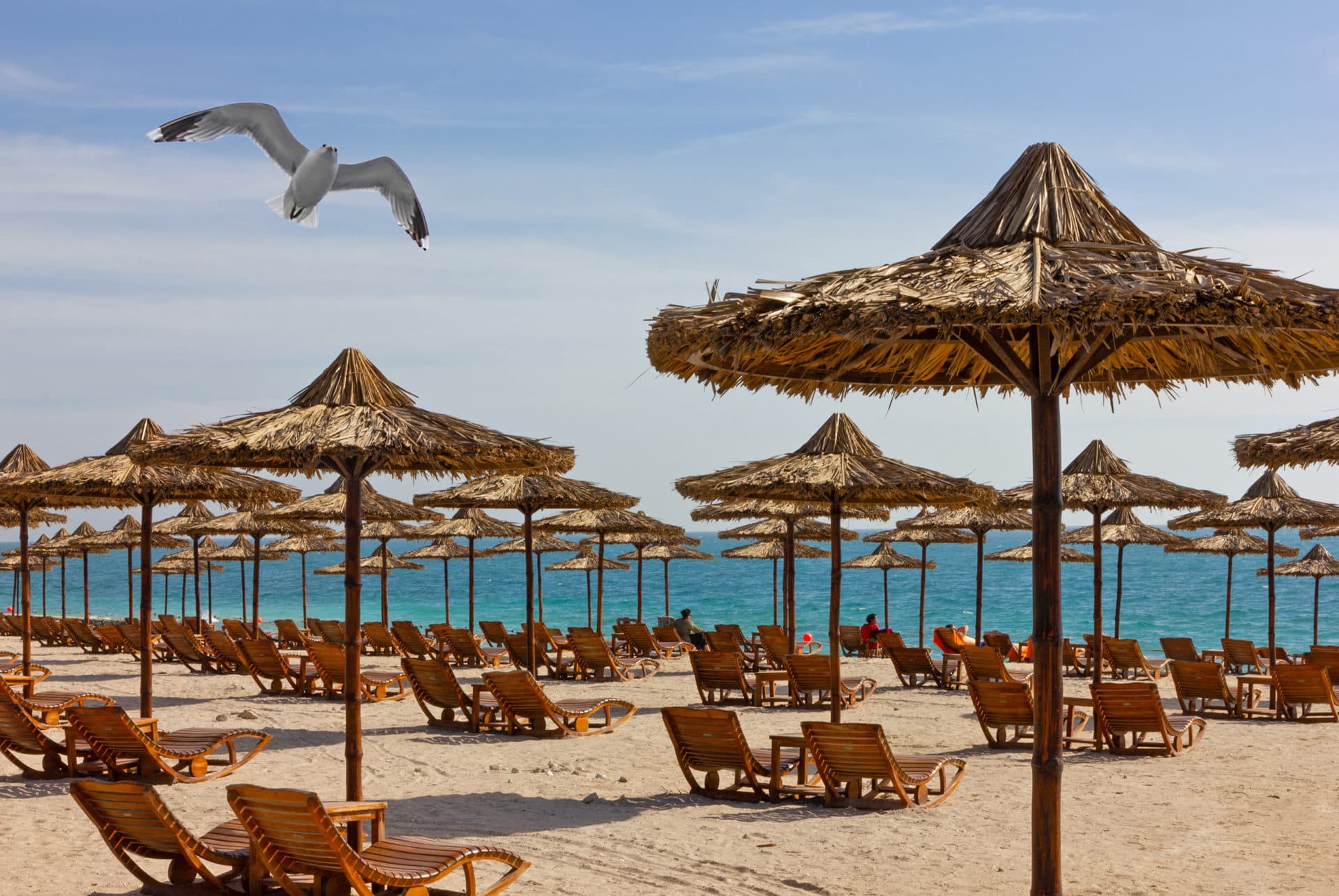 Enjoy the beach on Sir Bani Yas Island
Aboard Crystal Symphony
Savvy travelers the world over continue to recognize Crystal Cruises as the World's Best, more than any other cruise line in history. Come aboard and bask in spaciously elegant interiors, revel in acclaimed six-star service and dine on cuisine of Michelin-level envy.
Come aboard and discover a place where we make you feel at home from the first moment. Where everything you want just appears, so that you feel perfectly at ease and completely yourself.
Beyond Crystal's renowned hospitality, it is the ships themselves that uniquely define the Crystal Experience. Welcoming far fewer guests than ships of similar size, each hosts a variety of stunning public spaces from grand to intimate, and dedicated venues for fitness, enrichment, gaming and more.
Butler-serviced suites and penthouses are veritable sanctuaries at sea, as are beautifully appointed staterooms, most with private verandah. With supremely comfortable beds and lush amenities, all are the perfect place to call home on global adventures
Their award-winning staff cater to your every need with genuine hospitality and discreet attention to detail. With one of the highest staff-to-guest ratios in cruising, there is always someone to assist you and ensure the perfect atmosphere.
November 2-3 2022 – Abu Dhabi, UAE  is a bustling city with extraordinary skyscrapers, wide, tree-lined boulevards, and some of the most elite cultural destinations. This city is considered the wealthiest city in the world, but still retains a humble charm with its central souk and artisan hub for traditional crafts.
Abu Dhabi Sheikh Zayed Grand Mosque
November 4, 2023 Khor Fakkan, UAE– beyond the busy deep-sea port, Khor Fakkan's meandering corniche, or promenade, follows the waterfront, flanked by well-tended gardens and set against the backdrop of the dramatic Hajar Mountains. A journey west of town leads to Wadi Wurayah, a biodiverse mountain area home to scenic waterfalls and natural pools designated as both a Ramsar Wetland of International Importance and UNESCO Biosphere Reserve.
November 6 -7, 2023 – Cruising the Arabian Sea
November 8-9, 2023 – Disembarkation in Mumbai (Bombay), India – Formerly known as Bombay, this city of temples where Mahatma Gandhi once lived, is home to extraordinary UNESCO treasures including the Elephanta and Ellora Caves, Agra Fort, and the Red Fort Complex. Overland journeys may be arranged to the exquisite Taj Mahal and the 2019-inscribed Jaipur Rajasthan, known also as the Pink City and revered for its colonnaded City Palace complex with royal gardens and courtyards.
Call Amanda Densmore at 941-951-1801 at extension 104 now to reserve your space on this unique journey today!  You may e-mail at amanda@admiraltravel.com.
For most accurate rates & cabin availability, please call our office.
A $50 per person Admiral Travel booking fee will apply.
Inclusions
Fine wines, champagnes, premium spirits and specialty coffee
Michelin-inspired cuisine and 24-hour in-suite dining
Specialty dining, including Umi Uma by Chef Nobu Matsuhisa (Ocean & Crystal Endeavor)
Entertainment and enrichment
Unlimited Wi-Fi/Internet access
Pre-paid gratuities
Complimentary "You Care. We Care." Voluntourism (Ocean)
Lavish suites and penthouses with generous private verandahs
Gorgeous, modern staterooms, most with private verandah
360º Promenade Decks, a rarity on ships today
Multiple venues for fitness and entertainment
Butler service in every Penthouse-category accommodation (Ocean)
24-hour room service
Twice-daily housekeeping with nightly turndown service
Complimentary launderettes
Click Link below for details on our southern India post-trip!
PLEASE NOTE: 
All payments made to or on behalf of Admiral Travel are non-refundable unless stated otherwise
Founder's Journey will always be priced at or below published rates, but never higher.
Travel with like-minded individuals on these exclusive departures.
Enjoy a welcome cocktail party to meet your fellow travelers.
A hosted dinner will be offered during one night of the trip with the Hiltons.
On many occasions, optional shore events are offered as an option that only our group is invited to join.
Special global relationships that the Hiltons have formed over the years will allow you privileged access opportunities.
Trips are offered well in advance to give ample time for your future planning.
Minimum numbers must be met in order for the Hiltons to host the journey.
The Hiltons reserve the right to adjust the duration of their participation should any schedule conflicts arise.