February 2022
The full program & rates are still being finalized.  Pieces of the below program are subject to change.
Call 1.888.722.3401 to secure your space on this unique journey (scroll down for journey details)
Day 1 – Arrival into Auckland, New Zealand
On arrival at Auckland International Airport, you will be greeted & transferred by private vehicles to your accommodation in Taupo (approximately a 3 hour 30 minute journey).
En-route enjoy a stop at the scenic Huka Falls where you may wish to enjoy a stroll on the surrounding trails, providing excellent vantage points of the stunning display – the flow of water coming over Huka Falls would fill an Olympic swimming pool in just 11 seconds.
Taupo
'Trout Fishing Capital of New Zealand' – Taupo is hset on the shores of New Zealand's largest lake with awe-inspiring panoramic views of the diverse volcanic landscape, from the pristine lake to the surrounding mountain peaks of Ruapehu, Tongariro, and Nguaruhoe.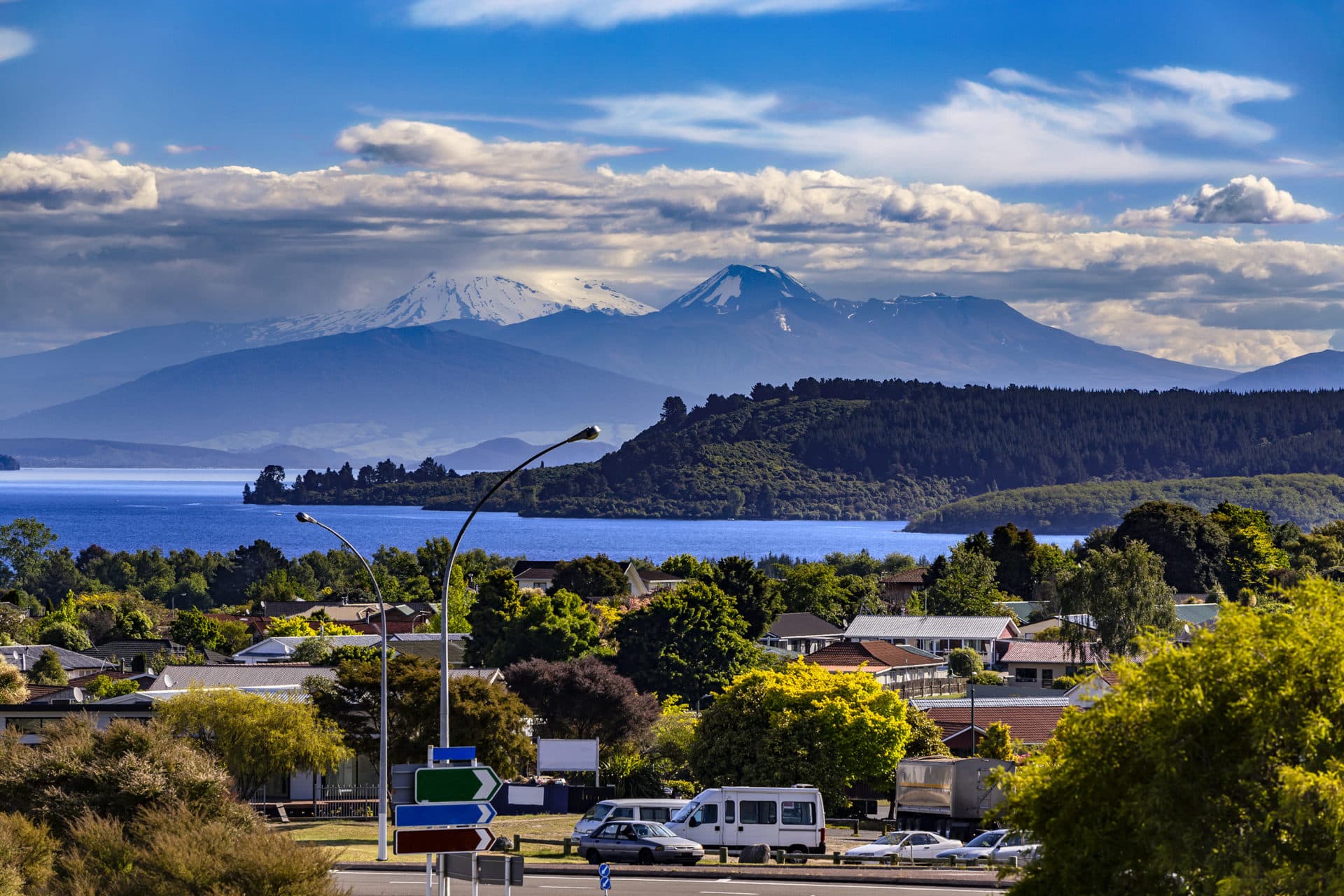 Huka Lodge, Taupo, New Zealand
Day 2 – Today you will be met at your accommodation by your private guides and vehicles to enjoy your full day sightseeing to nearby Rotorua
Enjoy the Redwoods Treewalk, a 700 metre walkway that consists of a series of 28 suspension bridges traversing the gaps between 22 majestic 115 year-old Redwood trees. The bridge sections gradually incline from 6 metres to 12 metres in height at its peak. Feel the spirit of Rotorua's iconic Redwood Forest from above and up close among these old gentle giants. This suspended 30-45 minute ecological walk provides a bird's eye perspective of the forest, capturing its picturesque beauty and ambiance.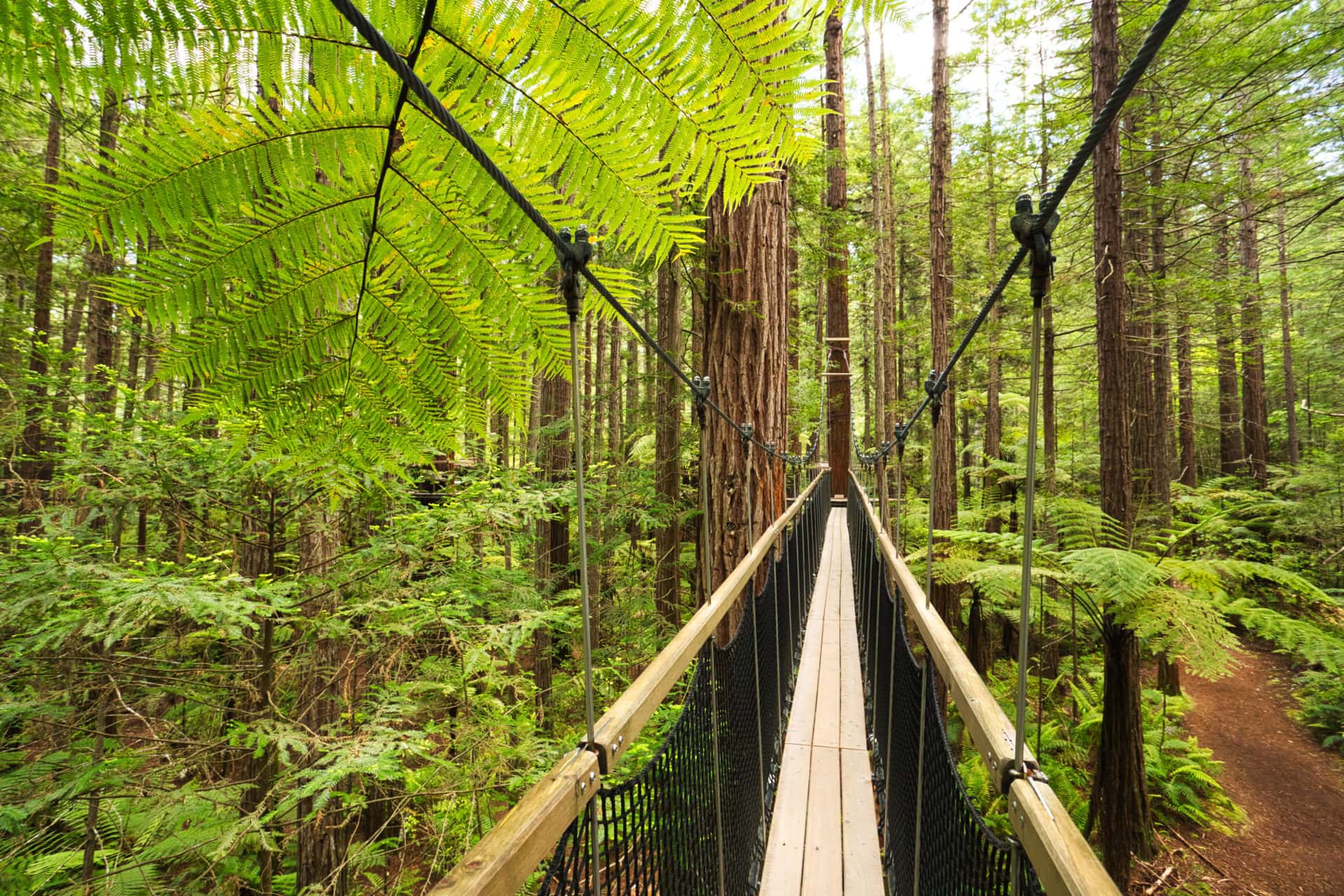 Suspension Bridge in the Redwoods Tree Walk
Continue to the Rotorua lakefront to meet your private helicopters for an excursion to experience the thrill of combining landings at both Mount Tarawera and Orakei Korako.
Mount Tarawera is the site of the largest eruption in New Zealand's living memory, and your flight includes spectacular aerial views of pristine crater lakes, stunning waterfalls and the vibrant Waimangu and Wai-O-Tapu geothermal reserves. This amazing landscape is unique to this region because of the location on the Fault-line relative to the Pacific Rim of Fire.
Continue your flight to land at Orakei Korako, also known as "the hidden valley", boarding your ferry to cross the river and begin your small group guided 60 minute land-based tour. Here experience hot springs, gushing geysers and the natural beauty of this geothermal wonderland. Your flight will include the stunning Huka Falls, New Zealand's most visited natural landmark where more than 220,000 litres of water per second barrels over an 11-meter-high waterfall, the Craters of the Moon geothermal valley, and Wairakei Terraces.
Wai-O-Tapu Geothermal Springs
Day 3 – Day at Leisure.  Take advantage of these local experiences:
Play golf at either of the two world class courses nearby, Kinloch and Wairakei
Go fly fishing on the surrounding rivers, or trolling on Lake Taupo
Take a scenic cruise on New Zealand's largest lake, Lake Taupo. See Maori rock carvings, go kayaking, or fish
Get the adrenaline pumping on the Hukafalls Jet and view the staggering amount of water flowing over these falls every second
Put your hiking shoes on and walk the Tongariro Crossing, often named the best day walk in the world
For the more adventurous, try bungy jumping, quad biking, sky diving, gliding, or even racing around a track in a real Formula Challenge race car
Take to the bush on one of the many walks available, guided or unguided
Play tennis, petanque, croquet or mountainbike, all available at Huka onsite facilities
*See video below on Fly Fishing at Huka Lodge*
Day 4 – Today you will be met at your accommodation by your private guides and vehicles for the transfer to Hawke's Bay.
Hawke's Bay
The Pacific Ocean provides a stunning backdrop to Hawke's Bay, renowned as one of New Zealand's richest agricultural areas – most famously for fruit & wine.  The long established wine-growing region has produced some of the finest wines of almost every varietal.  Center to it all, is up-and-coming Napier, a city built in Art Deco architecture.
Upon arrival in Napier, meet your local guide for your journey through the Otatara Pa Historic Reserve. Enjoy a private tour of what was once the largest, oldest, and most outstanding fortified village in the country.
Here you will learn the traditional Maori customs while astonishing in the 360˚ panoramic views of the spectacular Hawke's Bay. Enjoy in our legendary stories of; Pania Maori ancestor, the battle on Otatara and Hikurangi Pa (village), the first Maori settlement, and archaeological features and artifacts.
Following your tour, enjoy a casual platter style lunch at a local vineyard.  Mid afternoon you will be transferred to your accommodation.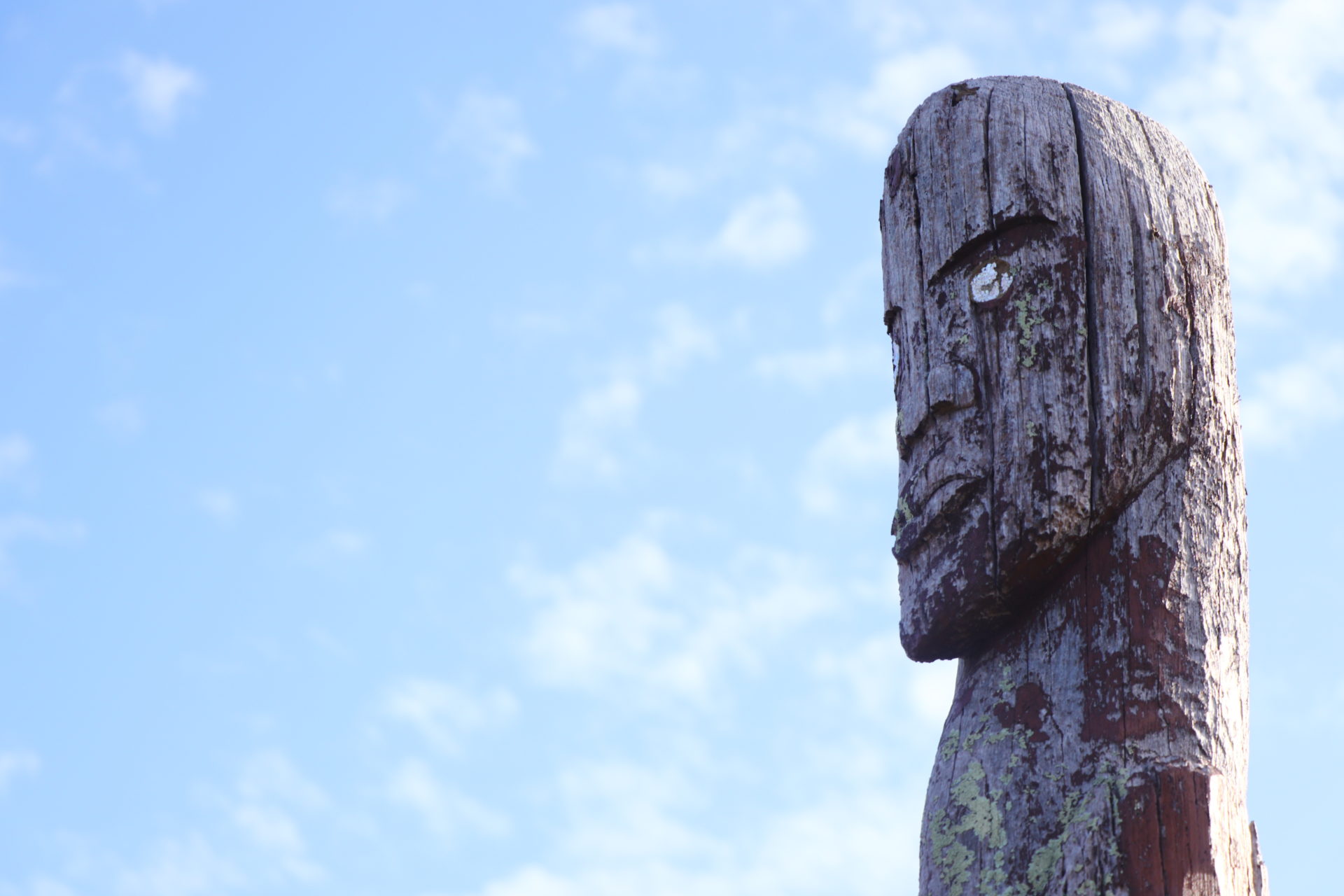 The Farm at Cape Kidnappers.
The Farm at Cape Kidnappers is one of the world's extraordinary luxury destinations, set on a 6,000 acre sheep and cattle farm with breathtaking views over the Pacific in the Hawke's Bay wine region.
Cape Kidnappers Golf Course
Day 5 – Enjoy your day at leisure at the Farm at Cape Kidnappers
While at leisure at The Farm at Cape Kidnappers we recommend the following optional local experiences:
Take advantage of the many onsite activities, including: mountain-biking, nature walks, clay-bird shooting and quad-biking
Relax at Cape Kidnappers' Spa
Play a round of golf on the Cape Kidnappers course, New Zealand's top ranked golf course and one of the world's 30 top golf courses. You can even be coached by a former New Zealand professional!
View the massive colony of gannets at Cape Kidnappers
Have the opportunity to hold a Kiwi, and learn all about our precious national icon on the Kiwi Discovery Walk
Undertake a cycling tour of some of the many local vineyards – Enjoy an epicurean tour to meet local makers of cheese, olive oil and fresh produce
Day 6– This morning you will be met at your accommodation by your private guides and vehicles for your full day tour of Hawke's Bay. Delicious foods, fruit and wine, farmland, artists and stunning scenery are all highlights of beautiful rural Hawke's Bay.
Visit Clifton Station, a 140-year old sheep and cattle station at Clifton Beach which has been in the same family for five generations. From the exquisite homestead through to the extensive coastal garden farm buildings and old wool shed the ornate history has been preserved. Their 'Wool World' enables the opportunity to view a sheepdog and sheep shearing demonstration.
Continue to the first of two tastings of beautifully crafted local wines at our prestigious wineries and meet some of the personalities involved in making the wines.
Enjoy lunch at a local vineyard restaurant which has been included today, before a visit to Te Mata Peak for spectacular views of the region, and conclude the day with your second wine tasting.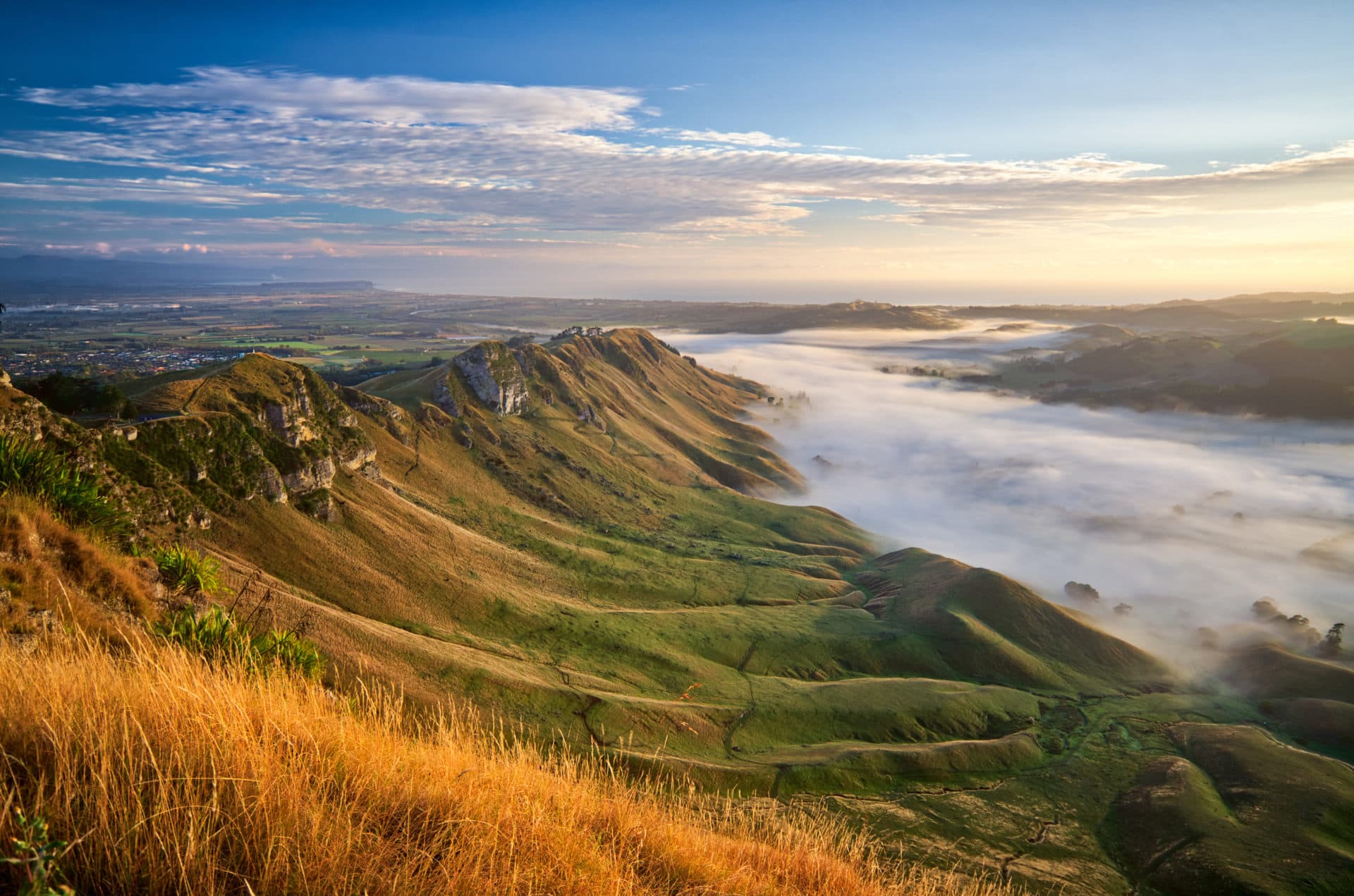 Day 7 – Today you will be met at your accommodation by your private guides and vehicles for the transfer to Napier Airport prior to your onward flight to Queenstown.
On arrival at Queenstown Airport you will be met by your private guides and vehicles and transferred to your accommodation, Matakauri Lodge
Queenstown
Queenstown – 'Adventure Capital of the World' – set on the shores of Lake Wakatipu, amidst the towering peaks of the Southern Alps, the scenery provides a perfect backdrop for endless activities and an idyllic haven in which to relax.
Day 8 – You will be met at your accommodation by your private guides and vehicles and transferred to the airport for your onward Helicopter Flight over Milford Sound
Meet your private helicopters for the excursion to majestic Milford Sound.  Fly through the grandeur of the Alps over rain-forests, frozen lakes, ice capped mountains to the rugged West Coast with its ancient forest of trees and ferns.  Here you will have the opportunity to view seals in their natural colonies before landing at a remote West Coast beach. The helicopter then ascends into the mountains to touchdown in an alpine setting. The views are overwhelming, with their many crevasses and blue and green ice falls.
You will then return to Queenstown with views of New Zealand's southern lakes en-route.
On conclusion of your excursion, you will be met by your private guides and vehicles for the scenic journey along the shores of Lake Wakitipu to the township of Glenorchy, where you may like to enjoy lunch in one of the local cafes or the renowned Glenorchy Pub.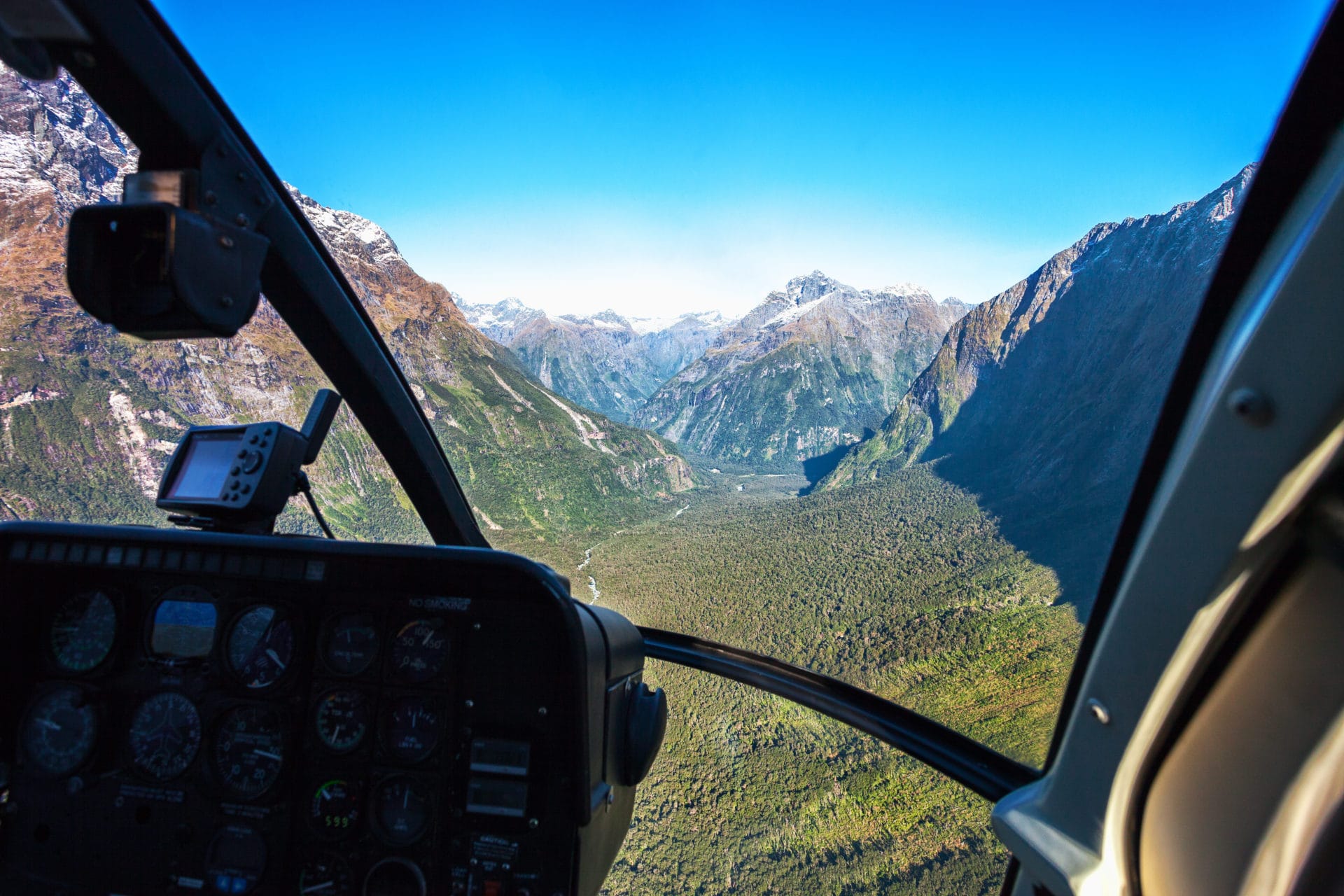 Helicopter over Milford Sound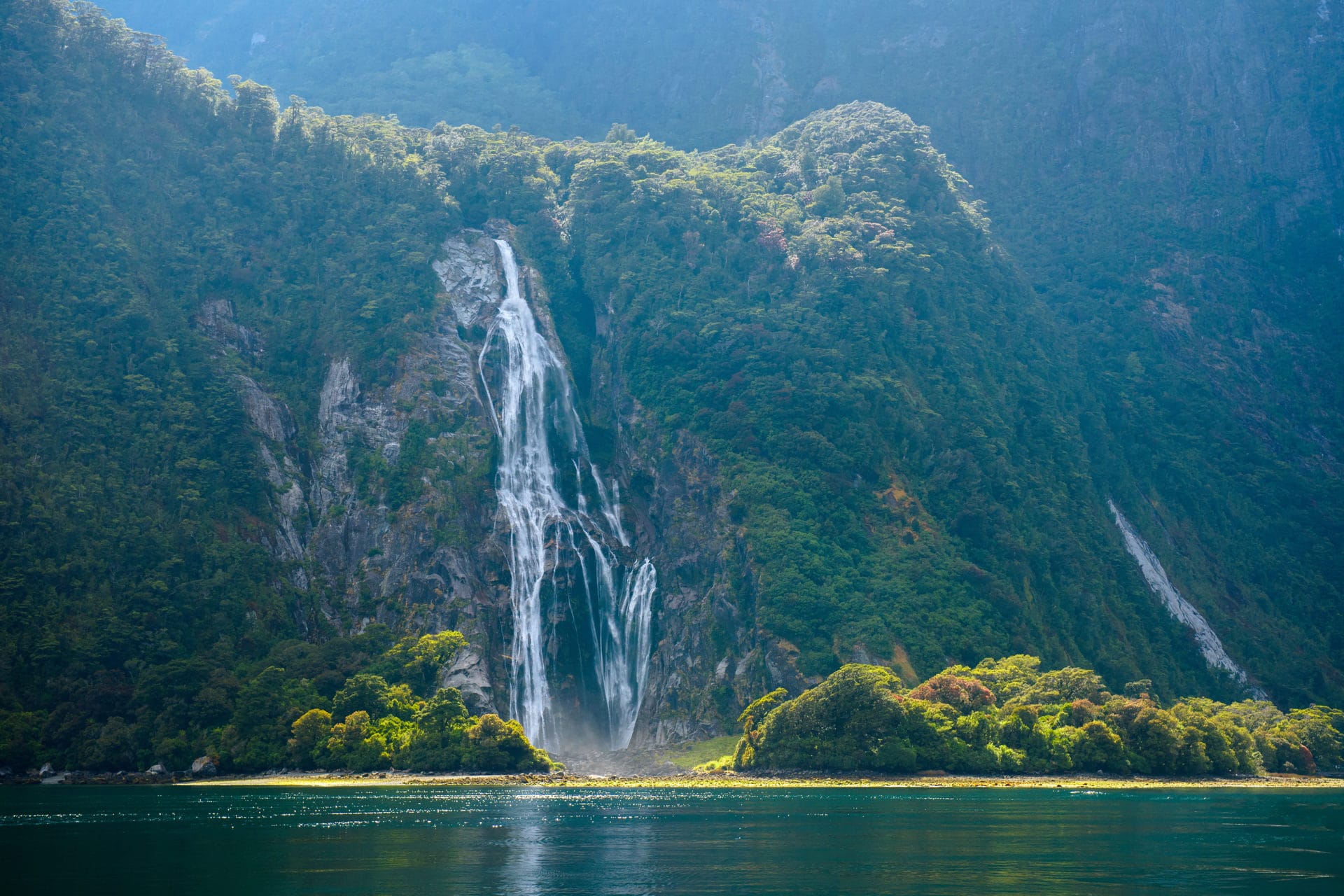 Waterfalls / Milford Sound
Early afternoon board your private jet boats for your excursion on the Dart River. Onboard your exclusive jet boats, head into the heart of Paradise to experience a unique combination of breath-taking scenery and an exhilarating jet boat ride as you travel up the braided, glacier-fed rivers. Your guides give you their authentic touch, talking about the area's rich history, the Greenstone Trail and countless Maori legends.
Following your excursion, you will be met by your private guides and vehicles and returned to your accommodation
Day 9 – Today you will be met at your accommodation by your private guides and vehicles to enjoy your full day wine excursion to the renowned Central Otago vineyards
The ultimate tour for the wine aficionado, this full day excursion encompasses wineries in Gibbston Valley, Bannockburn and Lowburn, all regions with their own unique terroir. From the rugged landscape of the Gibbston Valley, to the warm banks of the Bannockburn region, and the scenic inclines of Bendigo, Central Otago, the world's southernmost wine-producing region holds hidden gems around every corner. Also included is a visit to Cloudy Bay's South Island location – 'The Shed', nestled between the bronzed hills of their Northburn Vineyard and the splendid Lake Dunstan, this Central Otago Cellar Door showcases the full range of Cloudy Bay wines.
You will have the opportunity to view the historic Kawarau Bridge and see the bungy jumpers before being returned to your accommodation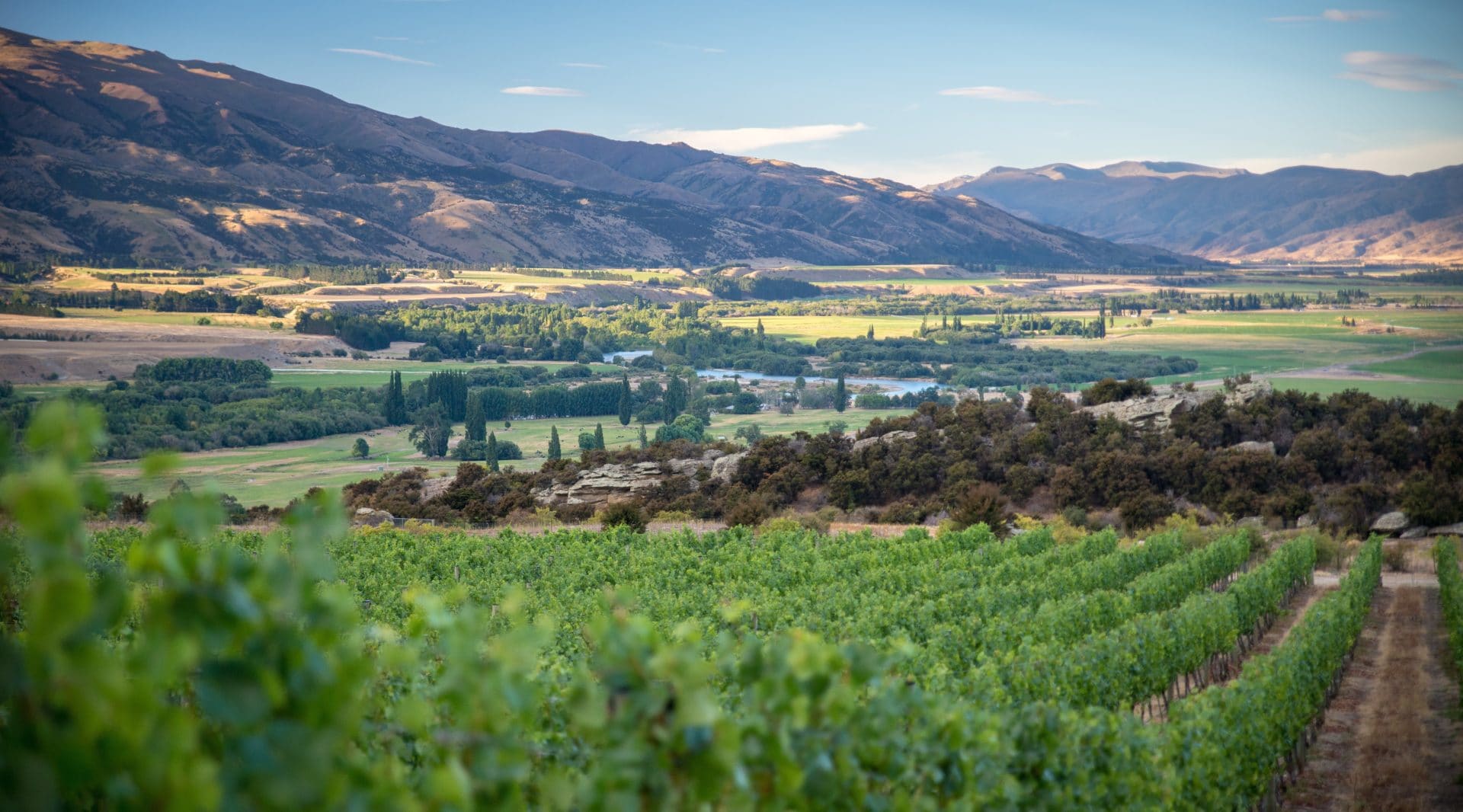 Day 10 – Day at Leisure in Queenstown
While at leisure in Queenstown we recommend the following optional local experiences:
Ply the waters of Lake Wakatipu aboard the 100 year old TSS Earnslaw
Ride the Skyline Gondola to the top of Bob's Peak for the best views over the town and Lake Wakatipu and for the more adventurous zip line or luge ride back down
Hike the variety of landscapes available nearby the town including lakeside, rainforest, high country, alpine and farmlands
Play on Queenstown's world class golf courses such as Jacks Point, The Hills or Millbrook
Brave the iconic Kiwi adrenaline activity, bungy jumping, at the 134 metre Nevis River, the 43 metre Kawarau Bridge or the 47 metre Ledge
Visit a remote high country station for a farm tour to watch the sheep dogs at work, see the adorable lambs, observe wool shearing or harvest your own fruit and vegetables from the orchards and fields
Of course, being the 'Adventure Capital of the World', there are plenty of adrenaline activities on offer including skydiving, canyoning, white water rafting, quad biking, and so much more
Call Malaka Hilton at 941-951-1801 at extension 109 now to reserve your space on this unique journey today!
Rate: Still being finalized
$50 ATI Group Booking Fee is additional